"Emergency medicine" 1 (72) 2016
Foreign Body in the Upper Airway in a Child: Clinical Case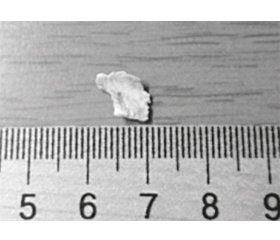 Authors:

Davydova A.H., Kurochkin M.Yu. - Zaporizhzhia State Medical University, Zaporizhzhia; Kokorkin D.M. - Zaporizhzhia Medical Academy of Postgraduate Education, Zaporizhzhia; Buinyi I.O., Кapusta V.M., Skalozubov M.O., Shamenko V.O., Bakhtina O.V., Klochkova V.V., Khalzieva M.I. - Zaporizhzhia Municipal General Pediatric Hospital № 5, Zaporizhzhia, Ukraine



Categories:

Medicine of emergency



Sections:

Specialist manual
Summary
Инородные тела верхних дыхательных путей продолжают оставаться одной из ведущих причин заболеваемости и смертности в раннем детском возрасте, при этом анамнестические данные и клиническая картина заболевания не всегда бывают специфичными для аспирации. В статье представлен клинический случай нетипичной картины инородного тела гортани у ребенка десяти месяцев. Анамнез заболевания и клиническая картина при поступлении ребенка в стационар не дали возможности заподозрить данный диагноз, и более суток ребенок получал лечение по поводу острого стенозирующего ларинготрахеита вирусной этиологии. В связи с неэффективностью лечения сделана попытка интубации трахеи, однако степень сужения просвета гортани вынудила произвести трахеостомию. Только в дальнейшем, при исследовании гортани с помощью фибробронхоскопа, было обнаружено твердое инородное тело в надсвязочном пространстве, проникающее между связками, оттесняющее правую голосовую связку латерально. После извлечения инородное тело было идентифицировано как осколок кости размером около 0,6 × 0,9 см. Таким образом, клиническая картина аспирации инородного тела может быть многообразной, неспецифичной и иногда далекой от классической. Учитывая способность данной патологии к маскировке, подозрение на аспирацию инородного тела, вероятно, должно возникать во всех случаях отсутствия эффекта от стандартной терапии какого-либо заболевания верхних или нижних дыхательных путей.
Сторонні предмети верхніх дихальних шляхів продовжують залишатися однією з провідних причин захворюваності та смертності в ранньому дитячому віці, при цьому анамнестичні дані та клінічна картина захворювання не завжди бувають специфічними для аспірації. У статті наведений клінічний випадок нетипової картини стороннього предмета гортані в дитини віком десять місяців. Анамнез захворювання та клінічна картина при надходженні дитини до стаціонару не дали можливості запідозрити цей діагноз, і понад одну добу дитина отримувала лікування з приводу гострого стенозуючого ларинготрахеїту вірусної етіології. У зв'язку з неефективністю лікування виконана спроба інтубації трахеї, однак ступінь звуження просвіту гортані вимусив провести трахеостомію. Лише в подальшому, при дослідженні гортанi за допомогою фібробронхоскопу, бул виявлений твердий сторонній предмет гортані в надзв'язковому просторі, що проникав між зв'язками, відводячи праву голосову зв'язку латеральніше. Після видалення сторонній предмет був ідентифікований як відламок кістки розміром близько 0,6 × 0,9 см. Таким чином, клінічна картина аспірації стороннього предмета може бути різноманітною, неспецифічною і іноді далекою від класичної. Враховуючи здатність цiєї патології до маскування, підозра на аспірацію стороннього предмета, імовірно, повинна виникати у всіх випадках відсутності ефекту від стандартної терапії якогось захворювання верхніх або нижніх дихальних шляхів.
Foreign bodies in the upper airway remain one of the leading causes of morbidity and mortality in early childhood, with the medical history and clinical presentation of the disease are not always specific to aspiration. The article presents a clinical case of atypical picture of laryngeal foreign body in a child aged ten months. Case history and clinical presentation on admission to the hospital did not allow to suspect this diagnosis, and for over a day the child received treatment for acute stenosing laryngotracheitis of viral etiology. Due to the treatment failure, the intubation was attempted, but the degree of narrowing of the larynx forced to made a tracheostomy. Only later, during the investigation of the larynx using a fibreoptic bronchoscope, a solid foreign body was found in a space just above the vocal cords, penetrating between the cords, pushing the right vocal cords laterally. After removing the foreign body was identified as a bone fragment about 0.6 × 0.9 cm. Thus, clinical presentation of a foreign body aspiration can be diverse, non-specific and sometimes far from a classic one. Taking into consideration the ability of this disease to masking, foreign body aspiration should probably be suspected in all cases, when the lack of effect of standard therapy for some upper or lower respiratory tract disease occurs.
Keywords
инородное тело, стеноз гортани, ребенок, ларингоскопия.
стороннiй предмет, стеноз гортані, дитина, ларингоскопія.
foreign body, laryngeal stenosis, child, laryngo­scopy.
The wide prevalence of cases of foreign bodies in the larynx in children is caused both by anatomic and physiological peculiarities, and immaturity of the child's protective mechanisms, especially in premature babies, whose protective reflexes are reduced. Foreign bodies of the upper respiratory tract remain a major cause of both morbidity and mortality in early childhood, especially in the cases of the emergency aid providing delays. Meanwhile, the history data are not always specific for aspiration, and the clinical picture is sometimes far from straightforward, and may resemble other common diseases of childhood, such as, for example, in the following clinical case.
A child K., 10 months aged, entered the infants' infectious department of Zaporozhye City Multidiscipline Pediatric Hospital №5 with a diagnosis of viral acute stenosing laryngotracheitis (croup), stenosis of the larynx of the 1st degree.
The illness has developed acutely, a few hours before admission voice hoarseness and shortness of breath appeared. Objectively in admission there were an anxiety of the child, while weeping - noisy breathing difficulties, supporting muscle participation in the act of breathing, voice hoarseness. During more than a day and a half the child received an appropriate treatment including inhalations, parenteral corticosteroids at a dose of 6-8 mg / kg / day, and antibiotic therapy. The child's condition has worsened, and 44 hours after admission the child moved to the Intensive Care Unit (PICU). В PICU the treatment was continued by, increased dose of corticosteroids to 10 mg / kg / day. However convincing clinical effect in 12 hours has not been received, and therefore it was decided to carry out endotracheal intubation to ensure the upper respiratory tract prosthetics. A direct laryngoscopy was carried out: the expressed subglottic edema was defined, almost completely blocking the lumen of the airways.
An experienced anesthesiologist managed to carry out orotracheal intubation with a great difficulty. Endotracheal tube with an internal diameter of 2.5 mm was used, all attempts to introduce larger tube to the larynx failed. Due to the dubious effectiveness of the ventilation through such a narrow tube, tracheostomy was made urgently; tracheostomic tube with an internal diameter of 4 mm was inserted. During the first day, an assisted mechanical ventilation was carried out, and then the child was on spontaneous breathing, getting humidified oxygen therapy.
From the second day of a child's stay in the PICU inflammatory changes in the clinical analysis of a blood attracted attention: leukocytosis, the appearance of young forms of neutrophils (up to metamyelocytes), acceleration of ESR. In addition to respiratory therapy, the child receives antibacterial and antifungal agents, anticoagulants, broncholytics and mucolytics. Besides, regular sanitation of the upper respiratory tract and the tracheobronchial tree, and the correction of electrolyte disturbances were conducted. Radiological research revealed atelectasis of right lung upper lobe, which resolved within a week.
After stabilizing the patient's condition, we decided to conduct a diagnostic bronchoscopy using a fibreoptic bronchoscope "Pentax" with a 5 mm diameter of working part. The laryngoscopic examination revealed that the glottis above the vocal cords was on 2/3 covered with whitish formation located mainly on the right vocal cords, pushing it laterally. An attempt to remove this formation with the help of aspiration failed. The formation was removed with a third attempt using biopsy forceps. There were no signs of bleeding from the tissues of the larynx there. At examination of macropreparations identified a fragment of bone that looked like a chicken leg bone, diamond-shaped, measuring about 0.6 to 0.9 mm.
In this case, the clinic of growing upper airway stenosis initially accepted as the manifestation of stenotic laryngotracheitis of the viral etiology ("false croup") was caused by the atypical location of the laryngeal foreign body presumably aspirated when eating. Thus, the clinical picture of a foreign body aspiration is diverse and non-specific, and sometimes far from being a classic one. Taking into consideration the ability of this disease to "disguise" a suspicion of the foreign body aspiration should probably appear in all cases, when there is the lack of standard therapy effect of some diseases of the upper or lower respiratory tract.
Bibliography
1. Зенгер В.Г. Инородные тела гортани и трахеи у детей [Электронный ресурс] / В.Г. Зенгер // Лечащий врач. — 2004. — № 7. Режим доступа к журналу: http://www.lvrach.ru/2004/07/4531522/
2. Свистушкин В.М. Инородные тела в дыхательных путях [Электронный ресурс] / В.М. Свистушкин, Д.М. Мустафаев // Русский медицинский журнал. — 2013. — № 33. Режим доступа к журналу: http://www.rmj.ru/articles_9075.htm
3. Darras K.E. Imagine Acute Airway Obstruction In Infants and Children [Electronic resource] / K.E. Darras, A.T. Roston, L.K. Yewchuk // Radiographics. — 2015. — 35(7). — P. 2064-79. doi: 10.1148/rg.2015150096. Access Mode: http://www.ncbi.nlm.nih.gov/pubmed/26495798
4. Izadi F. Occult Laryngeal Foreign Body Mimicking Normal Thyroid Cartilage [Electronic resource] / F. Izadi, F. Hassannia, M. Maleki et al. // Trauma monthly journal. — 2015. — 20(3). doi: 10.5812/traumamon.15441. Access Mode: http://www.ncbi.nlm.nih.gov/pubmed/26543835
5. Maraynes M. Inhaled Foreign Bodies In Pediatric Patients: Proven Management Techniques In The Emergency Department / M. Maraynes, K. Adoritsas // Pediatr. Emerg. Med. Pract. — 2015. — 12(10). — P. 1-14. Access Mode: http://www.ncbi.nlm.nih.gov/pubmed/26510331.
---
1. Zenger VG. [Foreign Bodies of Larynx and Trachea]. Lechashchii Vrach. 2004;7: Access mode: http://www.lvrach.ru/2004/07/4531522/. Russian.
2. Svistuchkin VM, Mustafaev DM. [Forein Bodies in Airways]. Russkii Meditsinskii Zhurnal. 2013;33; Access mode http://www.rmj.ru/articles_9075.htm. Russian.
3. Darras KE, Roston AT, Yewchuk LK. Imaging Acute Airway Obstruction in Infants and Children. Radiographics. 2015;35(7):2064-79. doi: 10.1148/rg.2015150096. Access Mode: http://www.ncbi.nlm.nih.gov/pubmed/26495798
4. Izadi F, Hassania F, Maleki M, Pousti B, Sharms Koushki E, Mirhashemi S. Occult Laryngeal Foreign Body Mimicking Normal Thyroid Cartilage. Trauma monthly journal. 2015;#20(3): doi:10.5812/traumamon.15441. Access Mode: http://www.ncbi.nlm.nih.gov/pubmed/26543835
5. Maraynes M, Adoritsas K. Inhaled Foreign Bodies In Pediatric Patients: Proven Management Techniques In The Emergency Department. Pediatr. Emerg. Med. Pract. 2015;12(10):1-14. Access Mode: http://www.ncbi.nlm.nih.gov/pubmed/26510331
Similar articles

Authors: Kurochkyn M.Yu.(1), Davydova H.H.(1), Horodkova Yu.V.(1), Кapusta V.M.(2)
(1) - Zaporizhzhia State Medical University, Zaporizhzhia
(2) - Zaporizhzhia Municipal Pediatric General Hospital № 5, Zaporizhzhia, Ukraine
"Emergency medicine" 7 (70) 2015
Date: 2016.01.20
Categories: Medicine of emergency
Sections: Clinical researches


Authors:
Samoylenko I.G., Maksimova S.M. - Donetsk National Medical University by Gorky; Bukhtiyarov E.V., Maksimova N.V., Manochenko V.V., Chuban E.S. - Hospital №3 Donetsk; Poshekhonov A.S. - Donetsk's Cеntral children Hospital


"Child`s Health" 6 (57) 2014
Date: 2014.12.24
Categories: Pediatrics/Neonatology
Sections: Specialist manual


Authors:
Sorokman T.V., Sokolnyk S.V., Makarova E.V. - Bukovinian State Medical University, Chernivtsi, Ukraine


"Actual Infectology" 2 (11) 2016
Date: 2016.08.09
Categories: Infectious diseases
Sections: Medical forums


Authors:
Sydorchuk L.I., Rotar D.V., Humenna A.V., Sydorchuk I.Y. - Higher State Educational Institution of Ukraine «Bukovinian State Medical University», Chernivtsi, Ukraine


"Gastroenterology" 2 (60) 2016
Date: 2016.06.09
Categories: Gastroenterology
Sections: Clinical researches