"Emergency medicine" 2 (73) 2016
Sleep Apnea Syndrome in Diabetic Patients with Acute Stroke: Features of the Course and Treatment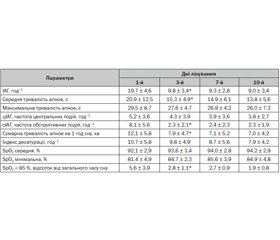 Summary
У результаті проведеного дослідження встановлено, що вірогідність виникнення апное сну у хворих на цукровий діабет у разі виникнення в них гострого інсульту є високою (63,3 %). Факторами ризику є чоловіча стать, ожиріння, високий бал за NIHSS (> 15). З метою діагностики розладів дихання під час сну в цих хворих при надходженні потрібно проводити скринінг-діагностику синдрому обструктивного апное сну для визначення необхідності та тактики респіраторної підтримки. Особливостями розвитку синдрому обструктивного апное сну в пацієнтів із гострим інсультом та супутнім цукровим діабетом є швидке покращення показників у 1–3-й дні лікування (за умови респіраторної підтримки) та потреба в тривалій терапії на подальших етапах. У цих хворих позиційна терапія і неінвазивна респіраторна підтримка можуть бути розпочаті рано при добрій переносимості та відносно невеликому ризику ускладнень.
В результате проведенного исследования установлено, что вероятность возникновения респираторных нарушений во время сна у больных сахарным диабетом в случае возникновения у них острого инсульта является высокой (63,3 %). Факторами риска являются мужской пол, ожирение, высокий балл по NIHSS (> 15). С целью диагностики расстройств дыхания во время сна у этих больных при поступлении нужно проводить скрининг-диагностику синдрома обструктивного апноэ сна для определения необходимости и тактики респираторной поддержки. Особенностями развития синдрома обструктивного апноэ сна у пациентов с острым инсультом и сопутствующим сахарным диабетом являются быстрое улучшение показателей в 1–3-й дни лечения (при условии респираторной поддержки) и потребность в длительной терапии на последующих этапах. У этих больных позиционная терапия и неинвазивная респираторная поддержка могут быть начаты рано при хорошей переносимости и относительно небольшом риске осложнений.
The study found that the risk of respiratory disorders in diabetic patients with acute stroke (AS) is high (63.3 %). Risk factors include male gender, obesity, high NIHSS score (> 15). For the purpose of diagnosing disorders of breathing during sleep in these patients should be performed at admission screening diagnosis of obstructive sleep apnea (OSA) to determine the need for respiratory support and tactics. Especially the development of OSA in diabetic patients with AS is the rapid improvement in 1–3 days of treatment (providing respiratory support) and the need for long-term treatment at later stages. In these patients, positional therapy and non-invasive respiratory support can be started early, with good tolerability and relatively low risk of complications.
Keywords
інсульт, цукровий діабет, синдром обструктивного апное сну, неінвазивна респіраторна підтримка.
инсульт, сахарный диабет, синдром обструктивного апноэ сна, неинвазивная респираторная поддержка.
stroke, diabetes mellitus, obstructive sleep apnea syndrome, non-invasive respiratory support.
Introduction
Sleep Apnea Syndrome (SAS) is the sleep apnea occurence with a frequency of over 5 episodes per hour lasting for more than 10 seconds each accompanied by respiratory failure and other dysfunctions as well as severe sleepiness in the daytime. SAS is divided into two types: central and obstructive.
Central sleep apnea is a lack of sygnal from the central nervous system (CNS) to the inspiration muscles. This type associated with deep, often structural CNS affections which occurs relatively rare.
Obstructive sleep apnea syndrome (OSAS) or obstructive sleep apnea (OSA) is a periodic inhibition (hypopnea) or cessation (apnea) of air flow the due to constriction of the upper airway during sleep, often accompanied by hypoxemia and sleep disorders. In patients with diabetes mellitus (DM) in the case of acute stroke (AS) system inflammation, vascular disorders, coagulopathy, hyperglycemia and acidosis, which are characteristic of diabetes, may promote tissue ischemia and lead to complications of acute stroke, including respiratory disorders and occurrence of SAS.
Thus, in diabetic patients with acute stroke risk for OSA is high. However, the available literature, does not provide publications about the features of OSA in patients with comorbid acute stroke and diabetes, which necessitated the study.
Objective: To identify the frequency, features of the course and develop a correction scheme of breathing during sleep in diabetic patients with acute stroke.
Materials and methods
The study was conducted in the Kyiv`s Regional Clinical Hospital. There were examined 30 patients (18 men and 12 women) aged 46 to 82 hospitalized with acute stroke and comorbid diabetes. Stroke severity was assessed on the NIHSS scale. If patients were conscious or clear information from relatives was available, the assessment of existing anamnestic signs of OSA on the Epworth Sleepiness Scale was conducted. Screening for OSA severity was performed using complex SOMNOcheck micro (Weinmann, Germany). To assess the severity of OSA the apnea-hypopnea index (IAH) was determined: the total number of apnea and hypopnea episodes detected when monitoring for the entire period of sleep is divided by the total number of hours of sleep. IAH from 5 to 15 is considered to be mild OSA, from 15 to 30 – moderate OSA, patients with IAH ≥ 30 are diagnosed to have severe OSA. The episodes of apnea duration, a type of apnea (central or obstructive) and desaturation index (number of episodes of oxyhemoglobin decline more than 4% for 1 hour of sleep) were calculated. According to the number of obtained parameters there was determined OSA severity and the need for a respiratory support.
While identifying patients with "mild" OSA (IAH 5-15) there was conducted a "positional" therapy, which included a regular change of body position to maximize a reduction of the patient`s stay in the supine position. In patients with IAH˃15 we applied noninvasive ventilation correction using two-level positive airway pressure in conjunction with the 40% fraction of oxygen in the air that is inhaled.
Results and discussion
Among the 30 patients examined, signs of OSA (IAH˃5) were found in 19 patients (63.3%), who were included in the study group. 11 patients with no SAS (IAH <5) were included in the control group. It should be noted that in the main group of SAS patients men dominated (78.9 versus 27.3% in the control group), the NIHSS score was higher (14.3±3.7 vs 10.9±2.8) and obesity (body mass index˃30 kg/m2) was increasingly manifested. A significant improvement in OSA between 1 and 3 days should be noted. In particular IAH was significantly decreased, the duration of sleep apnea episodes and the total apnoe duration per 1 hour of sleep were reduced. The length of the sleep period, during which the patient's blood saturation level below 85% was also decreased. Such improvement ventilation parameters was achieved by a sharp (almost 4 fold) reduction in the frequency of obstructive events, while the frequency of central sleep apnea was not changed. Nevertherless, between 3 and 7 days somnography values did not change – none of the studied parameters were statistically significant difference, although there was a tendency to some results improvement. The same tendency found between 7 and 10 days of treatment. We can explain the fact that the basic risk factors for OSA, such as obesity, hypertension, metabolic syndrome, smoking, alcohol abuse, etc. can not eliminate for 3-7 days. Therefore, treatment of OSA in diabetic patients with AS should continue for a long time. Overall specified method of examination and respiratory therapy were well tolerated by patients. Side effects were rare and did not affect the overall outcome.
Conclusions
Probability of respiratory disorders during sleep in diabetic patients with acute stroke is high (in our study - 63.3%). Risk factors are male gender, obesity, high NIHSS score (˃15) before hospitalization. For the purpose of accurate and timely diagnosis of respiratory sleep disorders in all diabetic patients with acute stroke should be conducted at admission screening for respiratory failure with measurement apnea-hypopnea index, desaturation index and OSA severity assessment to determine the need and tactics respiratory support.
Bibliography
1. Геморагічний інсульт (внутрішньомозкова гематома, аневризмальний субарахноїдальний крововилив): екстрена, первинна, вторинна (спеціалізована) медична допомога та медична реабілітація. Уніфікований клінічний протокол медичної допомоги. — ​К.: Видавець Д.В. Гуляєв, 2012. — 96 с.
2. Зильбер А.П. Этюды респираторной медицины. — ​М.: МЕД-пресс-информ, 2007. — 792 с.
3. Шлапак І.П., Галушко О.А. Цукровий діабет: погляд з позиції лікаря-анестезіолога. — ​К.: Книга-плюс, 2010. — 160 с.
4. Javaheri S., Javaheri S., Javaheri A. Sleepapnea, heartfailure, andpulmonaryhypertension // Curr. Heart Fail. Rep. — 2013 Dec. — № 10(4). — ​Р. 315-20. — ​doi: 10.1007/s11897-013-0167-3.
5. Lin J.J., Lin K.L., Wang H.S. et al. Occult infarct with acute hemorrhagic stroke in juvenile diabetic ketoacidosis // Brain. Dev. — 2008. — № 30(1). — ​Р. 91-93.
6. Nelles G., Busse O. Basistherapie auf der Stroke Unit // Diener H.C., Busch E., Grond M., Busse O. Stroke Unit Manual. — ​Stuttgart-New York: Thieme, 2005. — 208 p.
7. Priou P., LeVaillant M., Meslier N. et al. Association between obstructive sleep apnea severity and glucose control in patients with untreated versus treated diabetes // J. Sleep Res. — 2015 Aug. — № 24(4). — ​Р. 425-31. — ​doi: 10.1111/jsr.12278. Epub 2015 Feb 19.
8. Schober A.K., Neurath M.F., Harsch I.A. Prevalence of sleep apnoea in diabetic patients // Clin. Respir. J. — 2011 Jul. — № 5(3). — ​Р. 165-72. — ​doi: 10.1111/j.1752-699X.2010.00216.x. Epub 2010 Jun 30.
9. Shibazaki K., Kimura K., Uemura J. et al. Atrial fibrillation is associated with severe sleep-disordered breathing in patients with ischaemic stroke and transient ischaemic attack // Eur. J. Neurol. — 2013 Feb. — № 20(2). — ​Р. 266-70. — ​doi: 10.1111/j.1468-1331.2012.03837.x.
10. Siccoli M.M., Valko P.O., Hermann D.M., Bassetti C.L. Central periodic breathing during sleepin 74 patients with acuteis chemic stroke — ​neurogenic and cardiogenic factors // J. Neurol. — 2008 Nov. — № 255(11). — ​Р. 1687-92. — ​doi: 10.1007/s00415-008-0981-9.
11. Sleep-related breathing disorders in adults: recommendations for syndrome definition and measurement techniques in clinical research. The Reportofan American Academy of Sleep Medicine Task Force // Sleep. — 1999, Aug 1. — № 22(5). — ​Р. 667-89.
12. The European Stroke Organisation (ESO) Executive Committee; ESO Writing Committee. Guidelines for managemen to fischaemic stroke and transient ischaemic attack 2008 // Cerebrovasc. Dis. — 2008. — № 25(5). — ​Р. 457-507. — ​doi: 10.1159/000131083. Epub 2008 May 6.
13. Young T., Peppard P.E., Gottlieb D.J. Epidemiology of obstructive sleep apnea: A population health perspective // Am. J. Respir. Crit. Care Med. — 2002. — № 165. — ​Р. 1217-39.
14. Zhang R., Guo X., Guo L. et al. Prevalence and associated factors of obstructive sleep apneain hospitalized patients with type 2 diabetes in Beijing, China 2 // J. Diabetes. — 2015 Jan. — № 7(1). — ​Р. 16-23. — ​doi: 10.1111/1753-0407.12180. Epub 2014 Sep 6.
Similar articles

Authors: Дорошкевич И.П. (1), Мохорт Т.В. (2)
1 - УО «Гродненский государственный медицинский университет», г. Гродно, Беларусь
2 - УО «Белорусский государственный медицинский университет», г. Минск, Беларусь
International journal of endocrinology Том 15, №2, 2019
Date: 2019.05.28
Categories: Endocrinology
Sections: Clinical researches


Authors: Сіренко Ю.М.(1), Крушинська Н.А.(2), Рековець О.Л.(1)
(1) — ДУ «ННЦ «Інститут кардіології імені акад. М.Д. Стражеска» НАМН України», м. Київ, Україна
(2) — Національний медичний університет імені О.О. Богомольця, м. Київ, Україна
"Hypertension" №1 (57), 2018
Date: 2018.03.28
Categories: Cardiology
Sections: Clinical researches


Authors: Krushynska N.A., Sirenko Yu.M.
SI «NSC «The Institute of Cardiology named after academician M.D. Strazhesko» of NAMS of Ukraine
"Hypertension" 1 (45) 2016
Date: 2016.03.21
Categories: Cardiology
Sections: Clinical researches


Authors:
Сіренко Ю.М., Крушинська Н.А., Сидоренко П.І., Поліщук С.А. — ДУ «ННЦ «Інститут кардіології ім. акад. М.Д. Стражеска» НАМН України; Погорецький Ю.Н. — Лабораторія сну «УкрТелеМед», м. Київ


"Hypertension" 1 (39) 2015
Date: 2015.05.28
Categories: Cardiology
Sections: Clinical researches