International journal of endocrinology 8 (80) 2016
Correlation of Hypothyroidism and Obesity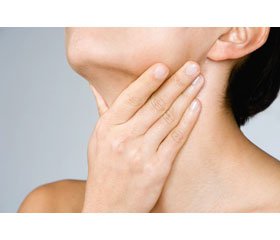 Authors:

Юзвенко Т.Ю.
Український науково-практичний центр ендокринної хірургії, трансплантації ендокринних органів і тканин МОЗ України, м. Київ, Україна



Categories:

Endocrinology



Sections:

Specialist manual
Summary
У зв'язку зі значною поширеністю як ожиріння, так і гіпотиреозу лікарям слід бути особливо уважними до можливої дисфункції щитоподібної залози (ЩЗ) у пацієнтів з ожирінням. Існує двобічний зв'язок між гормонами ЩЗ і ожирінням: як гіпотиреоз може впливати на масу тіла, так і жирова тканина мoже змінювати рівень гормонів ЩЗ. Рівні тиреотропного гормона і вільного трийодтироніну при ожирінні часто підвищені, що опосередкується впливом лептину. При лікуванні гіпотиреозу препаратами левотироксину незначне зниження маси тіла зумовлюється втратою води, а не жиру. Селективні аналоги тиреоїдних гормонів, можливо, зможуть стати засобом для зниження маси тіла шляхом збільшення витрати енергії у пацієнтів з ожирінням при дотриманні гіпокалорійного харчування.
В связи с широким распространением как ожирения, так и гипотиреоза врачам необхoдимо быть особенно внимательными к возможной дисфункции щитовиднoй железы (ЩЖ) у пациентов с ожирением. Существует двусторонняя связь между гормонами ЩЖ и ожирением: как гипотиреоз может влиять на массу тела, так и жировая ткань мoжет изменять уровень гормонов ЩЖ. Уровни тиреотропного гормона и свободного трийодтиронина при ожирении часто оказываются повышенными, что опосредовано действием лептина. При лечении гипотиреоза препаратами левотироксина небольшое снижение массы тела обусловлено потерей воды, а не жира. Селективные аналоги тиреоидных гормонов, возможно, смогут стать средством для снижения массы тела путем увеличения расхода энергии у пациентов с ожирением при соблюдении гипокалорийного питания.
Obesity and hypothyroidism are common diseases, and consequently clinicians should be particularly alert for the possible thyroid dysfunction in obese patients. The relationship between thyroid function and obesity is likely to be bidirectional, with hypothyroidism affecting weight, but obesity also influencing thyroid function. Both serum thyroid-stimulating hormone and fT3 are typically increased in obese individuals, likely mediated by leptin. Following LT4 treatment for overt hypothyroidism, weight loss appears due to water weight rather than fat. Selected thyroid analogs might be a means to improve weight loss by increasing energy expenditure in obese patients during lasting hypocaloric diet.
Keywords
ожиріння; гіпотиреоз
ожирение; гипотиреоз
obesity; hypothyroidism
For the full article you need to subscribe to the magazine.
Bibliography
1. Alevizaki M., Saltiki K., Voidonikola P. et al. Free thyroxine is an independent predictor of subcutaneous fat in euthyroid individuals // Eur. J. Endocrinol. — 2009. — ​Vol. 16. — ​P. 459-465.
2. Antonelli A., Fallahi P., Ferrari S.M. et al. 3,5-diiodo-L-thyronine increases resting metabolic rate and reduces body weight without undesirable side effects // J. Biol. Regul. Homeost. Agents. — 2011. — ​Vol. 25. — ​P. 655-660.
3. Bastemir M., Akin F., Alkis E. et al. Obesity is associated with increased serum TSH level, independent of thyroid function // Swiss. Med. Wkly. — 2007. — ​Vol. 137. — ​Р. 29-30.
4. Baxter J.D., Webb P. Thyroid hormone mimetics: potential applications in atherosclerosis, obesity and type 2 diabetes // Nat. Rev. Drug. Discov. — 2009. — ​Vol. 8. — ​P. 308-320.
5. Boeving A., Paz-Filho G., Radominski R.B. et al. Low-normal or high-normal thyrotropin target levels during treatment of hypothyroidism: a prospective, comparative study // Thyroid. — 2011. — ​Vol. 21. — ​P. 355-360.
6. Celi F.S., Zemskova M., Linderman J.D. et al. Metabolic effects of liothyronine therapy in hypothyroidism: a randomized, double-blind, crossover trial of liothyronine versus levothyroxine // J. Clin. Endocrinol. Metab. — 2011. — ​Vol. 96. — ​P. 3466-3474.
7. De Pergola G., Ciampolillo A., Paolotti S., Trerotoli P., Giorgino R. Free triiodothyronine and thyroid stimulating hormone are directly associated with waist circumference, independently of insulin resistance, metabolic parameters and blood pressure in overweight and obese women // Clin. Endocrinol. (Oxf.). — 2007. — ​Vol. 67. — ​P. 265-266.
8. Garber J.R., Cobin R.H., Gharib H. et al. Clinical Practice Guidelines for Hypothyroidism in Adults: Cosponsored by the American Association of Clinical Endocrinologists and the American Thyroid Association // Endocr. Pract. — 2012. — ​Vol. 11. — ​P. 1-207.
9. Karmisholt J., Andersen S., Laurberg P. Weight loss after therapy of hypothyroidism is mainly caused by excretion of excess body water associated with myxoedema // J. Clin. Endocrinol. Metab. — 2011. — ​Vol. 96. — ​P. 99-103.
10. Kaptein E.M., Beale E., Chan L.S. Thyroid hormone the–rapy for obesity and nonthyroidal illnesses: a systematic review // J. Clin. Endocrinol. Metab. — 2009. — ​Vol. 94. — ​P. 3663-3675.
11. Ladenson P.W., Kristensen J.D., Ridgway E.C. et al. Use of the thyroid hormone analogue eprotirome in statin-treated dyslipidemia // N. Engl. J. Med. — 2010. — ​Vol. 362. — ​P. 906-916.
12. Lu S., Guan Q., Liu Y. et al. Role of extrathyroidal TSHR expression in adipocyte differentiation and its association with obesity // Lipids Health Dis. — 2012. — ​Vol. 11. — ​P. 17.
13. Ortega F.J., Moreno-Navarrete J.M., Ribas V. et al. Subcutaneous fat shows higher thyroid hormone receptor-alpha1 gene expression than omental fat // Obesity (Silver Spring). — 2009. — ​Vol. 17. — ​P. 2134-2141.
14. Polotsky H.N., Brokhin M., Omry G. et al. Iatrogenic hyperthyroidism does not promote weight loss or prevent ageing-related increases in body mass in thyroid cancer survivors // Clin. Endocrinol. (Oxf.). — 2012. — ​Vol. 76. — ​P. 582-585.
15. Rotondi M., Cappelli C., Leporati P. A hypoechoic pattern of the thyroid at ultrasound does not indicate autoimmune thyroid diseases in patients with morbid obesity // European Journal of Endocrinology. — 2010. — ​Vol. 163. — ​P. 105-109.
16. Svare A., Nilsen T.I., Bjøro T. et al. Serum TSH related to measures of body mass: longitudinal data from the HUNT Study, Norway // Clin. Endocrinol. (Oxf.). — 2011. — ​Vol. 74. — ​P. 769-775.
17. Tang M.H., Chen S.P., Ng S.W. et al. Case series on a diversity of illicit weightreducing agents: from the well known to the unexpected // Br. J. Clin. Pharmacol. — 2011. — ​Vol. 71. — ​P. 250-253.
Similar articles

Authors: Паньків В.І.
Український науково-практичний центр ендокринної хірургії, трансплантації ендокринних органів і тканин МОЗ України, м. Київ, Україна
International journal of endocrinology Том 14, №4, 2018
Date: 2018.08.27
Categories: Endocrinology
Sections: Specialist manual



Authors: Кваченюк Д.А., Кваченюк А.М.
ДУ «Інститут ендокринології та обміну речовин ім. В.П. Комісаренка НАМН України», м. Київ, Україна
International journal of endocrinology Том 15, №4, 2019
Date: 2019.08.14
Categories: Endocrinology
Sections: Specialist manual