International neurological journal 7 (85) 2016
Low-Invasive Neurosurgery on Functional Spinal Unit in the Multifaceted Centre for Rehabilitation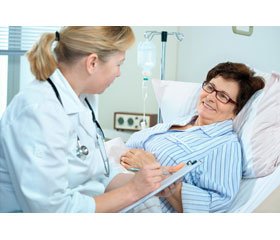 Authors:

Лиев П.С.(1), Лиев А.А.(2), Потапов В.Ф.(2)
(1) — Военный медицинский колледж им. С.М. Кирова, г. Санкт-Петербург, Россия
(2) — Федеральное государственное бюджетное учреждение «Центр медицинской реабилитации «Луч» Минздрава России, г. Кисловодск, Россия



Categories:

Neurology



Sections:

Clinical researches
Summary
Надано 100 пацієнтів, прооперованих з приводу поперекових міжхребцевих гриж, зі стабілізацією хребетно-рухового сегмента міжтіловим титановим кейджем. Проаналізовано закономірність залежності локалізації міжхребцевої грижі від рівня хребетного стовпа, віку, статі та латералізації. Показана ефективність включення малоінвазивних нейрохірургічних операцій в умовах реабілітаційного центру.
Представлено 100 пациентов, прооперированных по поводу поясничных межпозвоночных грыж, со стабилизацией позвоночно-двигательного сегмента межтеловым титановым кейджем. Проанализирована закономерность зависимости локализации межпозвоночной грыжи от уровня позвоночного столба, возраста, пола и латерализации. Показана эффективность включения малоинвазивных нейрохирургических операций в условиях реабилитационного центра.
The article describes case reports of 100 patients operated for lumbar intervertebral hernias with stabilization of functional spinal unit with vertebral titanic fusion. The dependence of localization of disk herniation on the spine level, age, gender and their lateralization was analyzed. Efficiency of the low-invasive neurosurgery the center for rehabilitation is shown.
Keywords
міжхребцева грижа; малоінвазивна нейрохірургія; реабілітація
межпозвоночная грыжа; малоинвазивная нейрохирургия; реабилитация
disk herniation; low-invasive neurosurgery; rehabilitation
For the full article you need to subscribe to the magazine.
Bibliography
1. Попелянский Я.Ю. Ортопедическая неврология (вертеброневрология): Руководство для врачей. — ​М.: МЕДпресс-информ, 2003. — 670 с.
2. Левит К., Захсе Й., Янда В. Мануальная медицина. — ​М.: Медицина, 1993. — 456 с.
3. Лиев А.А. Лечение неврологических синдромов поясничного остеохондроза. — ​Кишинев, 2011. — 194 с.
4. Лиев А.А., Потапов В.Ф. Опыт хирургического лечения проявлений остеохондроза позвоночника в клинике вертеброневрологии СГМА // Международный научный конгресс. 60-я сессия Генеральной Ассамблеи Всемирной федерации водолечения и климатолечения. — ​Италия, 2007.
5. Лиев П.С., Лиев А.А., Татьянченко В.К. Клинико-морфологическая оценка симптома Вассермана // Неврологический международный журнал. — 2016.
Similar articles
Authors:
Куликовский Б.Т., Лиев А.А., Моисеев В.В., Мосиянц Г.Г., Скоробогач М.И., Сташук Н.П. Кафедра вертеброневрологии с курсом мануальной медицины Ставропольской государственной медицинской академии, Россия


International neurological journal 3(25) 2009
Date: 2009.07.25
Categories: Neurology

Authors:
Потапов В.Ф., Лиев А.А., Куликовский Б.Т., Полухин В.Д., Кобзарь В.М., Безруких А.Ю. Кафедра вертеброневрологии с курсом мануальной медицины Ставропольской государственной медицинской академии, Россия


International neurological journal 3(25) 2009
Date: 2009.07.25
Categories: Neurology