"Kidneys" Том 6, №1, 2017
Стеноз почечной артерии трансплантированной почки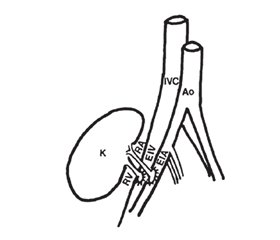 Authors:

Кориченский А.Н.
Национальная медицинская академия последипломного образования имени П.Л. Шупика, г. Киев, Украина



Categories:

Nephrology



Sections:

Specialist manual
Summary
Наведено результати спостереження за пацієнтом із стенозом основної артерії трансплантованої нирки до і після балонної дилатації стенозу. Проведено ультразвукове дослідження, допплерографія і зсукохвильова еластографія. Відзначається велика різниця жорсткості паренхіми нирки в залежності від стану кровотоку. Відновлення перфузіїв паренхімі веде до підвищення жорсткості на 52% від початкового значення.
Приведены результаты наблюдения за пациентом со стенозом основной артерии трансплантированной почки до и после баллонной дилатации стеноза. Проведено ультразвуковое исследование с допплерографией и сдвиговолновой эластографией. Отмечается существенное различие жесткости паренхимы почки в зависимости от состояния кровотока. Восстановление перфузии в паренхиме ведет к повышению жесткости на 52% от исходного значения.
The article describes the results of observation of the patient with stenosis of the main artery of the transplanted kidney before and after balloon dilation of stenosis. The kidney was studied by Ultrasound, Doppler and Share Wave Elastography (SWE). There is a significant difference between the stiffness of the renal parenchyma, depending on the condition of blood flow. Recovery perfusion parenchyma leads to increased stiffness by 52% of the initial value.
Keywords
стеноз основної артерії; трансплантована нирка; паренхіма нирки
стеноз основной артерии; трансплантированная почка; паренхима почки
stenosis of the main artery; transplanted kidney; renal parenchyma
For the full article you need to subscribe to the magazine.
Bibliography
1. Динник О.Б. Ультразвукова еластографія: теорія і практика створення навчального тренажера / О.Б. Динник, М.М. Жайворонок, Н.М. Кобиляк [та ін.] // Променева діагностика, променева терапія. — 2014. — № 3. — ​С. 42-53.
2. Brown E.D. Complications of Renal Transplantation: Evaluation with US and Radionuclide Imaging / Elizabeth D. Brown, Michael Y.M. Chen, Neil T. Wolfman, David J. Ott, Nat E. Watson Jr // RG. — 2000. — ​Vol. 20, № 3. — ​Р. 607-622. — ​DOI: http://dx.doi.org/10.1148/radiographics.20.3.g00ma14607
3. Brocchi S. Shearwave elastography in kidney transplantation: a new diagnostic tool to assess chronic allograft fibrosis / S. Brocchi, C. Sportoletti, C. Serra, M. Zompatori // ECR. — 2014. — ​Scientific Exhibit. Poster No C‑1199. — ​DOI: 10.1594/ecr2014/C‑1199.
4. Yang J.R. Application value of shear wave elastography technique in diagnosis of chronic allograft nephropathy / Jin-Ru Yang, Fei-Qian Wang, Ning Li, Wen-Qian Pan, Hong Ai // Int. J. Clin. Exp. Med. — 2016. — 9(6). — ​Р. 9449-9454. — ​www.ijcem.com/files/ijcem0016272.pdf
5. Bota S., Sporea I., Sirli R. et al. Factors associated with the impossibility to obtain reliable liver stiffness measurements by means of acoustic radiation force impulse (ARFI) elastography — ​analysis of a cohort of 1,031 subjects // Eur. J. Radiol. — 2014. — 83. — ​Р. 268-272.
6. Zaffanello M. Renal Elasticity Quantification by Acoustic Radiation Force Impulse Applied to the Evaluation of Kidney Diseases: A Review / M. Zaffanello, G. Piacentini, C. Bruno, M. Brugnara, V. Fanos // Journal of Investigative Medicine. — 2015 April. — ​Vol. 63, № 4.
7. Wang L., Xia P., Lv K. et al. Assessment of renal tissue elasti–city by acoustic radiation force impulse quantification with histopathological correlation: preliminary experience in chronic kidney disease // Eur. Radiol. — 2014. — 24. — ​Р. 1694-1699.
8. Grenier N. Quantitative elastography of renal transplants using supersonic shear imaging: a pilot study / Nicolas Grenier, Séverine Poulain, Sébastien Lepreux, Jean-Luc Gennisson, Benjamin Dallaudière, Yann Lebras, Eric Bavu & Aude Servais, Vannary Meas-Yedid, Mathieu Piccoli, Thomas Bachelet, Mickaël Tanter, Pierre Merville, Lionel Couzi // Eur. Radiol. — 2012. — 22. — ​Р. 2138-2146. — ​DOI: 10.1007/s00330-012-2471-9.
9. Sohn B. Shear wave velocity measurements using acoustic radiation force impulse in young children with normal kidneys versus hydronephrotic kidneys / Beomseok Sohn, Myung-Joon Kim, Sang Won Han, Young Jae Im, Mi-Jung Lee // Ultrasonography. — 2014. — 33. — ​Р. 116-121. — ​http://dx.doi.org/10.14366/usg.14002