"Emergency medicine" 1 (80) 2017
The ultrastructural changes of mitochondria under insulin insufficiency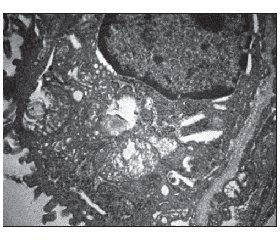 Summary
Висока поширеність цукрового діабету і прогресуюче зростання числа хворих, які страждають від органоспецифічних діабетичних ускладнень, змушують шукати чинники, що впливають на зміни метаболічних процесів і призводять до енергетичного дисбалансу і можливих дефектів мітохондрій у різних тканинах під впливом інсулінової недостатності. Об'єктом дослідження були 52 білі щури лінії Wistar масою 234,00 ± 2,64 г віком 5–6 місяців. І групу становили 25 лабораторних щурів зі стрептозотоциновим діабетом, які не отримували цукрознижувальної терапії. ІІ група (27 щурів) — група контролю. У результаті проведеного електронно-мікроскопічного дослідження міокарда та легеневої тканини виявлено ультраструктурні зміни мітохондрій у вигляді дезорганізації і редукції їх структур в умовах стійкої декомпенсації вуглеводного обміну на відміну від групи недіабетичних щурів. Це вказує на розвиток вторинної мітохондріальної недостатності в міокарді і тканинах дихальної системи при не контрольованій медикаментозно гіперглікемії.
Высокая распространенность сахарного диабета и прогрессирующий рост числа больных, страдающих от органоспецифических диабетических осложнений, заставляют искать факторы, влияющие на изменения метаболических процессов и приводящие к энергетическому дисбалансу и возможным дефектам митохондрий в различных тканях под влиянием инсулиновой недостаточности. Объектом исследования были 52 белые крысы линии Wistar массой 234,00 ± 2,64 г в возрасте 5–6 месяцев. І группу составили 25 лабораторных крыс со стрептозотоциновым диабетом, не получающих сахароснижающую терапию. ІІ группа (27 особей) — группа контроля. В результате проведенного электронно-микроскопического исследования миокарда и легочной ткани выявлены ультраструктурные изменения митохондрий в виде дезорганизации и редукции их структур в условиях стойкой декомпенсации углеводного обмена в отличие от группы недиабетических крыс. Это указывает на развитие вторичной митохондриальной недостаточности в миокарде и тканях дыхательной системы при не контролируемой медикаментозно гипергликемии.
The high prevalence of diabetes and the progressive increase in the number of patients suffering from organ-specific complications of diabetes makes us look for factors influen­cing the change of metabolic processes and leading to energy imbalance and possible defects in the mitochondria in diffe­rent tissues under the influence of insulin deficiency. The study included 52 white Wistar rats weighing 234.00 ± 2.64 g at the age of 5–6 months. Group I consisted of 25 laboratory rats with streptozotocin diabetes not receiving hypoglycemic therapy. II group (27 animals) — control group. As a result of the electron microscopic examination of the myocardium and lung tissue, we have revealed ultrastructural changes of mitochondria in the form of disorganization and the reduction of their structures in a persistent decompensation of carbohydrate metabolism, in contrast to the group of non-diabetic rats. It indicates the development of secondary mitochondrial insufficiency in the myocardium and tissues of the respiratory system in medically uncontrolled hyperglycemia.
Keywords
мітохондрії; стрептозотоциновий діабет; електронна мікроскопія; міокард; легені
митохондрии; стрептозотоциновый диабет; электронная микроскопия; миокард; легкие
mitochondria; streptozotocin diabetes; electron microscopy; myocardium; lungs
For the full article you need to subscribe to the magazine.
Bibliography
1. Guariguata L. Contribute data to the 6th edition of the IDF Diabetes Atlas // Diabetes Res. Clin. Pract. — 2013. — Vol. 100 (2). — P. 280-281.
2. Twig G., Yaniv G., Levine H. et al. Body-Mass Indexin 2.3 Million Adolescents and Cardiovascular Deathin Adulthood // N. Engl. J. Med. — 2016. — Vol. 374 (25). — P. 2430-2440.
3. Danaei G., Finucane M.M., Lu Y. et al. National, regional, and global trends in fasting plasma glucose and diabetes prevalence since 1980: systematic analysis of health examination surveys and epidemiological studies with 370 country-years and 2.7 million participants // Lancet. — 2011. — Vol. 378 (9785). — P. 31-40.
4. Dosluoglu H.H., Lall P., Nader N.D. et al. Insulin use is associated with poor limb salvage and survival in diabetic patients with chronic limb ischemia // J. Vasc. Surg. — 2010. — Vol. 51 (5). — P. 1178-1189.
5. Zhou B., Lu Y., Hajifathalian K. et al. Worldwide trends in diabetes since 1980: a pooled analysis of 751 population-based studies with 4.4 million participants // Lancet. — 2016. — Vol. 387 (10027). — P. 1513-1530.
6. Wheatley C.M., Baldi J.C., Cassuto N.A. et al. Glycemic control influences lung membrane diffusion and oxygen saturation in exercise-trained subjects with type 1 diabetes: alveolar-ca–pillary membrane conductance in type 1 diabetes // Eur. J. Appl. Physiol. — 2011. — Vol. 111 (3).— P. 567-578.
7. Mercer J.R., Liu H. The Evaluation of Hypoxiain Diabetes // Developments in Nuclear Medicine. — 1999. — Vol. 33. — P. 129-153.
8. Gomez-Valdes A. Chronic Hypoxia Causes Disorder of Glucose Metabolism and a Specific Type of Diabetes // Journal of Endocrinology and Diabetes Mellitus. — Vol. 2 (issue 2). — P. 53-57.
9. Armstrong J.S., Whiteman M. Measurement of reactive oxygen species in cells and mitochondria // Methods Cell. Biol. — 2007. — Vol. 80. — P. 355-377.
10. Roth M., Black J.L. An imbalance in C/EBPs and increased mitochondrial activity in asthmatic airway smooth muscle cells: novel targets in asthma therapy? // Br. J. Pharmacol. — 2009. — Vol. 157 (3). — P. 334-341.
11. Disorders of Mitochondrial Energy Metabolism / Rahman S., Janssen C.H.M. — 2016. // Oxford Medicine Online: http://dx.doi.org/10.1093/med/9780199972135.003.0007
12. Mayevsky A., Rogatsky G.G. Mitochondrial function in vivo evaluated by NADH fluorescence: from animal models to human studies // Am. J. Physiol. Cell. Physiol. — 2007. — Vol. 292 (2). — Р. 615-640.
13. Schaible N., Delmotte P., Sieck G.C.Mitochondrial Excitation-Energy Coupling in Airway Smooth Muscle // Respiratory Medi–cine. — 2014. http://dx.doi.org/10.1007/978-1-4939-0829-5_5.
14. Кaрупу В.Я. Элeктрoннaя микрocкoпия / В.Я. Кaрупу. — К.: Вищa шкoлa, 1984. — 208 c.
15. Вeйбeль Э.Р. Мoрфoмeтрия лeгких чeлoвeкa / Э.Р. Вeйбeль: Пeр. c aнгл. — М.: Мeдицинa, 1970. — 170 c.
16. Carraro M., Bernardi P. Calcium andreactive oxygen species in regulation of the mitochondrial permeability transition and of programmed cell death in yeast // Cell. Calcium. — 2016. — Vol. 60 (2). — Р. 102-107.
17. Carraro M., Giorgio V., Šileikytė J. Channel formation by yeast F-ATP synthase and the role of dimerization in the mitochondrial permeability transition // J. Biol. Chem. — 2014. — Vol. 289 (23). — 15980-15985.
18. Brooks G.A. Energy Flux, Lactate Shuttling, Mitochondrial Dynamics, and Hypoxia // Adv. Exp. Med. Biol. — 2016. — Vol. 903. — 439-455.
19. Gonchar O., Mankovskaya I. Effect of moderate hypoxia/reoxygenation on mitochondrial adaptation to acute severe hypoxia // Acta Biol. Hung. — 2009. — Vol. 60 (2). — Р. 185-194.
Similar articles

Authors: Орлов Ю.П.
ГБОУ ВПО «Омская государственная медицинская академия» Минздрава России, г. Омск, Россия
"Emergency medicine" 7 (78) 2016
Date: 2016.12.21
Categories: Medicine of emergency
Sections: Specialist manual


Authors: Никонов В.В., Курсов С.В., Белецкий А.В.
Харьковская медицинская академия последипломного образования, г. Харьков, Украина
"Emergency medicine" 4 (83) 2017
Date: 2017.07.28
Categories: Medicine of emergency
Sections: Specialist manual


Authors: Sokolova L.K., Pushkarev V.M., Belchina Yu.B., Pushkarev V.V., Vatseba T.S., Tronko N.D.
SI "V.P. Komisarenko Institute of Endocrinology and Metabolism of NAMS of Ukraine", Kyiv, Ukraine
International journal of endocrinology Том 15, №1, 2019
Date: 2019.04.10
Categories: Endocrinology
Sections: Clinical researches


Authors: Пасєчко Н.В., Лой Г.Я., Корда М.М., Олещук О.М.
ДВНЗ «Тернопільський державний медичний університет ім. І.Я. Горбачевського МОЗ України», м. Тернопіль, Україна
International journal of endocrinology Том 14, №7, 2018
Date: 2018.12.27
Categories: Endocrinology
Sections: Specialist manual