"Emergency medicine" 1 (80) 2017
Peculiarities of application of caudal analgesia by bupivacaine solution in combination with buprenorphine during endovascular surgical interventions on peripheral arteries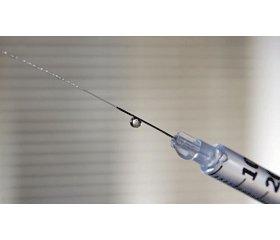 Authors:

Дзюба Д.О.(1), Бишовець С.М.(1), Галушко О.А.(1), Верещагін С.В.(2), Донець В.В.(2), Богдан А.М.(1)
(1) — Національна медична академія післядипломної освіти імені П.Л. Шупика, м. Київ, Україна
(2) — КЗ «Київська обласна клінічна лікарня», м. Київ, Україна



Categories:

Medicine of emergency



Sections:

Clinical researches
Summary
Проблема лікування післяопераційного больового синдрому залишається актуальною, незважаючи на розвиток медицини. У наш час існує широкий вибір методик аналгезії та медикаментів, але це суттєво не впливає на частоту виникнення післяопераційного больового синдрому. Показано, що інтенсивна больова імпульсація притаманна навіть невеликим оперативним втручанням, до яких належать і ендоваскулярні втручання. Різновидом епідуральної аналгезії є каудальна анестезія. У статі наведені особливості застосування цієї методики.
Проблема лечения послеоперационного болевого синдрома остается актуальной, несмотря на развитие медицины. В данное время существует широкий выбор методик аналгезии и медикаментов, но это существенно не влияет на частоту возникновения послеоперационного болевого синдрома. Показано, что интенсивная болевая импульсация присуща даже небольшим оперативным вмешательствам, к которым относятся и эндоваскулярные вмешательства. Разновидностью эпидуральной аналгезии является и каудальная анестезия. В статье представлены особенности применения этой методики.
Despite development of medicine, the postoperative pain syndrome treatment is still in a topical issue. A great number of existing analgesia methods and medicines have no essential impact on the incidence of postoperative pain syndrome. The researches indicated that intensive pain impulsion arises during even minor surgeries, including endovascular interventions. The caudal anesthesia is a type of epidural analgesia. The article shows the peculiarities of application of this procedure.
Keywords
післяопераційний больовий синдром; каудальна анестезія; ускладнення; бупівакаїн; бупренорфін
послеоперационный болевой синдром; каудальная анестезия; осложнения; бупивакаин; бупренорфин
postoperative pain syndrome; caudal anesthesia; complications; bupivacaine; buprenorphine
For the full article you need to subscribe to the magazine.
Bibliography
1. Tiippana E. et al. New approach for treatment of prolonged postoperative pain: APS Out-Patient Clinic // Scandinavian Journal of Pain. — 2016. — Т. 12. — С. 19-24.
2. Reed G. W. et al. Hospital Readmissions Following Endovascular Therapy for Critical Limb Ischemia: Associations With Wound Healing, Major Adverse Limb Events, and Mortality // Journal of the American Heart Association. — 2016. — Т. 5, №. 5. — С. e003168.
3. Rawal N. Epidural technique for postoperative pain: gold standard no more? // Regional anesthesia and pain medicine. — 2012. — Т. 37, №. 3. — С. 310-317.
4. KANG X.H. et al. Major complications of epidural anesthesia: a prospective study of 5083 cases at a single hospital // Acta Anaesthesiologica Scandinavica. — 2014. — Т. 58, №. 7. — С. 858-866.
5. Brull R., Macfarlane A.J.R., Chan V.W.S. Spinal, epidu–ral, and caudal anesthesia // Miller's Anesthesia. Elsevier: Saunders. — 2015. — С. 1684-720.
6. Ростомашвили Е.Т. Использование каудальной анестезии в практике амбулаторной хирургии // Амбулаторная хирургия. — 2005. — № 1(17). — С. 60-65
7. Геодакян О.С., Цыпин Л.Е., Агавелян Э.Г. Анализ осложнений и побочных эффектов каудальной эпидуральной анестезии // Вестник интенсивной терапии. — 2004. — № 1. — С. 34-39
8. Suresh S. et al. Are Caudal Blocks for Pain Control Safe in Children? An Analysis of 18,650 Caudal Blocks From the Pediatric Regional Anesthesia Network (PRAN) Database // Survey of Anesthesiology. — 2016. — Т. 60, №. 2. — С. 72-73.
9. Haydar B. Caudal anaesthesia safety for hypospadias repair // Anaesthesia. — 2016. — Т. 71, №. 10. — С. 1246-1247.