"Emergency medicine" 1 (80) 2017
The correlation indices in patients with multiorgan dysfunction syndrome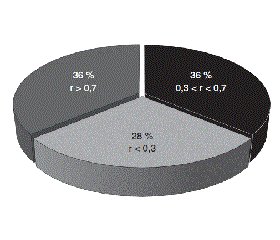 Authors:

Малыш И.Р., Згржебловская Л.В.
Национальная медицинская академия последипломного образования им. П.Л. Шупика, г. Киев, Украина
Украинский научно-практический центр экстренной медицинской помощи и медицины катастроф, г. Киев, Украина
Киевская городская клиническая больница скорой медицинской помощи, г. Киев, Украина



Categories:

Medicine of emergency



Sections:

Clinical researches
Summary
Стаття присвячена вивченню кореляційної залежності між кумулятивними дозами колоїдів, кристалоїдів та показниками життєво важливих функцій на 12-ту добу посттравматичного періоду. Аналіз кореляційної залежності показав, що кумулятивна доза колоїдів тісно співвідносилася з показниками об'єму та балансу позаклітинної рідини, показниками вентиляції та газообміну. Це, можливо, пов'язано з тим, що проникнення молекул колоїдів у позасудинний простір на фоні синдрому капілярного витоку сприяло посиленню вираженості інтерстиціальної гідратації, порушенню процесів газообміну. При вивченні показників функцій нирок виявлено тісну негативну кореляцію між кумулятивною дозою колоїдів та показниками фільтраційного градієнта, швидкістю гломерулярної фільтрації та тісну позитивну — між рівнем креатиніну в сироватці крові. При дослідженні показників імунної відповіді виявилося, що відмічається тісна негативна кореляція між кумулятивною дозою колоїдів і фагоцитарним показником та величиною фагоцитарного числа. Мабуть, фагоцитування молекул колоїдів, що перебувають в інтерстиціальному просторі, клітинами моноцитарно-макрофагальної системи викликає в подальшому значні порушення фагоцитозу, а потім, ймовірно, і антигенної презентації. При вивченні кореляційної залежності між кумулятивною дозою кристалоїдів та показниками основ­них життєво важливих функцій виявлено, що практично була відсутня тісна кореляція, за винятком рівнів натрію та хлоридів у сироватці крові.
Статья посвящена изучению корреляционной зависимости между кумулятивными дозировками коллоидов и кристаллоидов и показателями жизненно важных функций на 12-е сутки посттравматического периода. Анализ корреляционной зависимости показал, что кумулятивная доза коллоидов тесно соотносится с показателями объема и баланса внеклеточной жидкости, показателями вентиляции и газообмена. Это, по-видимому, связано с тем, что проникновение молекул коллоидов во внесосудистое пространство на фоне синдрома капиллярной утечки способствовало усилению выраженности интерстициальной гидратации, нарушению процессов газообмена. При изучении показателей функции почек выявлена тесная отрицательная корреляция между кумулятивной дозой коллоидов и показателями фильтрационного градиента, скоростью гломерулярной фильтрации и тесная положительная — с уровнем креатинина в сыворотке крови. При исследовании показателей иммунного статуса оказалось, что отмечается тесная отрицательная корреляция между кумулятивной дозой коллоидов и фагоцитарным показателем и величиной фагоцитарного числа. По-видимому, фагоцитирование молекул коллоидов, находящихся в интерстиции, клетками моноцитарно-макрофагальной системы вызывает в дальнейшем значительные нарушения фагоцитоза, а затем, вероятно, и антигенной презентации. При изучении корреляционной зависимости между кумулятивной дозой кристаллоидов и показателями основных жизненно важных функций оказалось, что практически отсутствовала тесная корреляция, за исключением уровней натрия и хлоридов в сыворотке крови.
The article is devoted to the investigation of correlation levels between colloids and crystalloids and different physiologic variables on the 12th day after injury. The study suggested that cumulative dose of colloids tightly interrelated with extravascular fluid volume and balance, parameters of ventilation and gas exchange. It was likely associated with colloid mo­lecules penetration against capillary flow syndrome promoting increased interstitial hydration, impaired respiratory metabolism. The examination of renal functioning found out negative interrelation between colloids cumulative dose and filtration gradient, glomerular filtration rate and positive interrelations with blood serum creatinine levels. Perhaps, englobing of colloid molecules in interstitial space by the cells of monocyte-macrophage system results in severe impairment of phagocytosis along with the further antigen presentation. The investigation of immune response has shown that there is negative correlation between cumulative doses of colloids and activity of innate immunity, except for sodium and chloride blood levels.
Keywords
політравма; синдром поліорганної недостатності; колоїди; кристалоїди; кореляція
политравма; синдром полиорганной недостаточности; коллоиды; кристаллоиды; корреляция
multiple injury; multiorgan dysfunction syndro­me; colloids; crystalloids; correlation
For the full article you need to subscribe to the magazine.
Bibliography
1. Alderson P., Bunn F., Lefebvre C., Li W.P., Li L., Ro–berts I. et al. Human albumin solution for resuscitation and vo–lume expansion in critically ill patients // Cochrane Database Syst. Rev. — 2014. — Vol. 4. — P. 1208-1211.
2. Choi P.T., Yip S., Quinonez L.G., Cook D. Crystalloids vs. colloids in fluid resuscitation: a systematic review // Crit. Care Med. — 2003. — Vol. 27. — P. 200-210.
3. Schierhout G., Roberts I. Fluid resuscitation with colloid or crystalloid solutions in critically ill patients: a systematic review of randomized trials // BMJ. — 2002. — Vol. 36. — P. 96-104.
4. Wilkes M.M., Navickis R. Patient survival after human albumin administration. A meta-analysis of randomized, controlled trials // Ann. Intern. Med. — 2011. — Vol. 35, № 3. — P. 149-164.
5. Velanovich V. Crystalloid versus colloid fluid resuscitation: a meta-analysis of mortality. // Surgery. — 2010. — Vol. 105, № 1. — P. 65-67.
6. Perel P., Roberts I. Colloids versus crystalloids for fluid resuscitation in critically ill patients // Cochrane Database Syst. Rev. — 2012. — Vol. 4. — P. 567-580.
7. Schneeberger E.E., Lynch R.D., Neary B.A. Interaction of native and chemically modified albumin with pulmonary microvascular endothelium // Am. J. Physiol. — 2010. — Vol. 258. — P. 89-98.
8. Kirkpatrick A.W., Balogh Z., Ball C.G. The secondary abdominal compartment syndrome: iatrogenic or unavoidable? // J. Am. Coll. Surg. — 2006. — Vol. 202. — P. 668-679.
9. Michel C.C. Starling: the formulation of his hypothesis of microvascular fluid exchange and its significance after 100 years // Exp. Physiol. — 2012. — Vol. 82, № 1. — Р. 1-30.
Similar articles

Authors: Малыш И.Р., Згржебловская Л.В.
Национальная медицинская академия последипломного образования им. П.Л. Шупика, г. Киев, Украина
Украинский научно-практический центр экстренной медицинской помощи и медицины катастроф, г. Киев, Украина
Киевская городская клиническая больница скорой медицинской помощи, г. Киев, Украина
"Emergency medicine" 1 (80) 2017
Date: 2017.03.17
Categories: Medicine of emergency
Sections: Clinical researches


Authors:
Йовенко И.А.(1), Кобеляцкий Ю.Ю.(2), Царев А.В.(1, 2), Кузьмова Е.А.(1), Дубовская Л.Л.(1), Мынка В.Ю.(1), Селезнева У.В.(1) (1) КУ «Днепропетровская областная клиническая больница им. И.И. Мечникова», г. Днепр, Украина (2) ГУ «Днепропетровская медицинская академия МЗ Украины», г. Днепр, Украина


"Emergency medicine" 2 (81) 2017
Date: 2017.05.15
Categories: Medicine of emergency
Sections: Specialist manual


Authors: Малыш И.Р., Згржебловская Л.В.
Национальная медицинская академия последипломного образования им. П.Л. Шупика, г. Киев, Украина
Украинский научно-практический центр экстренной медицинской помощи и медицины катастроф, г. Киев, Украина
Киевская городская клиническая больница скорой медицинской помощи, г. Киев, Украина
"Emergency medicine" 1 (80) 2017
Date: 2017.03.17
Categories: Medicine of emergency
Sections: Clinical researches


Authors: Волков А.О.(1), Клигуненко Е.Н.(1), Луценко В.В.(2)
(1) — ГУ «Днепропетровская медицинская академия МЗ Украины», г. Днепр, Украина
(2) — КУ «Каменская городская клиническая больница № 9» ДОС, г. Каменское, Украина
"Emergency medicine" №3(98), 2019
Date: 2019.05.14
Categories: Medicine of emergency
Sections: Specialist manual