"Emergency medicine" 1 (80) 2017
Effect of different surgical approaches to aortic valve replacement on surgical stress degree and systemic inflammatory response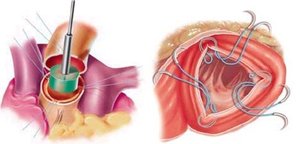 Authors:

Іванюк А.В.(1), Бондар М.В.(2), Лоскутов О.А.(2), Руденко А.В.(3), Тодуров Б.М.(1)
(1) — ДУ «Інститут серця» МОЗ України, м. Київ, Україна
(2) — Кафедра анестезіології та інтенсивної терапії НМАПО імені П.Л. Шупика, м. Київ, Україна
(3) — Національний інститут серцево-судинної хірургії імені М.М. Амосова НАМН України, м. Київ, Україна



Categories:

Medicine of emergency



Sections:

Clinical researches
Summary
Метою даної роботи була оцінка впливу мінімально інвазивної J-подібної стернотомії і поздовжньої серединної стернотомії (ПСС) на ступінь вираженості операційного стресу і системної запальної реакції при протезуванні аортального клапана (ПАК). На підставі обстеження 44 пацієнтів із застосуванням мінімально інвазивного доступу (МІД) і 54 пацієнтів із застосуванням ПСС було показано, що у разі застосування МІД спостерігається менш виражена системна запальна реакція організму, що підтверджується більш низькими концентраціями в плазмі ключових прозапальних цитокінів (фактора некрозу пухлини альфа — у середньому на 5,8 пг/мл (в 1,6 раза), інтерлейкіну-6 — у середньому на 5,3 пг/мл (у 2,3 раза)) та деяких протеїнів гострої фази запалення (С-реактивного протеїну — у середньому на 23,5 мг/л (в 1,8 раза) та концентрації фібриногену — у середньому на 1,3 г/л (в 1,3 раза)). До того ж під час роботи було визначено, що застосування мінімально інвазивного доступу для виконання ПАК порівняно з традиційною поздовжньою серединною стернотомією супроводжується менш вираженою стрес-індукованою перебудовою гормонального гомеостазу, що також об'єктивно підтверджує перевагу мінімально інвазивного доступу над поздовжньою серединною стернотомією.
Целью данной работы была оценка влияния минимально инвазивной J-образной стернотомии и продольной срединной стернотомии (ПСС) на степень выраженности операционного стресса и системной воспалительной реакции при протезировании аортального клапана (ПАК). На основании обследования 44 пациентов с применением минимально инвазивного доступа (МИД) и 54 пациентов с применением ПСС было показано, что в случае использования МИД наблюдается менее выраженная системная воспалительная реакция организма, что подтверждается более низкими концентрациями в плазме ключевых провоспалительных цитокинов (фактора некроза опухоли альфа — в среднем на 5,8 пг/мл (в 1,6 раза), интерлейкина-6 — в среднем на 5,3 пг/мл (в 2,3 раза)) и некоторых протеинов острой фазы воспаления (С-реактивного протеина — в среднем на 23,5 мг/л (в 1,8 раза) и концентрации фибриногена — в среднем на 1,3 г/л (в 1,3 раза)). К тому же в ходе работы было определено, что применение минимально инвазивного доступа для выполнения ПАК по сравнению с традиционной продольной срединной стернотомией сопровождается менее выраженной стресс-индуцированной перестройкой гормонального гомеостаза, что также объективно подтверждает преимущества минимально инвазивного доступа над продольной срединной стернотомией.
The aim of the study was to estimate the effect of minimally invasive J-shaped sternotomy and median sternotomy on the intensity of surgical stress and systemic inflammatory response in aortic valve replacement. The results of the examination of 44 patients undergone minimally invasive approach and 54 patients undergone media sternotomy demonstrated that J-sternotomy was associated with less intensive systemic inflammatory response that has been proved by lower plasma concentrations of basic inflammatory cytokines (TNF-alpha on average 5.8 pg/ml (increased 1.6 times), IL-6 — on ave­rage 5.3 pg/mL (increased 2.3 times)), and some acute-phase proteins (C-reactive protein — on average 23.5 mg/l (increased 1.8 times) and fibrinogen concentrations — on average 1.3 g/l (increased 1.3 times)). As well it has been determined that minimally invasive approach to aortic valve replacement is followed by less severe stress-induced hormonal homeostasis as comparison to the standard median sternotomy, and it objectively confirms the benefits of minimally invasive approach versus media sternotomy.
Keywords
протезування аортального клапана; мінімально інвазивні доступи; рівень післяопераційного стресу; стрес-індукована перебудова гормонального гомеостазу
протезирование аортального клапана; минимально инвазивные доступы; уровень послеоперационного стресса; стресс-индуцированная перестройка гормонального гомеостаза
aortic valve replacement; minimally invasive approaches; postoperative stress intensity; stress-induced disruptions of hormonal homeostasis
For the full article you need to subscribe to the magazine.
Bibliography
1. Hassan M., Miao Y., Maraey A. et al. Minimally invasive aortic valve replacement: cost-benefit analysis of ministernotomy versus minithoracotomy approach // Heart Valve Dis. —2015. — Vol. 24(5). — Р. 531-539.
2. Ghanta R.K., Lapar D.J., Kern J.A. et al. Minimally invasive aortic valve replacement provides equivalent outcomes at reduced cost compared with conventional aortic valve replacement: A real-world multi-institutional analysis // J. Thorac. Cardiovasc. Surg. — 2015. — Vol. 149(4). — Р. 1060-1065.
3. Alassar Y., Yildirim Y., Pecha S. et al. Minimal access median sternotomy for aortic valve replacement in elderly patients // Cardiothorac. Surg. — 2013. — Vol. 20(8). — Р. 103.
4. Bari G., Csepregi L., Bitay M. et al. The role of mini–sternotomy in aortic valve surgery // Orv. Hetil. — 2016. — Vol. 157(23). — Р. 901-904.
5. Fortunato Júnior J.A., Fernandes A.G., Sesca J.R. et al. Minimally invasive aortic valve replacement: an alternative to the conventional technique // Rev. Bras. Cir. Cardiovasc. — 2012. — Vol. 27(4). — Р. 570-582.
6. Saidi T., Douglas T.S. Minimally invasive transcatheter aortic valve implantation for the treatment of rheumatic heart disease in developing countries // Expert Rev. Med. Devices. — 2016. — Vol. 13(10). — Р. 979-985.
7. Chan W.L., Zhou A., Read R.J. Towards engineering hormone-binding globulins as drug delivery agents // PLoS One. — 2014. — Vol. 9(11). — Р. e113402.
8. Klieber M.A., Underhill C., Hammond G.L. et al. Corticosteroid-binding globulin, a structural basis for steroid transport and proteinase-triggered release // J. Biol. Chem. — 2007. — Vol. 282. — Р. 29594-29603.
9. Li X.H., Yao Y.M. Advances in the research of effects of cholinergic anti-inflammatory pathway on vital organ function and its mechanism // Zhonghua Shao Shang Za Zhi. — 2016. — Vol. 32(7). — Р. 422-425.
10. Bone R.C. Immunologic dissonance: a continuing evolution in our understanding of the systemic inflammatory response syndrome (SIRS) and the multiple organ dysfunction syndrome (MODS) // Ann. Intern. Med. — 1996. — Vol. 125. — Р. 680-687.
11. Sapan H.B., Paturusi I., Jusuf I. et al. Pattern of cytokine (IL-6 and IL-10) level as inflammation and anti-inflammation mediator of multipleorgan dysfunction syndrome (MODS) in polytrauma // Int. J. Burns Trauma. — 2016. — Vol. 6(2). — Р. 37-43.
12. Burman K.D., Wartofsky L. Thyroid function in the intensive care unit setting // Crit. Care Clin. — 2001. — Vol. 17(1). — Р. 43-57.
13. Wernerman J., Desaive T., Finfer S. et al. Continuous glucose control in the ICU: report of a 2013 round table meeting // Crit. Care. — 2014. — Vol. 18(3). — Р. 226.
14. De Block C., Manuel-y-Keenoy B., Rogiers P. et al. Glucose control and use of continuous glucose monitoring in the intensive care unit: a critical review // Current Diabetes Reviews. — 2008. — Vol. 4(3). — Р. 234-244.
15. Kavanagh B.P., McCowen K.C. Clinical practice. Glycemic control in the ICU // N. Engl. J. Med. — 2010. — 363(26). — Р. 2540-2546.
16. Preiser J.C., Chase J.G., Hovorka R. et al. Glucose Control in the ICU: A Continuing Story // J. Diabetes Sci Technol. — 2016. — Vol. 10(6). — Р. 1372-1381.
17. Nguyen P.T., Lewis J.G., Sneyd J. et al. Development of a formula for estimating plasma free cortisol concentration from a measured total cortisol concentration when elastase-cleaved and intact corticosteroid binding globulin coexist // J. Steroid Biochem. Mol. Biol. — 2014. — Vol. 141. — Р. 16-25.
18. Lin H.Y., Muller Y.A., Hammond G.L. Molecular and structural basis of steroid hormone binding and release from corticosteroid-binding globulin // Mol. Cell. Endocrinol. — 2010. — Vol. 316(1). — Р. 3-12.
Similar articles

Authors: Лоскутов О.А.(1, 2), Данчина Т.А.(1, 3), Колесников В.Г.(1, 2), Дружина О.М.(1, 2), Коротчук Н.В.(2), Бугай О.О.(3)
(1) — Національна медична академія післядипломної освіти імені П.Л. Шупика, м. Київ, Україна
(2) — ДУ «Інститут серця МОЗ України, м. Київ, Україна
(3) — Національний військово-медичний клінічний центр «Головний військовий клінічний госпіталь», м. Київ, Україна
"Emergency medicine" №2(89), 2018
Date: 2018.04.13
Categories: Medicine of emergency
Sections: Clinical researches