"Emergency medicine" 1 (80) 2017
The questions of anesthesia in interventional cardiology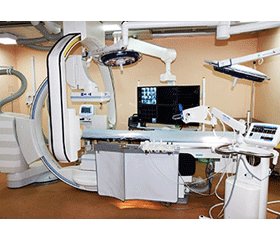 Authors:

Дзюба Д.О., Журовська Ю.М., Лоскутов О.А.
Національна медична академія післядипломної освіти імені П.Л. Шупика, м. Київ, Україна



Categories:

Medicine of emergency



Sections:

Clinical researches
Summary
З кожним роком прогрес тільки набирає обертів, і все більше серцево-судинних захворювань лікуються із застосуванням міні-інвазивних методів. Це зумовлює стрімкий розвиток медичних технологій, упровадження нових методик лікування й діагностики у сфері кардіохірургії та інтервенційної кардіології. Незважаючи на те що в Україні удосконалилася підготовка лікарів — інтервенційних кардіологів, створений Український реєстр з інтервенційної кардіології, питання анестезіологічного забезпечення інтервенційних процедур залишається дискусійним та недостатньо вивченим. У статті наводиться огляд проблеми анестезіологічного забезпечення в інтервенційній кардіології.
С каждым годом прогресс только набирает обороты, и все больше сердечно-сосудистых заболеваний лечатся с применением мини-инвазивных методов. Это приводит к стремительному развитию медицинских технологий, внедрению новых методик лечения и диагностики в сфере кардиохирургии и интервенционной кардиологии. Несмотря на то что в Украине усовершенствовалась подготовка врачей — интервенционных кардио­логов, создан Украинский реестр по интервенционной кардиологии, вопрос анестезиологического обеспечения интервенционных процедур остается дискуссионным и недостаточно изученным. В статье приводится обзор проблемы анестезиологического обеспечения в интервенционной кардиологии.
Each year, progress is gaining and more amounts of cardiovascular diseases are treated by minimally invasive treatments. This causes rapid development of medical technologies, new methods of treatment and diagnostics in the field of cardiac surgery and interventional cardiology. Despite the fact, that in Ukraine, interventional cardiologists are updated in trainings. It was created the Ukrainian registry of interventional cardiology, but the question of anesthetic management for intervention procedures is controversial and poorly understood. This article is an overview of the problems of anesthetic management in interventional cardiology.
Keywords
анестезія, інтервенційна кардіологія; рентгенопераційна; аналгоседація
анестезия; интервенционная кардиология; рентгеноперационная; аналгоседация
anesthesia, interventional cardiology; X-ray ope­rating room; analgosedation
For the full article you need to subscribe to the magazine.
Bibliography
1. Зозуля І.С. Епідеміологія цереброваскулярних захворювань в Україні / Зозуля І.С., Зозуля А.І. // Укр. мед. часопис. — 2011. — № 5. — С. 38-41.
2. Forssmann-Falck R. Werner Forssmann: a pioneer of cardiology / Forssmann-Falck R. // Am. J. Cardiol. — 1997. — № 79. — С. 60.
3. Cournand A. Catheterization of the right auricle in men / Cournand A., Ranges H.A. // Proc. Soc. Exp. Biol. Med. — 1941. — № 46. — С. 462.
4. Goel S. Anaesthesia for Procedures in Cardiac Catheterisation Laboratory / Goel S., Deepak K. // Annals of Cardiac –Anaesthesia. — 2004. — № 7. — С. 32-39.
5. Neal S. Gerstein. Sedation in the Electrophysiology La–boratory: A Multidisciplinary Review [Електронний ресурс] / Neal S. Gerstein, Young A., Schulman P. // Journal of the American Heart Association. — 2016. — Режим доступу: http://jaha.ahajournals.org/content/5/6/e003629.
6. Hayman M. Anesthesia for Interventional Cardiology / Hayman M., Forrest P., Kam P. // Journal of Cardiothoracic and Vascular Anesthesia. — 2012. — № 1. — С. 134-147.
7. Hamid M. Anesthesia for cardiac catheterization procedures / Hamid M. // Heart, Lung and Vessels. — 2014. — № 6. — С. 225-231.
8. Stuart P. CSANZ Position Statement on Sedation for Cardiovascular Procedures / Stuart P., Kovoor P., Thiagalingam A. // Heart, Lung and Circulation. — 2015. — № 24. — С. 1041-1048.
9. Abdel-Wahab M. Diazepam versus fentanyl for premedication during percutaneous coronary intervention: results from the Myocardial Protection by Fentanyl during Coronary Intervention / Abdel-Wahab M., Khattab A., Liska B. // Journal of Interventional Cardiology. — 2008. — № 21. — С. 232-238.