"Emergency medicine" 1 (80) 2017
Features of anaesthetic management during transpapillary endoscopic interventions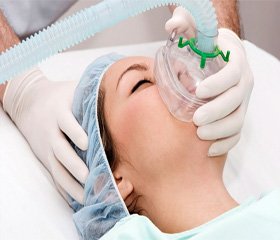 Authors:

Арешніков Д.Б.(3) , Дронов О.І.(2), Насташенко І.Л.(2), Хініч Г.Ю.(3), Хрисанфов Д.Ю.(3), Бондар М.В.(1), Кучинська І.А.(1)
(1) — Національна медична академія післядипломної освіти імені П.Л. Шупика, м. Київ, Україна
(2) — Національний медичний університет імені О.О. Богомольця, м. Київ, Україна
(3) — Київська міська клінічна лікарня № 10, Київський міський центр хірургії захворювань печінки, жовчних шляхів та підшлункової залози ім. В.С. Земскова, м. Київ, Україна



Categories:

Medicine of emergency



Sections:

Clinical researches
Summary
Незважаючи на багаторічний досвід міжнародної анестезіологічної спільноти, седація та анестезія під час ендоскопічних маніпуляцій на шлунково-кишковому тракті залишається фундаментальним аспектом вивчення. У статті наведено аналіз останніх досліджень та публікацій, присвячених особливостям анестезіологічного забезпечення ендоскопічних транспапілярних втручань. Також подані власні результати аналізу проведення тотальних внутрішньовенних анестезій з інтубацією трахеї у пацієнтів, які потребували виконання ендоскопічних маніпуляцій на верхніх відділах шлунково-кишкового тракту, та проаналізовано вплив способу застосованої анестезії на результати ендоскопічних втручань, якість роботи хірургів, задоволеність пацієнтів.
Несмотря на многолетний опыт международного анестезиологического сообщества, седация и анестезия во время эндоскопических манипуляций на желудочно-кишечном тракте остается фундаментальным аспектом изучения. В статье приведен анализ последних исследований и публикаций, посвященных особенностям анестезио­логического обеспечения эндоскопических транспапиллярных вмешательств. Также представлены собственные результаты анализа проведения тотальных внутривенных анестезий с интубацией трахеи у пациентов, нуждающихся в выполнении эндоскопических манипуляций на верхних отделах желудочно-кишечного тракта, проанализировано влияние способа примененной анестезии на результаты проведения эндоскопических вмешательств, качество работы хирургов, удовлетворенность пациентов.
Despite the long experience of the international anesthesia community, sedation and anesthesia during endoscopic manipulations on the gastrointestinal tract is a fundamental aspect of the study. The article presents analysis of recent researches and publications devoted to the peculiarities of anesthesia during transpapillary endoscopic interventions. It also presented own analysis of the results of total intravenous anesthesia with endotracheal intubation in patients requiring endoscopic manipulations on the upper gastrointestinal tract, and analyzed the influence of anesthesia method applied on the results of endoscopic interventions, the quality of surgery, patient satisfaction.
Keywords
ендоскопічні транспапілярні втручання; тотальна внутрішньовенна анестезія; ускладнення
эндоскопические транспапиллярные вмешательства; тотальная внутривенная анестезия; ­осложнения
transpapillary endoscopic interventions; total intravenous anesthesia; complications
For the full article you need to subscribe to the magazine.
Bibliography
1. Wang D., Chen C., Chen J., Xu Y., Wang L., Zhu Z., Deng D., Chen J., Long A., Tang D. et al. The use of propofol as a sedative agent in gastrointestinal endoscopy: a meta-analysis // PLoS One. 2013; 8: e53311. [PMC free article] [PubMed].
2. Singh H., Poluha W., Cheung M., Choptain N., Ba–ron K.I., Taback S.P. Propofol for sedation during colonoscopy // Cochrane Database Syst Rev. 2008; (4): CD006268. [PubMed].
3. Bannert C., Reinhart K., Dunkler D., Trauner M., Renner F., Knoflach P., Ferlitsch A, Weiss W, Ferlitsch M. Sedation in screening colonoscopy: impact on quality indicators and complications // Am J Gastroenterol.2012; 107: 1837-1848. [PubMed].
4. Reves J.G., Fragen R.J., Vinik H.R., Greenblatt D.J. Mi–dazolam: pharmacology and uses // Anesthesiology. 1985; 62: 310-324.
5. Patel S., Vargo J.J., Khandwala F., Lopez R., Trolli P., Dumot J.A., Conwell D.L., Zuccaro G. Deep sedation occurs frequently during elective endoscopy with meperidine and midazo–lam // Am J Gastroenterol. 2005; 100: 2689-2695.
6. Cole S.G., Brozinsky S., Isenberg J.I. Midazolam, a new more potent benzodiazepine, compared with diazepam: a rando–mized, double-blind study of preendoscopic sedatives // Gastrointest Endosc. 1983; 29: 219-222.
7. Cohen L.B., Delegge M.H., Aisenberg J., Brill J.V., Inadomi J.M., Kochman M.L., Piorkowski J.D. AGA Institute review of endoscopic sedation // Gastroenterology. 2007; 133: 675-701.
8. Kanto J., Gepts E. Pharmacokinetic implications for the clinical use of propofol // Clin Pharmacokinet. 1989.
9. FDA/CDER SBIA Chronicles. Drugs in Pregnancy and Lactation: Improved Benefit-Risk Information. January 22, 2015. Accessed July 25, 2016.
10. Guidelines for endoscopy in pregnant and lactating wo–men // Gastrointestinal Endoscopy 2012; 76(1).
11. Töx U., Schumacher B., Toermer T., Terheggen G., Mertens J., Holzapfel B., Lehmacher W., Goeser T., Neuhaus H. Propofol sedation for colonoscopy with a new ultrathin or a standard endoscope: a prospective randomized controlled study // Endoscopy. 2013; 45: 439-444.
12. Othman M.O., Bradley A.G., Choudhary A., Hoffman R.M., Roy P.K. Variable stiffness colonoscope versus regular adult colonoscope: meta-analysis of randomized controlled –trials // Endoscopy. 2009; 41: 17-24.
13. Wu J., Hu B. The role of carbon dioxide insufflation in colonoscopy: a systematic review and meta-analysis // Endoscopy. 2012; 44: 128-136.
14. Leung F.W., Amato A., Ell C., Friedland S., Harker J.O., Hsieh Y.H., Leung J.W., Mann S.K., Paggi S., Pohl J. et al. Water-aided colonoscopy: a systematic review // Gastrointest Endosc. 2012; 76: 657-666.
15. Firth J.D. An anesthetic technique for oral endoscopy // Anesth Analg. 1960; 39: 175-179.
16. Ticktin H.E., Trujillo N.P. Evaluation of diazepam for pre-endoscopy medication // Am J Dig Dis. 1965; 10: 979-984.
17. Arrowsmith J.B., Gerstman B.B., Fleischer D.E., Benjamin S.B. Results from the American Society for Gastrointestinal Endoscopy/U.S. Food and Drug Administration collaborative study on complication rates and drug use during gastrointestinal endoscopy // Gastrointest Endosc. 1991; 37: 421-427.
18. Cohen L.B., Wecsler J.S., Gaetano J.N., Benson A.A., Miller K.M., Durkalski V., Aisenberg J. Endoscopic sedation in the United States: results from a nationwide survey // Am J Gastroenterol. 2006; 101: 967-974.
19. Triantafillidis J.K., Merikas E., Nikolakis D., Papalois A.E. Sedation in gastrointestinal endoscopy: current issues // World J Gastroenterol. 2013; 19: 463-481.
20. Chandrasekhara V., Early D.S., Acosta R.D., Chathadi K.V., Decker G.A., Evans J.A., Fanelli R.D., Fisher D.A., Fo–ley K.Q., Fonkalsrud L. et al. Modifications in endoscopic practice for the elderly // Gastrointest Endosc. 2013; 78: 1-7.
21. Wani S., Azar R., Hovis C.E., Hovis R.M., Cote G.A., Hall M., Waldbaum L., Kushnir V., Early D., Mullady D.K. et al. Obesity as a risk factor for sedation-related complications du–ring propofol-mediated sedation for advanced endoscopic procedures // Gastrointest Endosc. 2011; 74: 1238-1247.
22. Riphaus A., Lechowicz I., Frenz M.B., Wehrmann T. Propofol sedation for upper gastrointestinal endoscopy in patients with liver cirrhosis as an alternative to midazolam to avoid acute deterioration of minimal encephalopathy: a randomized, controlled study // Scand J Gastroenterol. 2009; 44: 1244-1251.
23. Suh S.J., Yim H.J., Yoon E.L., Lee B.J., Hyun J.J., Jung S.W., Koo J.S., Kim J.H., Kim K.J., Choung R.S. et al. Is propofol safe when administered to cirrhotic patients during sedative endoscopy? // Korean J Intern Med. 2014; 29: 57-65.
Similar articles

Authors: Черній В.І.(1), Колганова К.А.(2, 3), Пайкуш В.А.(4, 5), Васильєва І.В.(6, 7)
(1) — Державна наукова установа «Науково-практичний центр профілактичної та клінічної медицини» Державного управління справами, м. Київ, Україна
(2) — Державний заклад «Дніпропетровська медична академія Міністерства охорони здоров'я України», м. Дніпро, Україна
(3) — А2 Clinic, м. Дніпро, Україна
(4) — Західноукраїнський спеціалізований дитячий медичний центр, м. Львів, Україна
(5) — Центр стоматологічної імплантації та протезування «ММ», м. Львів, Україна
(6) — ТОВ «Клініка професора Заблоцького», м. Київ, Україна
(7) — ТОВ «Міждисциплінарний дентальний центр ім. Ю.В. Опанасюка», м. Київ, Україна
"Emergency medicine" №8(95), 2018
Date: 2019.02.05
Categories: Medicine of emergency
Sections: Specialist manual


Authors: Пасічник Г.П., Орел В.М., Матвієнко О.О., Гоца Р.В., Гнатів Ю.В.
Клінічна лікарня «Феофанія» Державного управління справами, м. Київ, Україна
"Emergency medicine" №4(91), 2018
Date: 2018.08.09
Categories: Medicine of emergency
Sections: Clinical researches