"Emergency medicine" 1 (80) 2017
Non-compaction cardiomyopathy. A clinical case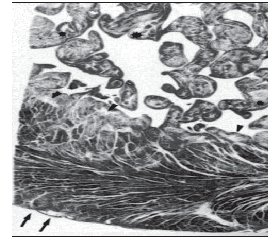 Authors:

Целуйко В.Й.(1), Кузнецов І.В.(1), Стеблянко І.В.(2)
(1) — Харківська медична академія післядипломної освіти, м. Харків, Україна
(2) — КЗОЗ «ОКЛ — ЦЕМД та МК», м. Харків, Україна



Categories:

Medicine of emergency



Sections:

Specialist manual
Summary
В роботі наведені етіологічні та патофізіологічні особливості некомпактної кардіоміопатії. Розглянуто варіанти клінічного перебігу та прогнозу захворювання. Описано можливі інтерпретації результатів сучасних інструментальних методик, що застосовуються у діагностиці кардіоміопатії. Наприкінці наведений клінічний випадок із практики авторів діагностики та застосування лікування у хворої молодого віку з некомпактною кардіоміопатією, вірогідно спадковою формою.
В работе приведены этиологические и патофизиологические особенности некомпактной кардиомиопатии. Рассмотрены варианты клинического течения и прогноза заболевания. Описаны возможные интерпретации результатов современных инструментальных методик, применяющихся в диагностике кардиомиопатии. Приведен клинический случай из практики авторов диагностики и применения лечения у больной молодого возраста с некомпактной кардиомиопатией, достоверно наследственной формой.
The article presented the etiological and pathophysiological features of non-compaction cardiomyopathy. Types of clinical course and prognosis were considered. We have described the interpretation of the results of modern instrumental techniques used in the diagnosis of cardiomyopathy. In the end of article, there is a clinical case from the practice of the authors on the diagnosis and treatment of young female patient with non-compaction cardiomyopathy, probably hereditary form.
Keywords
некомпактна кардіоміопатія; МРТ; ЕхоКС; спадкові хвороби
некомпактная кардиомиопатия; МРТ; ЭхоКС; наследственные болезни
non-compaction cardiomyopathy; magnetic resonance imaging; echocardioscopy; hereditary diseases
For the full article you need to subscribe to the magazine.
Bibliography
1. Серцево-судинні захворювання. Класифікація, стандарти діагностики та лікування / За ред. Коваленка В.М., Лутая М.І., Сіренка Ю.М. та співавт. — К.: Моріон, 2016.
2. Белозеров Ю.М. Детская кардиология. Наследственные синдромы. — Элиста: Джангар, 2008.
3. Dusek J., Ostadal B., Duskova M. Postnatal persistence of spongy myocardium with embryonic blood supply // Arch. Pathol. 1975; 99: 312-317.
4. Varnava A.M. Isolated left ventricular non-compaction: a distinct cardiomyophaty? // Heart. 2001; 86: 599-600.
5. Lauer R.M., Fink H.P., Petry E.L. et al. Angiographic de–monstration of intramyocardial sinusoids in pulmonary-valve atresia with intact ventricular septum and hypoplastic right ventricle // N. Engl. J. Med. 1964; 271: 68-72.
6. Chin T.K., Perloff J.K., Roberta G. Isolated Noncompaction of Left Ventricular Myocardium: a study of eight cases // Circulation. 1990; 82(2): 507-513.
7. Oechslin E., Attenhofer C., Rohas J., Kauffman P., Jenni R. Long-term follow-up of 34 adult with isolatedventrscular noncompaction // A distinct cardiomyophaty with poor prognosis // J. Am. Coll. Cardiol. 2000; 36: 493-500.
8. Finsterer J., Stollberger C., Feichtinger H. Historical appearance of left ventricular hypertrabeculation/noncompaction // Cardiology. 2002; 98: 162-164.
9. Ali S.K., Godman M.R. The variable clinical presentation of, and outcome for, noncompaction of the ventricular myocardium sn snfants and children, an under-diagnosed cardiomyopathy // Cardiol. Yaung. 2004 Aug; 14(4): 409-16.
10. Koh Y.Y., Seo YU., Woo J.J., Chang K.S., Hong S.P. Familian isolated noncompaction of the ventricular myocardium in asymptomatic phase // Yonsei. Med. J. 2004 Oct 31; 45(5): 931-5.
11. Nihei K., Shinomiya N., Kabayama H. et al. Wolf-Parkinson-White Syndrome in Isolated Noncompaction of the Ventricular Myocardium // Csrc. J. 2004; 68(1): 82-84.
12. McCrohon J.A., Richmond D.R., Pennell D.J. et al. Isolated Noncompaction of the Myocardium. A Rarity or Missed Diad–noses? // Circulation. 2002; 106: e22-e23.
13. Toyono M., Kondo C., Nakajima Y. et al. Effects of carvedilol on left ventricular function, mass and scintigraphic findings in isolated left ventricular non-compaction // Heart. 2001; 86: e4.
14. Jenni R., Oechslin E., Schneider J., Atteenhofre Jost C., Kaufmann P.A. Echocardiographic and pathoanatomical characteristics of isolated left ventricular non-compaction: a step towards classification as distinct cardiomyopathy // Heart. 2001; 86: 666-71.
15. Строжаков Г.И., Тронина О.А., Мелехов А.В. Изолированный губчатый миокард — наследственная неклассифицируемая кардиомиопатия // Сердечная недостаточность. — 2004. — Т. 5. № 4.
16. Stierle U., Giannitsis E., Sheikhzadeh A., Potratz J. Myocardial ischemia in generalized coronary artery-left ventricular microfistulae // Int J Cardiol. 1998; 63: 47-52.
17. Petersen S.E., Selvanayagam J.B., Wiesmann F., Robson M.D., Francis J.M., Anderson R.H., Watkins H., Neubauer S. Left ventricular non-compaction: insights from cardiovascular magne–tic resonance imaging // J. Am. Coll. Cardiol. 2005; 46: 101-5.
18. Habib G., Charron P., Eicher J.C., Giorgi R., Donal E., Laperche T., Boulmier D., Pascal C., Logeart D., Jondeau G., Cohen-Solal A., Working Groups 'Heart Failure and Cardiomyopathies' and 'Echocardiography' of the French Society of Cardiology. Isolated left ventricular non-compaction in adults: clinical and echocardiographic features in 105 patients. Results from a French registry // Eur. J. Heart Fail. 2011; 13: 177-85.
19. Dodd J.D, Holmvang G., Hoffmann U., Ferencik M., Abbara S., Brady T.J., Cury R.C. Quantification of left ventricular noncompaction and trabecular delayed hyperenhancement with cardiac MRI: correlation with clinical severity // AJR Am J Roentgenol. 2007; 189: 974-80.
Similar articles

Authors:
Ершова И.Б., Осипова Т.Ф., Нестерова Т.В. - ГУ «Луганский государственный медицинский университет»; Чернова Е.В., Гаврыш Л.И. - Луганская городская детская многопрофильная больница № 3; Калапала Б., Мацюх Н.В., Карнилович А.С. - ГУ «Луганский государственный медицинский университет»


"Child`s Health" 4 (55) 2014
Date: 2014.08.07
Categories: Pediatrics/Neonatology
Sections: Specialist manual


Authors:
Yershova I.B., Osypova T.F., Nesterova T.V. - SE Lugansk State Medical University, Lugansk, Ukraine; Chernova E.V., Gavrysh L.I. - Lugansk City Children''s Hospital № 3, Ukraine; Kalapala B., Matsyuh N.V., Kаrnilovich A.S. - SE Lugansk State Medical University, Lugansk, Ukraine


"Child`s Health" 4 (55) 2014
Date: 2014.08.11
Categories: Pediatrics/Neonatology
Sections: Specialist manual


Authors: Потяженко М.М.(1), Скрипник І.М.(1), Вакуленко К.Є.(1, 2), Дубровінська Т.В.(1, 2), Люлька Н.О.(1), Остапчук Ю.А.(1)
(1) — Вищий державний навчальний заклад України «Українська медична стоматологічна академія», м. Полтава, Україна
(2) — Полтавський обласний клінічний кардіологічний диспансер, м. Полтава, Україна
"Hypertension" №2 (58), 2018
Date: 2018.05.22
Categories: Cardiology
Sections: Clinical researches