"Emergency medicine" 1 (80) 2017
Clinical case of radiofrequency ablation of the interventricular septum in a patient with obstructive hypertrophic cardiomyopathy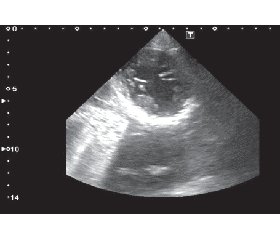 Authors:

Целуйко В.И.(1), Карпенко Ю.И.(2), Волков Д.Е.(3), Лопин Д.А.(3), Дагхар С.(1)
(1) — Харьковская медицинская академия последипломного образования, г. Харьков, Украина
(2) — Одесский национальный медицинский университет, г. Одесса, Украина
(3) — ГУ «Институт общей и неотложной хирургии им. В.Т. Зайцева НАМН Украины», г. Харьков, Украина



Categories:

Medicine of emergency



Sections:

Specialist manual
Summary
У статті розглядається проблема гіпертрофічної кардіоміопатії. Наведено клінічний випадок ефективності радіочастотної абляції в умовах 3D-кардіонавігаційної системи із забезпеченням зниження градієнта тиску на виносному тракті протягом року у хворого з недостатньою ефективністю двох алкогольних абляцій.
В статье рассматривается проблема гипертрофической кардиомиопатии. Приведен клинический случай эффективности радиочастотной абляции в условиях 3D-кардионавигационной системы с обеспечением снижения градиента давления на выносящем тракте в течение года у больного с недостаточной эффективностью двух алкогольных абляций.
The article deals with the problem of hypertrophic cardiomyopathy. A clinical case is presented on the efficiency of radiofrequency ablation using 3D cardionavigation system to reduce the pressure gradient in the outflow tract for a year in a patient with lack of efficacy of two alcohol ablations.
Keywords
гіпертрофічна кардіоміопатія; радіочастотна абляція
гипертрофическая кардиомиопатия; радиочастотная абляция
hypertrophic cardiomyopathy; radiofrequency ablation
For the full article you need to subscribe to the magazine.
Bibliography
1. 2014 ESC Guidelines on diagnosis and management of hypertrophic cardiomyopathy // European Heart Journal. — 2014. — № 35. — Р. 2733-2779.
2. Keane D., Hynes B., King G., Shiels P., Brown A. Feasibi–lity study of percutaneous transvalvular endomyocardial cryoablation for the treatment of hypertrophic obstructive cardiomyopathy // J. Invasive Cardiol. — 2007. — № 19. — Р. 247-251.
3. Lawrenz T., Borchert B., Leuner C., Bartelsmeier M., Reinhardt J., Strunk-Mueller C., Meyer Z.V., Schloesser M., Beer G., Lieder F., Stellbrink C., Kuhn H. Endocardial radiofrequency ablation for hypertrophic obstructive cardiomyopathy: acute results and 6 months' follow-up in 19 patients // J. Am. Coll. Cardiol. — 2011. — № 57. — Р. 572-576.
4. Robert M. Cooper, Adeel Shahzad, Jonathan Hasleton, Joseph Digiovanni, Mark C. Hall, Derick M. Todd, Simon Modi, Rodney H. Stables Radiofrequency ablation of the interventricular septum to treat outflow tract gradients in hypertrophic obstructive cardiomyopathy: a novel use of CARTOSound® technology to guide ablation // Europace. — 2016. — № 18. — Р. 113-120.
Similar articles

Authors:
Грушко И.В.1, Пархоменко Т.А.1, Легостаева И.И.2, 1 Донецкий национальный медицинский университет им. М. Горького, 2 ГУ «Дорожная клиническая больница» станции Донецк ГП «Донецкая железная дорога»


"Medical and social problems of family" 1 (том 18) 2013
Date: 2013.04.15
Categories: Obstetrics and gynecology, Cardiology, Oncology
Sections: Specialist manual


Authors: Несукай Е.Г., Адаричев В.В., Титов Е.Ю., Гиреш И.И.
ГУ «ННЦ «Институт кардиологии имени академика Н.Д. Стражеско» НАМН Украины», г. Киев, Украина
"Hypertension" 1 (51) 2017
Date: 2017.04.03
Categories: Cardiology
Sections: Specialist manual