International journal of endocrinology Том 13, №1, 2017
Peculiarities of changes in body fluid sectors in obesity found by studying its structure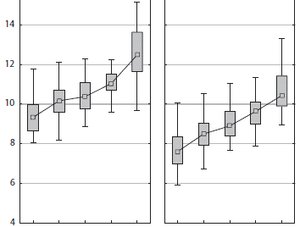 Authors:

Кравчун Н.О., Місюра К.В.
ДУ «Інститут проблем ендокринної патології ім. В.Я. Данилевського НАМН України», м. Харків, Україна



Categories:

Endocrinology



Sections:

Clinical researches
Summary
Актуальність. Важливість своєчасної діагностики надлишку маси тіла та ожиріння з урахуванням, крім індексу маси тіла, і параметрів структури тіла, у тому числі особливостей змін його рідинних секторів, обумовлена значним збільшенням поширеності ожиріння та його ускладнень. Мета: вивчити особливості розподілу рідинних секторів організму та взаємозв'язку з показниками компонентного складу тіла в осіб із надлишковою масою тіла та ожирінням на прикладі дорослого населення м. Харкова. Матеріали та методи. Обстежено 485 мешканців м. Харкова віком понад 18 років. Методом біоімпедансного аналізу залежно від індексу маси тіла та статі оцінено рівні загальної води (л); загальної; позаклітинної, внутрішньоклітинної, інтерстиціальної рідини (л). Результати. Установлено, що в пацієнтів із надлишком ваги різного ступеня разом з абсолютним збільшенням загальної води та загальної, позаклітинної, у т.ч. інтерстиціальної, та внутрішньоклітинної рідини відзначається відносний дефіцит цих параметрів. Виявлені зміни поглиблюються з прогресуванням ступеня ожиріння. Розуміння цих закономірностей важливе для розробки персоніфікованих підходів до надання допомоги населенню з надлишком маси тіла. Висновки. Для використання в клінічній практиці запропоновано математичні формули для визначення параметрів рідинних секторів тіла в міського населення України без застосування інструментальних методів.
Актуальность. Важность своевременной диагностики избытка массы тела и ожирения с учетом, кроме индекса массы тела, и параметров структуры тела, в том числе особенностей изменений его жидкостных секторов, обусловлена значительным увеличением распространенности ожирения и его осложнений. Цель: изучить особенности распределения жидкостных секторов организма и взаимосвязи их с показателями компонентного состава тела у лиц с избыточной массой тела и ожирением на примере взрослого населения г. Харькова. Материалы и методы. Обследовано 485 жителей г. Харькова в возрасте старше 18 лет. Методом биоимпедансного анализа в зависимости от индекса массы тела и пола оценен уровень общей воды (л); общей; внеклеточной, внутриклеточной, интерстициальной жидкости (л). Результаты. Установлено, что у пациентов с избыточным массой тела различной степени наряду с абсолютным увеличением общей воды и общей, внеклеточной, в т.ч. интерстициальной, и внутриклеточной жидкости отмечается относительный дефицит этих параметров. Эти изменения усугубляются с прогрессированием степени ожирения. Понимание этих закономерностей важно для разработки персонифицированных подходов к оказанию помощи населению с избытком массы тела. Выводы. Для использования в клинической практике предложены математические формулы для определения параметров жидкостных секторов тела у городского населения Украины без применения инструментальных методов.
Background. Timely diagnosis of excess body weight and obesity, by studying the body mass index and body structure parameters, including the characteristics of changes in its fluid sectors, is critical due to the significant spread of obesity and complications it may cause. Objective was to study the distribution of the body fluid sectors and the relationship with the indicators of the body composition among people with excess body weight and obesity on the example of the adult population in Kharkiv. Materials and methods. A total of 485 of Kharkiv residents were studied, all over 18 years of age. Using the method of bioimpedance analysis and according to the body mass index and gender, there was evaluated the total amount of water (L) and total, extracellular, intracellular, interstitial fluids (L). Results. It has been established that in patients with overweight of different degrees, there is an increase in the absolute amount of total water, as well as total, extracellular, interstitial and intracellular fluids. However, the relative content of these parameters decreases. The revealed changes are being intensified with the progression of the degree of obesity. Understanding of these mechanisms is important for the development of personalized approaches to
assist the population with overweight. Conclusions. For use in the clinical practice, mathematical formulas are being offered for determining the parameters of body fluid sectors in the urban population of Ukraine, without the use of instrumental methods.
Keywords
ожиріння; надлишкова маса тіла; рідинні сектори тіла; біоімпедансний аналіз
ожирение; избыточная масса тела; жидкостные сектора тела; биоимпедансный анализ
obesity; overweight; body fluid sectors; bioimpe­dance analysis
For the full article you need to subscribe to the magazine.
Bibliography
1. WHO, 2015 // http://www.who.int/mediacentre/factsheets/fs311/en/
2. Lorenzo A. Predicting body cell mass with bioimpedance by using theoretical methods: a technological review / A. Lorenzo, A. Andreoli, J. Matthie // Am. Physiol. Soc. — 1997. — P. 1542-1547.
3. Мартиросов Э.Г. Технологии и методы определения состава тела человека / Э.Г. Мартиросов, Д.В. Николаев, С.Г. Руднев. — М.: Наука, 2006. — 256 c.
4. Зайчик А.Ш. Патохимия (эндокринно-метаболические нарушения) / А.Ш. Зайчик, Л.П. Чурилов. — СПб.: Элби-СПб, 2007. — 768 с.
5. Рекомендації ААСЕ/АСЕ-2016 з ведення пацієнтів із ОЖ // https://www.aace.com/files/final-appendix.pdf
6. Оценка водных секторов организма методом биоимпедансной спектроскопии и зависимость от пола, возраста и антропометрических данных / Г.Г. Иванов, Л.В. Котлярова, А.Н. Грибанов, В.Е. Дворников // Восьмая научно-практическая конференция. Главный клинический госпиталь МВД России. — М., 2006. — С. 95-106.
7. Состав плазмы и межклеточной жидкости. Компоненты внутриклеточной жидкости // http://meduniver.com/Medical/Physiology/685.html
8. Трушкина И.В. Оценка структуры тела у пациентов с различной степенью избытка веса / И.В. Трушкина, Г.П. Филиппов, И.В. Леонтьева // Сибир. мед. журн. — 2010. — Т. 25, № 3–1. — С. 38-44.
9. Watson P.E. Total body water volumes for adult males and females estimated from simple anthropometric measurements / P.E. Watson, I.D. Watson, R.D. Batt // Am. J. Clin. Nutr. — 1980. — Vol. 33(1). — P. 27-39.
10. Hume R. Relationship between total body water and surface area in normal and obese subjects / R. Hume, E. Weyers // J. Clin. Pathol. — 1971. — Vol. 24. — P. 234-238.