"News of medicine and pharmacy" 4 (609) 2017
Топ самых опасных пищевых паразитов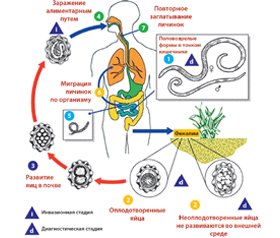 Продолжение. Начало в № 9, 2016
---
Всемирная организация здравоохранения и Продовольственная сельскохозяйственная организация ООН (ФАО) в 2014 году опубликовали многокритериальный рейтинг риска заражения пищевыми паразитами. Экспертная группа провела огромное исследование, в котором учитывались риск заражения тем или иным гельминтом, тяжесть клинической картины, вызванная паразитом, прогноз для жизни человека после перенесенного заболевания. На основании этого экспертами был подготовлен рейтинг самых опасных пищевых паразитов.
---
среди самых опасных
пищевых паразитов
Аскаридоз
Шифр МКБ-10: В77
Аскаридоз — антропонозный геогельминтоз, вызываемый Ascaris lumbricoides, характеризующийся поражением дыхательных путей и аллергическими реакциями в фазе миграции личинок, а при паразитировании половозрелых гельминтов — хроническим поражением желудочно-кишечного тракта и осложнениями ...
For the full article you need to subscribe to the magazine.
Bibliography
Список литературы находится в редакции
Similar articles


Authors:
Больбот Ю.К. Днепропетровская государственная медицинская академия


"Child`s Health" 6 (33) 2011
Date: 2013.01.04
Categories: Pediatrics/Neonatology