"Emergency medicine" 2 (81) 2017
Impairment of hemostasis and anti-inflammatory treatment in patients with acute pancreatitis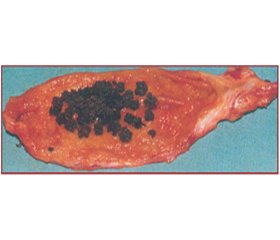 Summary
У статті подано результати лікування 98 хворих на гострий панкреатит (ГП) середньої тяжкості. Хворі були розподілені на 2 групи: у 35 хворих (основна група) на ГП середньої тяжкості в комплексі лікування використовували еноксапарин у дозі 0,5 мг/кг підшкірно 1 раз на добу протягом 12–14 діб. Порівнювали результати лікування пацієнтів із ГП і хворих, які отримували подібне лікування, але без еноксапарину (63 хворі — група порівняння). Групи були тотожними за вихідними параметрами при надходженні до лікарні. Застосування еноксапарину у хворих на ГП середньої тяжкості сприяло покращенню показників гемостазу і мало протизапальний ефект.
В статье приведены результаты лечения 98 больных острым панкреатитом (ОП) средней тяжести. Больные были распределены на 2 группы: у 35 больных (основная группа) ОП средней тяжести в комплексе лечения использовали еноксапарин в дозе 0,5 мг/кг подкожно 1 раз в сутки в течение 12–14 суток. Сравнивали результаты лечение пациентов с ОП и больных, которые получали подобное лечение, но без еноксапарина (63 больных — группа сравнения). Группы пациентов были тождественны по исходным параметрам при поступлении в больницу. Использование еноксапарина у больных ОП средней тяжести способствовало улучшению показателей гемостаза и оказывало противовоспалительное действие.

Results of the treatment of 98 patients with mode­rate acute pancreatitis are presented. The patients were divided into 2 groups, 35 individuals (main group) were treated with subcutaneous enoxaparine 0.5 mg/kg once daily for 12–14 days. Results of treatment were compared with those in patients, who received similar treatment excluding enoxaparine (63 persons — comparison group).The groups did not differ by initial parameters at the time of admission. The use of enoxaparine in patients with moderate acute pancreatitis led to the improvement of hemostasis indicators and had anti-inflammatory effect.
Keywords
гострий панкреатит; коагуляція; запалення
острый панкреатит; коагуляция; воспаление
acute pancreatitis; coagulation; inflammation
For the full article you need to subscribe to the magazine.
Bibliography
1. Пасечник И.Н. Эффективность различных режимов гепаринотерапии и антиоксидантов у больних деструктивним панкреат том / И.Н. Пасечник, В.Ю. Рыбинцев, Е.Н. Скобелев, А.В. Сычев // Вестник интенсивной терапии. — 2009. — № 2. — С. 76-81.
2. Самигулина Г.Р. Анализ прокоагулянтной, антикоагулянтной и фибринолитической активности крови на ранних стадиях течения острого деструктивного панкреатита / Г.Р. Самигулина, Е.А. Спиридонова, Е.В. Ройтман и др. // Вестник интенсивной терапии. — 2014. — № 1. — С. 40-44.
3. Cuthbertson C.M., Christophi C.: Disturbances of the microcirculation in acute pancreatitis // Br. J. Surg. — 2006. — 93(5). — 518-530.
4. Takeda K. Antiproteases in the treatment of acute necrotizing pancreatitis: continuous regional arterial infusion // JOP. — 2007; 8(Suppl. 4). — 526-532.
5. Yeh Y.C., Wang M.J., Lin C.P., Fan S.Z., Tsai J.C., Sun W.Z., Ko W.J. Enoxaparin sodium prevents intestinal microcirculatory dysfunction in endotoxemic rats // CritCare. — 2012. — 16(2). — R59.