"Emergency medicine" 2 (81) 2017
Peculiarities of cognitive impairment in patients wounded in action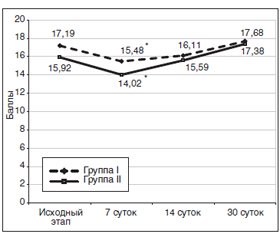 Authors:

Криштафор А.А.(1), Йовенко И.А.(2), Черненко В.Г.(1, 2), Клименко К.А.(2), Криштафор Д.А.(1, 2) (1) — ГУ «Днепропетровская медицинская академия МЗ Украины», г. Днепр, Украина (2) — КУ «Днепропетровская областная клиническая больница им. И.И. Мечникова», г. Днепр, Украина



Categories:

Medicine of emergency



Sections:

Clinical researches
Summary
Актуальність. Дослідження впливу бойового стресу на вираженість порушення когнітивних функцій у ранньому періоді після перенесеної тяжкої травми має істотне практичне значення в плані підвищення якості життя поранених та їх швидшої і повноцінної адаптації у віддаленому посттравматичному періоді. Мета даного дослідження — визначення відмінностей когнітивних дисфункцій у поранених внаслідок бойових дій і постраждалих із травмами, отриманими поза бойової обстановки, у посттравматичному періоді. Матеріали та методи. Використано шкали RTS, ISS і TRISS, шкалу оцінки впливу травматичної події (IES-R). Соматична реакція на травму і пов'язаний із нею стрес оцінювалися за допомогою індексу Кердо і глюкозо-лейкоцитарного індексу. Оцінка когнітивних функцій проводилася з використанням методики FAB і шкали MMSE. Результати. За шкалою IES-R у 1-шу добу після травми було виявлено статистично значуще перевищення загального значення в групі ІІ за рахунок показників субшкали «вторгнення» і особ­ливо субшкали «фізіологічна збудливість». При цьому показники субшкали «уникнення» у поранених були вірогідно нижчими, ніж у постраждалих від небойових травм. Стан когнітивних функцій під час надходження в лікарню в постраждалих із небойовою травмою і поранених із травмою, отриманою під час бойових дій, характеризується насамперед зниженням уваги та короткочасної пам'яті. У міру віддалення від моменту травми вираженість когнітивних порушень поступово знижувалася. Висновки. Тривалий стрес, пов'язаний із бойовими діями, викликає в поранених більш виражені когнітивні порушення, ніж травма, отримана в небойових умовах. Найбільшою мірою з усіх когнітивних функцій у хворих обох груп страждали увага і короткочасна пам'ять, відзначалися також труднощі, пов'язані з вибором. Найбільший ступінь пригнічення когнітивних функцій спостерігався на 7-му добу після травми.
Актуальность. Исследование влияния боевого стресса на выраженность нарушения когнитивных функций в раннем периоде после перенесенной тяжелой травмы имеет существенное практическое значение в плане повышения качества жизни раненых и их более быстрой и полноценной адаптации в отдаленном посттравматическом периоде. Цель данного исследования — определение отличий когнитивных дисфункций у раненых в результате боевых действий и пострадавших с травмами, полученными вне боевой обстановки, в посттравматическом периоде. Материалы и методы. Использованы шкалы RTS, ISS и TRISS, шкала оценки влияния травматического события (IES-R). Соматическая реакция на травму и связанный с ней стресс оценивались с помощью индекса Кердо и глюкозо-лейкоцитарного индекса. Оценка когнитивных функций проводилась с использованием методики FAB и шкалы MMSE. Результаты. По шкале IES-R в 1-е сутки после травмы было выявлено статистически значимое превышение общего значения в группе ІІ за счет показателей субшкалы «вторжение» и особенно субшкалы «физиологическая возбудимость». При этом показатели субшкалы «избегание» у раненых были достоверно ниже, чем у пострадавших от небоевых травм. Состояние когнитивных функций при поступлении в больницу у пострадавших с небоевой травмой и раненых с травмой, полученной во время боевых действий, характеризуется прежде всего снижением внимания и кратковременной памяти. По мере отдаления от момента травмы выраженность когнитивных нарушений постепенно снижалась. Выводы. Длительный стресс, связанный с боевой обстановкой, вызывает у раненых более выраженные когнитивные нарушения, чем травма, полученная в небоевых условиях. В наибольшей степени из всех когнитивных функций у больных обеих групп страдали внимание и кратковременная память, отмечались также затруднения, связанные с выбором. Наибольшая степень угнетения когнитивных функций наблюдалась на 7-е сутки после травмы.
Background. Investigation of the effect of combat stress on the severity of cognitive impairment in the early period after a severe injury has an important practical meaning in terms of improving the quality of life of the wounded patients and faster and full adaptation in the posttraumatic period. The aim of this study was to determine differences in cognitive dysfunction in the posttraumatic period between combat and non-combat trauma patients. Materials and methods. Injury severity was assessed by RTS, ISS and TRISS scales. Stress response was estimated by IES-R scale. Somatic reaction to injury and stress was evaluated using the Kerdo and glucose-leukocyte indexes. Cognitive functions were assessed by FAB (Frontal Assessment Battery) methods and MMSE test. Results. Total IES-R score at the first day after the injury was statistically and significantly higher in the II group due to "invasion subscale" and especially "physiological excitability subscale" scores. However, "avoi­ding" subscale score was significantly lower in wounded than in non-combat victims. At admission cognitive functions in non-combat and combat trauma patients were characterized primarily by attention and short-term memory impairment. In course of time severity of cognitive impairment gradually decreased. Conclusions. Long-term combat-related stress causes more pronounced cognitive impairment than non-combat accidents. Attention and short-term memory were most impaired of all cognitive functions in both groups. The difficulties were also noted insensitivity to interference and inhibitory control. The highest cognitive functions inhibition was observed on the 7th day after injury.
Keywords
когнітивні порушення; бойова травма; травматична хвороба; посттравматичний стресовий розлад
когнитивные нарушения; боевая травма; травматическая болезнь; посттравматическое стрессовое расстройство
cognitive impairment; combat trauma; traumatic disease; posttraumatic stress disorder
For the full article you need to subscribe to the magazine.
Bibliography
1. Процессы адаптации и патологического воздействия в развитии травматической болезни / Беляевский А.Д. и др. // Современные проблемы науки и образования. — 2012. — № 3. — С. 82.
2. Снедков Е.В. Боевая психическая травма / Снедков Е.В. // Nigmedzyanov R., Glaznikov L. Victimsin Emergency Situations. Глава 8. — Xlibris Corporation, 2014. — 906 p.
3. Severe Decrements in Cognition Function and Mood Induced by Sleep Loss, Heat, Dehydration, and Undernutrition During Simulated Combat / Lieberman H.R. et al. // Biol. Psychiatry. — 2005. — Vol. 57. — P. 422-429.
4. Finkel M.F. The neurological consequences of explosives / Finkel M.F. // Journal of the Neurological Sciences. — Vol. 249, Is. 1. — P. 63-67.
5. Ultrastructural and Functional Characteristics of Blast Injury-Induced Neurotrauma / Cernak I. et al. // Journal of Trauma-Injury Infection & Critical Care. — Vol. 50(4). — 2001. — P. 695-706.
6. Cognitive deficits following blast injury-induced neurotrauma: possible involvement of nitric oxide / Cernak I. et al. // Brain Injury. — Vol. 15, Is. 7. — 2001. — P. 593-612.
7. Okie S. Traumatic Brain Injury in the War Zone / Okie S. // N. Engl. J. Med. — 2005. — Vol. 352. — P. 2043-2047.
8. Stein M.B. Exploring the Convergence of Posttraumatic Stress Disorder and Mild Traumatic Brain Injury / Stein M.B., McAllister T.W. // The American Journal of Psychiatry. — 2009. — Vol. 166, Is. 7. — P. 768-776.
9. Когнитивные нарушения при сахарном диабете 2 типа / Гацких И.В. и др. // Современные проблемы науки и образования. — 2015. — № 4. — URL: http://www.science-education.ru/ru/article/view?id=20805 (дата обращения: 24.02.2017).
10. Диагностика когнитивных нарушений у пациентов с артериальной гипертензией / Васильева Н.Ю. и др. // Український кардіологічний журнал. — 2009. — № 5. — С. 91-100.