"Emergency medicine" 2 (81) 2017
Rhabdomyolysis due combat mine blast injury: current principles and own experience of intensive care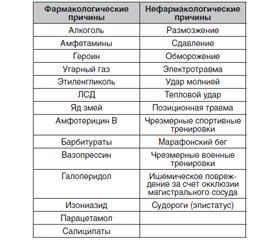 Authors:

Кобеляцкий Ю.Ю., Царев А.В., Йовенко И.А., Дубина В.Н., Яковенко Д.П., Селезнева У.В., Халимончик В.В. ГУ «Днепропетровская медицинская академия МЗ Украины», г. Днепр, Украина КУ «Днепропетровская областная клиническая больница им. И.И. Мечникова», г. Днепр, Украина



Categories:

Medicine of emergency



Sections:

Clinical researches
Summary
У статті узагальнено досвід діагностики, профілактики та інтенсивної терапії рабдоміолізу у 298 поранених з бойовою мінно-вибуховою травмою. Визначено діагностичні критерії рабдоміолізу і використані стадії розвитку гострого пошкодження нирок відповідно до рекомендацій KDIGO Clinical Practice Guideline for Acute Kidney Injury (2012). Наведена тактика інтенсивної терапії рабдоміолізу, включаючи використання продовженої і дискретної замісної ниркової терапії.

В статье обобщен опыт диагностики, профилактики и интенсивной терапии рабдомиолиза у 298 раненых с боевой минно-взрывной травмой. Определены диагностические критерии рабдомиолиза и использованы стадии развития острого повреждения почек согласно рекомендациям KDIGO Clinical Practice Guideline for Acute Kidney Injury (2012). Представлена тактика интенсивной терапии рабдомиолиза, включая использование продленной и дискретной заместительной почечной терапии.
The aim of the study was to study the clinical strategies of the prevention, diagnostics and intensive care of rhabdomyolysis on the basis of modern international re­commendations and our own experience in the treatment of wounded combat mine blast injury. Materials and methods. 786 patients with combat mine blast injury were treated in the ICUs of Mechnikov Dnipropetrovsk Regional Clinical Hospital from 2014 to 2016; among them there were retrospectively examined 298 patients (male, age ranged from 19 to 42 years) with clinical and laboratory signs of acute kidney injury (AKI). All patients met the diagnostic criteria for the development of rhabdomyolysis on the basis of 5-fold raised level of creatine kinase (CK) and increased level of myoglobin; they were prospectively divided into 2 groups: group I (n = 277) consisted of the patients who performed a complex of intensive care aimed at preventing further deterioration due to myoglobinuria in AKI; group II (n = 21) involved the patients who underwent renal replacement therapy. All patients' condition was assessed daily by a scale of development stages according to the recommendations KDIGO Clinical Practice Guideline for Acute Kidney Injury (2012). Renal replacement therapy was carried out using the following methods: 1) CVVHDF with Set HF1000, with the speed replacement of 1500–2500 ml/h, substituat — Multibic 2+, Duosol 2+, with the ultrafiltration rate of 75–150 ml/h and the blood flow of 75–100 ml/min; 2) HDF — using columns with high-flux membranes FX corDiax (Fresenius). The duration of treatment ranged from 2 to 4 hours; extracorporeal blood flow rate was 160–230 ml/min; frequency of sessions — from daily at the beginning of the therapy to 1–2 times a week at the end of therapy; 3) hemodialysis. Results. 37.9 % patients had verified clinical and laboratory signs of rhabdomyolysis and AKI followed combat mine blast injury. Of these, only 7 % required for renal replacement therapy. The blood serum myoglobin level in the patients of both groups ranged from 430 to 4580 mcg/l (normal for men to 92 mcg/L) and CK level from 980 to 7850 IU/l (normal 24–195 IU/l). In the second group initial values of CK (4821.62 ± 725.23 vs 2687.17 ± 267.41 IU/l) and myoglobin levels (3116.24 ± 661.57 vs 1936 ± 325.30 mcg/l) were significantly higher compared to patients of the first group, respectively. There were no deaths in both groups of patients with rhabdomyolysis. Dynamics of CK and myoglobin levels is the main biochemical marker with rhabdomyolysis, reflecting the severity of the disintegration of muscle fibers and the damage severity, and allows evaluate the effectiveness of the intensive care in AKI. Changing these parameters determines the daily volume of infusion therapy, and the need for prolong treatment with sodium bicarbonate. Conclusions. Implementation of the fundamental principle of intensive care medicine — the timeliness and usefulness of the complex intensive care provides high efficiency of the treatment of the patients with rhabdomyolysis. A complete surgical treatment of wounds by the removal of non-viable tissue, if clinically indicated the timely amputation of limbs of non-viable holding and VAK-therapy in the areas of large tissue defects improves treatment. There was infused the crystalloid fluid of about 400 ml/h with target output urine value of 3 ml/kg/h and sodium bicarbonate in the first day in a volume as for the treatment of acidosis and to achieve urine neutral pH, in the future, starting from the second day (in the absence of laboratory evidence of acidosis) at a dose of 200 ml/day till supranormal values CK and myoglobin are achieved. If the development stage is 2–3 by AKI KDIGO Clinical Practice Guideline for Acute Kidney Injury renal replacement therapy should be used as fast as possible. CVVHF is a starting method for the choice of renal replacement therapy.
Keywords
рабдоміоліз; гостре пошкодження нирок; мінно-вибухова травма; замісна ниркова терапія; міо­глобінурія; інтенсивна терапія

рабдомиолиз; острое повреждение почек; минно-взрывная травма; заместительная почечная терапия; миоглобинурия; интенсивная терапия
rhabdomyolysis; acute kidney injury; mine blast trauma; renal replacement therapy; myoglobinuria; intensive care
For the full article you need to subscribe to the magazine.
Bibliography
1. Кургузов О.П. Синдром длительного раздавливания. Научный обзор / Кургузов О.П., Максимов Ю.М., Кузин М.И. — М.: ВНИИМИ, 1969. — 139 с.
2. Yumul R., Steen St.N., Zelman V. Рабдомиолиз: не столь уж редкое событие // Український журнал екстремальної медицини. — 2005. — № 1. — С. 15-20.
3. Huerta-Alardín A.L., Varon J., Marik P.E. Bench-to-bedside review: Rhabdomyolysis — an overview for clinicians // Crit. Care. — 2005. — Vol. 9, № 2. — Р. 158-169. — doi: 10.1186/cc2978.
4. Bosch X., Poch E., Grau J.M. Rhabdomyolysis and acute kidney injury // N. Engl. J. Med. — 2009. — Vol. 361, № 1. — P. 62-72. — doi: 10.1056/NEJMra0801327.
5. KDIGO Clinical Practice Guideline for Acute Kidney Injury // Kidney International Supplements. — 2012. — Vol. 2, № 1. — P. 1-127.
6. Stewart I.J., Faulk T.I., Sosnov J.A., Clemens M.S., Elterman J., Ross J.D., Howard J.T., Fang R., Zonies D.H. Chung К.К. Rhabdomyolysis among critically ill combat casualties: Associations with acute kidney injury and mortality // J. Trauma Acute Care Surg. — 2016. — Vol. 80. — P. 492-498. — doi: 10.1097/TA.0000000000000933.
7. Marino P.L. Marino's The ICU Book Fourth edition. — Wolters Kluwer Health/Lippincott Williams & Wilkin, 2014. — 567 р.