International journal of endocrinology Том 13, №4, 2017
Thyroid pathology in patients with acromegaly: review of literature and own researches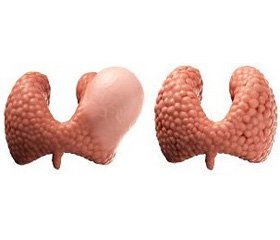 Authors:

Булдигіна Ю.В., Терехова Г.М., Болгов М.Ю., Федько Т.В.
ДУ «Інститут ендокринології та обміну речовин ім. В.П. Комісаренка НАМН України», м. Київ, Україна



Categories:

Endocrinology



Sections:

Specialist manual
Summary
Проведено аналіз медичної наукової літератури та ретроспективний аналіз медичної документації хворих, які перебували в клініці ДУ «Інститут ендокринології та обміну речовин ім. В.П. Комісаренка НАМН України» з метою дослідження тиреоїдної патології у хворих на акромегалію. За даними міжнародних досліджень, найбільшу частку в структурі тиреоїдної патології хворих на акромегалію становить багатовузловий зоб, а частота випадків раку щитоподібної залози (ЩЗ) перебуває в межах від 3 до 12,5 %. Серед хворих на акромегалію, які лікувались у клініці інституту, патологія ЩЗ спостерігалась у 97,7 % пацієнтів, при цьому частка багатовузлового зоба дорівнювала 51,2 %, автоімунного тиреоїдиту — 13,9 %, раку ЩЗ — 4,6 %. З цього випливає висновок щодо необхідності постійного моніторингу стану ЩЗ у хворих на акромегалію для своєчасної діагностики та лікування, особливо це стосується ризику розвитку раку ЩЗ.
Проведен анализ медицинской научной литературы и ретроспективный анализ медицинской документации больных, находившихся в клинике ГУ «Институт эндокринологии и обмена веществ им. В.П. Комисаренко НАМН Украины» с целью исследования тиреоидной патологии у больных акромегалией. По данным международных исследований, наибольшую долю в структуре тиреоидной патологии составляет многоузловой зоб, а частота случаев рака щитовидной железы (ЩЖ) колеблется от 3 до 12,5 %. Среди больных акромегалией, лечившихся в клинике института, патология ЩЖ наблюдалась у 97,7 % пациентов, при этом частота случаев многоузлового эутиреоидного зоба составила 51,2 %, аутоиммунного тиреоидита — 13,9 %, рака ЩЖ — 4,6 %. Таким образом, необходим постоянный мониторинг состояния ЩЖ у больных акромегалией для своевременной диагностики и лечения тиреопатий, особенно это касается риска развития рака ЩЖ.
The analysis of medical scientific literature and retrospective analysis were performed using medical documents of patients treated in the cliniс of the State Institution "V.P. Komisarenko Institute of Endocrinology and Metabolism of the NAMS of Ukraine", in order to study a thyroid pathology in acromegalic patients. In accordance with data of international studies, the multinodular goiter constitutes the biggest part in the structure of thyroid pathology of acromegalic patients, and the incidence of thyroid cancer ranges from 3 to 12.5 %. Among acromegalic patients who were treated in this clinic, the thyroid pathology was observed in 97.7 % of patients, and the part of multinodular goiter made up 51.2 %, autoimmune thyroiditis — 13.9 %, thyroid cancer — 4.6 %. It may be concluded that it is necessary to evaluate on a constant basis the condition of thyroid gland in acromegalic patients for timely diagnosis and treatment, especially in terms of thyroid cancer risk.
Keywords
акромегалія; багатовузловий зоб; рак щитоподібної залози
акромегалия; многоузловой зоб; рак щитовидной железы
acromegaly; multinodular goiter; thyroid cancer
For the full article you need to subscribe to the magazine.
Bibliography
1. Пронин В.С., Чуброва Н.А., Пронин Е.В., Котляревская Е.И. Распространенность и лечебное пособие при акромегалии / В.С. Пронин, Н.А. Чуброва, Е.В. Пронин [и др.] // Медицинский совет. — 2014. — № 11. — С. 70-74.
2. Herrmann B.L., Baumann H., Janssen O.E., Gorges R., Schmid K.W., Mann K. Impact of disease activity on thyroid disease in patients with acromegaly: basal evaluation and follow-up / B.L. Herrmann, H. Baumann, O.E. Janssen [et al.] // Exp. Clin. Endocrinol. Diabetes. — 2004. — Vol. 112. — Р. 225-30.
3. Cheung N.W., Boyages S.C. The thyroid gland in acrome–galy: an ultrasonographic study / N.W. Cheung, S.C. Boyages // Clin. Endocrinol. (Oxf). — 1997. — Vol. 46. — P. 545-9.
4. Scacchi M., Andrioli M., Carzaniga C. et al. Elastosonographic evaluation of thyroid nodules in acromegaly / М. Scacchi, М. Andrioli, С. Carzaniga [et al.] // Eur. J. Endocrinol. — 2009. — Vol. 161. — Р. 607-613.
5. Tramontano D., Cushing G.W., Moses A.C., Ingbar S.H. Insulin-like growth factor-1 stimulates the growth of rat thyroid cells in culture and synergizes the stimulation of DNA synthesis introduced by TSH and Graves′-Ig G / D. Tramontano, G.W. Cushing, A.C. Mo–ses [et al.] // Endocrinology. — 1986. — Р. 1196940-1196942.
6. Miyakawa M., Sagi M., Tsushima T., Wakai K., Shisume K. Thyroid volume and serum thyroglobulin levels in patients with acromegaly; correlation with plasma insulin-like growth factor I levels / M. Miyakawa, M. Sagi, T. Tsushima [et al.] // J. Clin. Endocrinol. Metab. — 1988. — Vol. 67. — Р. 215-20.
7. Wolinski K., Czarnywojtek A., Ruchala M. Risk of thyroid nodular disease and thyroid cancer in patients with acromegaly — meta-analysis and systematic review / K. Wolinski, A. Czarnywojtek, M. Ruchala // PLoS One. — 2014. — Vol. 9(2). — P. e88787. 10.1371/journal.pone.0088787
8. Dogan S., Atmaka A., Dagdelen S., Erbas B., Erbas T. Evaluation of thyroid diseases and differentiated thyroid cancer in acromegalic patients / S. Dogan, A. Atmaka, S. Dagdelen [et al.] // Endocrine. — 2014. — Vol. 45(1). — P. 114-121. 10.1007/s12020-013-9981-3
9. Uchoa H.B., Lima G.A., Correa L.L., Vsdal A.P., Cavallieri S.A., Vaisman V., Buesku A., Gadelha M.R. Prevalence of thyroid disease in patients with acromegaly: experience of a Brazilian center / Н.В. Uchoa, G.A. Lima, L.L. Correa [et al.] / Arq. Brazil. Endocrinol. Metab. — 2013. — Vol. 57(9). — Р. 685-690.
10. Князева О.В., Молитословова Н.Н., Рожинская Л.Я. Частота выявляемости новообразований щитовидной железы / О.В. Князева, Н.Н. Молитословова, Л.Я. Рожинская // Клиническая и экспериментальная тиреоидология. — 2015. — Т. 11, № 3. — С. 34-37.
Similar articles

Authors: Хижняк О.О. (1, 2), Микитюк М.Р. (1, 2), Ніколаєв Р.С. (1), Барабаш Н.Є. (1), Манська К.Г. (1)
1 - ДУ «Інститут проблем ендокринної патології ім. В.Я. Данилевського НАМН України», м. Харків, Україна
2 - Харківська медична академія післядипломної освіти МОЗ України, м. Харків, Україна
International journal of endocrinology Том 15, №4, 2019
Date: 2019.08.14
Categories: Endocrinology
Sections: Clinical researches


Authors: Тронько М.Д., Коваленко А.Є., Таращенко Ю.М., Остафійчук М.В.
ДУ «Інститут ендокринології та обміну речовин ім. В.П. Комісаренка НАМН України», м. Київ, Україна
International journal of endocrinology Том 14, №7, 2018
Date: 2018.12.27
Categories: Endocrinology
Sections: Specialist manual


Authors:
Кravchenko V.I. - State Institution «Institute of Endocrinology and Metabolism named after V.P. Komisarenko of National Academy of Medical Sciences of Ukraine», Kyiv, Ukraine


International journal of endocrinology 2 (74) 2016
Date: 2016.05.11
Categories: Endocrinology
Sections: Clinical researches


Authors:
Паньків В.І., Український науково-практичний центр ендокринної хірургії, трансплантації ендокринних органів і тканин МОЗ України, м. Київ


International journal of endocrinology 7 (47) 2012
Date: 2013.03.01
Categories: Endocrinology
Sections: Medical education