International journal of endocrinology Том 13, №4, 2017
Partial gigantism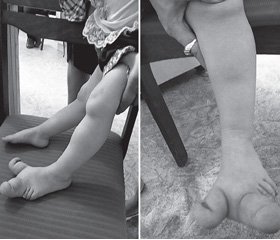 Authors:

Каримова М.М., Халимова З.Ю.
Ташкентский педиатрический медицинский институт, Республиканский специализированный научно-практический медицинский центр эндокринологии МЗ РУз, г. Ташкент, Республика Узбекистан



Categories:

Endocrinology



Sections:

Specialist manual
Summary
Наведено спостереження дівчинки з парціальним гігантизмом (збільшення I і II пальця лівої стопи). Цей стан — рідкісна і нерозв'язна проблема, оскільки остаточна причина його розвитку не встановлена. Рекомендуються вичікувальна тактика, коригуючі операції після закриття зон росту, а також створення банку даних для узагальнення результатів і розробки схем медикаментозних і променевих методів
лікування.
Приводится наблюдение девочки с парциальным гигантизмом (увеличение I и II пальца левой стопы). Данное состояние является редкой и неразрешимой проблемой, так как окончательная причина его развития до конца не установлена. Рекомендуются выжидательная тактика, корригирующие операции после закрытия зон роста, а также создание банка данных для обобщения результатов и разработки схем медикаментозных и лучевых методов лечения.
A girl with partial gigantism (the increased I and II fingers of the left foot) is being examined. This condition is a rare and unresolved problem, as the definite reason of its development is not determined. Wait-and-see strategy is recommended, as well as correcting operations after closing of growth zones, and forming of data pool for generalization and development of schemes of drug and radial therapeutic methods.
Keywords
парціальний гігантизм; діагностика
парциальный гигантизм; диагностика
partial gigantism; diagnostics
For the full article you need to subscribe to the magazine.
Bibliography
1. Базарбекова Р.Б. Руководство по эндокринологии детского и подросткового возраста. — Алматы: Telman Offset & Print TOO, 2014. — 252 с.
2. Beckers A., Aaltonen L.A., Daly A.F., Karhu A. Familial isolated pituitary adenomas (FIPA) and the pituitary adenoma predisposition due to mutations in the aryl hydrocarbon receptor interacting protein (AIP) gene // Endocr. Rev. — 2013. — Vol. 34(2). — P. 239-77. doi: 10.1210/er.2012-1013.
3. De Herder W.W. Acromegaly and gigantism in the medical literature. Case descriptions in the era before and the early years after the initial publication of Pierre Marie (1886) // Pituitary. — 2009. — Vol. 12. — P. 236-244.