"News of medicine and pharmacy" 8 (619) 2017
Высокая легочная гипертензия и беременность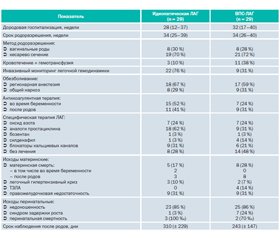 Все познается в сравнении.
Рене Декарт
(иногда приписывается
Фридриху Ницше)
Хронические заболевания у женщин молодого и среднего возраста могут оказывать разнообразное неблагоприятное влияние на течение и исход беременности, но в большинстве случаев все-таки не являются абсолютным препятствием к материнству. Возможности современной клинической медицины таковы, что женщины со многими, в том числе тяжелыми, болезнями успешно вынашивают беременность и рожают здоровых детей.
Синдром высокой легочной гипертензии — исключение. Материнские потери при этой патологии даже в последние годы составляют 12–36 % [6, 11, 15, 17], что несопоставимо выше, чем при других кардиологических заболеваниях у беременных женщин.
В 2015 году было опубликовано заявление крупнейшей международной ...
For the full article you need to subscribe to the magazine.
Bibliography
Список литературы находится в редакции
Similar articles

Authors: Медведь В.И., Кирильчук М.Е., Дуда Е.М.
ГУ «Институт педиатрии, акушерства и гинекологии НАМН Украины», г. Киев, Украина
"Hypertension" 1 (51) 2017
Date: 2017.04.03