"Kidneys" Том 6, №3, 2017
KDIGO 2017. Clinical Practice Guideline Update for the Diagnosis, Evaluation, Prevention, and Treatment of Chronic Kidney Disease — Mineral and Bone Disorder (CKD-MBD)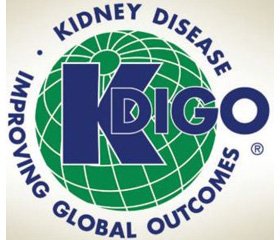 Цитування: Kidney Disease: Improving Global Outcomes (KDIGO) CKD-MBD Update Work Group. KDIGO 2017 Clinical Practice Guideline Update for the Diagnosis, Evaluation, Prevention, and Treatment of Chronic Kidney Disease — Mineral and BoneDisorder (CKD-MBD). Kidney Int Suppl. 2017;7:1-59.

Найбільш поширеними прикладами є рекомендації щодо інтервалів моніторингу, консультування та направлення до інших клінічних фахівців. Неградуйовані рекомендації, як правило, пишуться у вигляді простих декларативних тверджень, але вони не повинні тлумачитися як більш виправдані рекомендації, ніж рекомендації рівня 1 або 2.

Резюме рекомендацій KDIGO 2017 з ХХН-МКР
Частина 3.1. Діагностика ХХН-МКР: біохімічні відхилення
3.1.1. Рекомендуємо контролювати рівень кальцію, фосфатів, ПТГ ...
For the full article you need to subscribe to the magazine.
Similar articles

Authors:
Dr James Burton (Chair), Professor David Goldsmith, Mrs Nicki Ruddock, Dr Rukshana Shroff, Ms Mandy Wan


"Kidneys" Том 7, №3, 2018
Date: 2018.08.27
Categories: Nephrology
Sections: Specialist manual




Authors:
Michel Jadoul, Marina C. Berenguer, Wahid Doss, Fabrizio Fabrizi, Jacques Izopet, Vivekanand Jha, Nassim Kamar, Bertram L. Kasiske, Ching-Lung Lai, Jose´ M. Morales, Priti R. Patel, Stanislas Pol, Marcelo O. Silva, Ethan M. Balk, Craig E. Gordon, Amy Earley, Mengyang Di and Paul Martin


"Kidneys" Том 7, №4, 2018
Date: 2018.12.12
Categories: Nephrology
Sections: Specialist manual