"Emergency medicine" 5 (84) 2017
The relevance of additional method of observation — video bronchoscope in modern anesthesia practice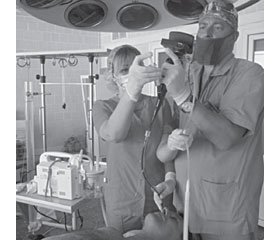 Authors:

Чебанов К.О.(1), Новиков С.П.(2), Площенко Ю.А.(1), Клигуненко Е.Н.(1), Шатковская И.А.(2), Белозорова А.К.(2), Бородина И.А.(2), Дубова В.М.(2)
(1) — ГУ «Днепропетровская медицинская академия МЗ Украины», г. Днепр, Украина
(2) — КУ «Днепропетровская городская многопрофильная клиническая больница» ДОС, г. Днепр, Украина



Categories:

Medicine of emergency



Sections:

Specialist manual
Summary
В оглядовій статті приділено увагу застосуванню відеобронхоскопу в анестезіологічній практиці та в відділенні інтенсивної терапії. Розглянуто основні переваги його використання з урахуванням багатопрофільності лікарні, проведення бронхоскопічного моніторингу, показання до санаційної бронхоскопії. Наведена статистика використання відеобронхоскопу в відділенні за 2016 рік.
В обзорной статье уделено внимание применению видеобронхоскопа в анестезиологической практике и в отделении интенсивной терапии. Рассмотрены основные преимущества его использования с учетом многопрофильности больницы, проведение бронхоскопического мониторинга, показания к санационной бронхоскопии. Приведена статистика использования видеобронхоскопа в отделении за 2016 год.
The article pays attention to the use of video bronchoscope in anesthetic practice in the ICU. The paper describes the main advantages: precise visualization of the vocal cords, followed by the introduction of the tube into the trachea under direct vision; no need for general anesthesia intubation; opportunity for both irrigation and nasotracheal intubation; safety against tracheal or pharyngeal perforation; full autonomy, which allows the use of the device at any time and in any place; large screen for easy operation plus a successful intubation by a doctor always on the first try. There are identified the main stages of bronchoscopic monitoring: determining the elements of lung root and the formation of bronchial stump; transillumination, after repeated operations, atypical structure of the bronchial tree, with bleeding, when switching to one-lung ventilation, intraoperative control of bronchial resection margins, removing mucus and clots. The paper describes the indications for sanation bronchoscopy: obturation of the bronchi thick viscous sputum, atelectasis of various localization, aspiration of gastric content, pneumonia, including destructive, prolonged mechanical ventilation, purulent bronchitis, performed bronchoalveolar lavage to obtain material for cytology and microbiological studies. The main problems of the use of modern methods for additional anesthesiologist on the basis of multidisciplinary clinic include difficult intubation, anesthetic mana­gement of surgery patients at the Center for Head and Neck Pathology, patients in the departments of endocrine surgery; patients in the departments of thoracic surgery; remedial bronchoscopy in patients in intensive care units for the recovery of respiratory drainage in cases of overproduction of mucous secretion, no cough reflex, possible aspiration of gastric contents.
Keywords
відеобронхоскоп; важкі дихальні шляхи; санаційна бронхоскопія; назотрахеальна інтубація
видеобронхоскоп; трудные дыхательные пути; санационная бронхоскопия; назотрахеальная интубация
video bronchoscope; complicated airway; remedial bronchoscopy; nasotracheal intubation
For the full article you need to subscribe to the magazine.
Similar articles

Authors: Клигуненко Е.Н., Лященко О.В., Ехалов В.В., Носенко И.В., Лебедев С.А.
ГУ «Днепропетровская медицинская академия МЗ Украины», г. Днепр, Украина
"Emergency medicine" 5 (84) 2017
Date: 2017.09.14
Categories: Medicine of emergency
Sections: Specialist manual