"Emergency medicine" 5 (84) 2017
Program hemodialysis in a patient with polycystic kidneys and mitral and tricuspid valve replacement in the perioperative period: a clinical case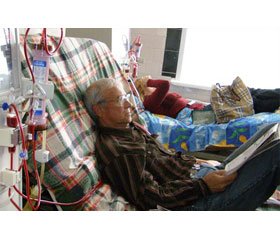 Authors:

Марченко Д.Н.(2), Клигуненко Е.Н.(1), Площенко Ю.А.(1), Сединкин В.А.(1), Москвинова Н.А.(2)
(1) — ГУ «Днепропетровская медицинская академия МЗ Украины», г. Днепр, Украина
(2) — КУ «Днепропетровская городская многопрофильная клиническая больница» ДОС, г. Днепр, Украина



Categories:

Medicine of emergency



Sections:

Specialist manual
Summary
У статті подано клінічний випадок проведення замісної ниркової терапії у вигляді програмного гемодіалізу в пацієнта з полікістозом нирок і термінальною нирковою недостатністю, лікування яких здійснювалося в періопераційному періоді алопротезування клапанів серця.
В статье представлен клинический случай проведения заместительной почечной терапии в виде программного гемодиализа у пациента с поликистозом почек и терминальной почечной недостаточностью, лечение которых осуществлялось в периоперационном периоде аллопротезирования клапанов сердца.
The article presents a clinical case of renal replacement therapy in the form of program hemodialysis in a patient with polycystic kidney disease and end-stage renal failure; treatment is carried out in the perioperative period of heart valve replacement.
Keywords
полікістоз; замісна ниркова терапія; програмний гемодіаліз; алопротезування клапанів серця
поликистоз; заместительная почечная терапия; программный гемодиализ; аллопротезирование клапанов сердца
cystic disease; renal replacement therapy; program hemodialysis; heart valve replacement
For the full article you need to subscribe to the magazine.
Bibliography
1. Волынец Л.И., Нарезкин Д.В., Толкачев А.Н., Аниканова Е.В. Поликистоз почек: современное состояние проблемы // Вестник Смоленской государственной медицинской академии. — 2011. — № 2.
2. Levey A.S., Atkins R., Coresh J. Chronic kidney disease as a global public health problem: Approaches and initiatives — a position statement from Kidney Disease Improving Global Outcomes // Kidney International. — 2007. — V. 72.
3. Наказ МОЗ України та НАМН України від 11.05.2011 року № 280/44 «Про затвердження стандарту та уніфікованих протоколів надання медичної допомоги зі спеціальності «Нефрологія».
4. Наказ МОЗ України та НАМН України від 22.09.2011 року № 84/608 «Про внесення змін до наказу АМН та МОЗ України від 30.09.2003 року № 65/462 «Про поліпшення якості та організації системи медичної допомоги дорослим хворим нефрологічного профілю».
5. Наказ МОЗ України від 11.02.2016 року № 89 «Про затвердження та впровадження медико-технологічних документів зі стандартизації медичної допомоги пацієнтам з хронічною хворобою нирок V стадії із застосуванням гемодіалізу або перитонеального діалізу».
6. Електронний документ «Надання медичної допомоги хворим на хронічну хворобу нирок V стадії, які лікуються гемодіалізом. Адаптована клінічна настанова, заснована на доказах». — 2015.
7. Стецюк Е.А. Основы гемодиализа / Под ред. проф. Е.Б. Мазо. — Москва, 2001.
8. Walser M. Dialysis and protein malnutrition // Kidney Int. — 2009. — Vol. 56, № 1.
9. Національний реєстр хворих на хронічну хворобу нирок: 2014 рік / Уклад. Н.І. Козлюк, С.С. Ніколаєнко; Державна установа «Інститут нефрології НАМН України»; гол. ред. М.О. Колесник. — К., 2015. — 202 с.
10. Бикбов Б.Т., Томилина Н.А. Заместительная терапия больных с хронической почечной недостаточностью в Российской Федерации в 1998–2011 гг. // Нефрология и диализ. — 2014. — Т. 16, № 1.
11. Колесник М.О. Кардіоваскулярні ускладнення у хворих на хронічну хворобу нирок / Колесник М.О., Лапчинська І.І., Тащук В.К., Дядик О.І., Кулизський М.В. — Київ, 2010.
12. Nakayama М., Sato Т., Miyazaki М. Increased risk of cardiovascular events and mortality among non-diabetic chronic kidney disease patients with hypertensive nephropathy: the Gonryo study // Hypertens. Res. — 2011. — Vol. 34(10). — P. 1106-1110.
13. Yamamoto S., Kon V. Mechanisms for increased cardiovascular disease in chronic kidney dysfunction // Curr. Opin. Nephrol. Hypertens. — 2009. — Vol. 18(3). —P. 181-188.
14. Jager D.J. Cardiovascular and non-cardiovascular mortality among patients starting dialysis // JAMA. — 2009. — Vol. 302. — P. 1782-1789.
15. Jager K.J. Cardiovascular and non-cardiovascular mortality in dialysis patients: where is the link? // Kidney Int. Sup. — 2011. — № 1. — P. 21-23.
16. Jyrala A., Weiss R.E., Jeffries R.A. Effect of mild renal dysfunction (s-creat 1.2-2.2 mg/dl) presentation characteristics and short- and long-term outcomes of on-pump cardiac surgery patients // Interactive Cardiovascular and Thoracic Surgery. — 2010. — № 10. — P. 777-782.
17. Perez-Valdiviesa J.R., Monedero P., Vives M. Cardiac-surgery associated acute kidney injury requiring renal replacement therapy. A Spanish retrospective case-cohort study // BMC Nephrology. — 2009. — № 10. — P. 27-31.
18. Sarnak M., Leves А., Shoolwerth А. Kidney disease as a risk factor for development of cardiovascular disease: a statement from the American Heart Association Councils on Kidney in Cardiovascular Disease, High Blood Pressure Research, Clinical Cardiology and Epidemiology and Prevention // Hypertеnsion. — 2003. — Vol. 42. — P. 1050-65.
19. Беляков Ф.И. Нарушение функции почек и ишемическая болезнь сердца // Сочетанные заболевания внутренних органов в терапевтической практике. — Иркутск, 2007. — С. 37-40.
Similar articles

Authors:
Шейман Б.С. - ГУ «Научный центр превентивной токсикологии, пищевой и химической безопасности имени академика Л.И. Медведя МЗ Украины», г. Киев; Романча Т.Ю., Волошина Н.А. - Национальный медицинский университет им. А.А. Богомольца, г. Киев; Сафронова И.А., Урин А.А., Иць В.В. - Национальная детская специализированная больница «ОХМАТДЕТ» МЗ Украины, г. Киев


"Emergency medicine" 2 (57) 2014
Date: 2014.05.29
Categories: Medicine of emergency, Nephrology
Sections: Clinical researches