International journal of endocrinology Том 13, №5, 2017
Pathomorphosis of the metabolic phenotype osteoarthritis: the role of obesity, diabetes and hypothyroidism (age and gender features)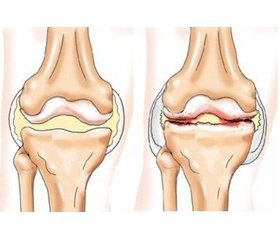 Authors:

Волошина Л.О.(1), Сміян С.І.(2)
(1) — ВДНЗ України «Буковинський державний медичний університет», м. Чернівці, Україна
(2) — ВНДЗ «Тернопільський державний медичний університет ім. І.Я. Горбачевського», м. Тернопіль, Україна



Categories:

Endocrinology



Sections:

Clinical researches
Summary
Актуальність. Остеоартроз (ОА) — одне із найпоширеніших захворювань опорно-рухового апарату, якому притаманний високий рівень коморбідності. Серед коморбідних явищ заслуговують на увагу зростаюча частота ожиріння, цукрового діабету (ЦД) та гіпотиреозу як складових частин метаболічного фенотипу ОА. Мета дослідження: дослідити вікові та гендерні особливості патоморфозу метаболічного фенотипу ОА з коморбідними явищами ожиріння, ЦД 2-го типу та гіпотиреозу. Матеріали та методи. Обстеженням охоплено 312 хворих на первинний ОА віком від 37 до 76 років. Методи дослідження: клінічні, рентгенологічні, ультрасонографічні, біохімічні, радіоімунологічні, статистичні. Результати. Серед обраної вибірки хворих метаболічний фенотип ОА був домінуючим (62,9 %), основною його складовою було ожиріння, але у 19 % випадків цього фенотипу згодом нашаровувався ЦД 2-го типу, а у 18 % інших випадків виявляли гіпотиреоз (субклінічна форма становить 13,78 %), переважно у жінок. Відзначається суттєва різниця у вікових періодах виникнення ожиріння, ЦД та гіпотиреозу. Верифіковані ендокринні недуги вагомо погіршували прояви, перебіг, ступінь дисліпідемії та результати лікування ОА й коморбідних захворювань серцево-судинної і травної систем. За клінічних, прогностичних і лікувально-профілактичних особливостей із метаболічного фенотипу ОА пропонується виділення підтипу А — ожиріння та цукровий діабет та підтипу Б — ожиріння та гіпотиреоз. Висновки. Метаболічний фенотип ОА є домінуючим в його структурі, а виділення підтипів А (ОА, ожиріння та ЦД) і Б (ОА, ожиріння та гіпотиреоз) сприятиме обґрунтованим вдосконаленням в лікувально-профілактичній стратегії в аспекті персоніфікованого лікування.
Актуальность. Остеоартроз (ОА) — одно из самых распространенных заболеваний опорно-двигательного аппарата, которому присущ высокий уровень коморбидности. Среди коморбидных явлений заслуживают внимания повышенная частота ожирения, сахарного диабета (СД) и гипотиреоза как составных частей метаболического фенотипа ОА. Цель: исследовать возрастные и гендерные особенности патоморфоза метаболического фенотипа ОА с коморбидными явлениями ожирения, СД 2-го типа и гипотиреоза. Материалы и методы. Обследованием охвачено 312 больных первичным ОА в возрасте от 37 до 76 лет. Методы исследования: клинические, рентгенологические, ультрасонографические, биохимические, радиоиммунологические, статистические. Результаты. Среди выбранной выборки больных метаболический фенотип ОА был доминирующим (62,9 %), основной его составляющей было ожирение, но в 19 % случаев
этого фенотипа со временем наслаивался СД 2-го типа, а в 18 % других случаев — гипотиреоз (субклиническая форма составляла 13,78 %), преимущественно у женщин. Выявлено существенное различие в возрастных периодах возникновения ожирения, СД, гипотиреоза. Верифицированные эндокринные болезни существенно ухудшали проявление, течение, степень дислипидемии и результаты лечения ОА и коморбидных заболеваний сердечно-сосудистой и пищеварительной систем. По клиническим, прогностическим и лечебно-профилактическим особенностям в метаболическом фенотипе ОА предлагается выделение подтипа А — ожирение и СД и подтипа Б — ожирение и гипотиреоз. Выводы. Метаболический фенотип ОА является доминирующим в его структуре, а выделение подтипов А (ОА, ожирение и СД) и Б (ОА, ожирение и гипотиреоз) будет способствовать обоснованным усовершенствованиям лечебно-профилактической стратегии в аспекте персонифицированного лечения.
Background. Osteoarthritis (OA) is one of the most common diseases of the musculoskeletal system, which is characterized by a high level of comorbidity. The growing prevalence of obesity, diabetes mellitus (DM) and hypothyroidism as components of the OA metabolic phenotype are noteworthy comorbid phenomena. The purpose of the study was to investigate inter-relation and variants of inter-aggravation of OA phenotype as well as the age and gender features of pathomorphism of OA metabolic phenotype for concomitant obesity, type DM and hypothyroidism. Materials and methods. The survey covered 312 patients aged 37–76 years with primary OA. The research methods were following: clinical, X-ray, ultrasonographic, biochemical, radioimmunological, statistical. Results. Among the selected patients, the OA metabolic phenotype was dominant (62.9 %), the main component of which was obesity but in 19 % of cases this phenotype subsequently collapsed type 2 DM and 18 % patients had hypothyroidism (subclinical form was detected in 13.78 % cases), mainly in women, a significant difference was observed in age-related obesity, DM, hypothyroidism. Verified endocrine diseases significantly worsened dyslipidemia manifestation, course, degree, and the results of ОА treatment and the treatment of comorbid cardiovascular and digestive diseases. By clinical prognostic, therapeutic and preventive features OA metabolic phenotype is divided into the subtype A — obesity and DM, and subtype B — obesity and hypothyroidism. Conclusions. The OA metabolic phenotype is dominant in its structure, and the determination of subtype A (OA, obesity and DM) and subtype B (OA, obesity and hypothyroidism) will contribute to substantiated improvement of the therapeutic and prophylactic strategy as regards the individualized treatment.
Keywords
остеоартроз; метаболічний фенотип; ожиріння; цукровий діабет; гіпотиреоз; діагностика
остеоартроз; метаболический фенотип; ожирение; сахарный диабет; гипотиреоз; диагностика
osteoarthritis; metabolic phenotype; obesity; diabetes mellitus; hypothyroidism; diagnosis
For the full article you need to subscribe to the magazine.
Bibliography
1. Castañeda S., Roman-Blas J.A., Largo R., Herrero-Beaumont G. Subchondral bone as a key target for osteoarthritis treatment // Biochemical. Pharmacology. — 2012. — Vol. 83(3). — P. 315-323. — doi: 10.1016/j.bcp.2011.09.018.
2. Волошина Л.О. Рання діагностика гіпотиреозу як фактора прогресування остеоартрозу і коморбідних процесів, особливості фітокорекції // Міжнародний ендокринологічний журнал. — 2016. — № 7(79). — С. 86-92. — doi: 10/22141/2224-0721.7.79.2016.86424.
3. Bijlsma J.W., Berenbaum F., Lafeber F.P. Osteoarthritis: an update with relevance for clinical practice // Lancet. — 2011. — Vol. 377. — P. 2115-2126.
4. Gabriel S.E. Review Epidemiological studies in incidence, prevalence, mortality and comorbidity of the rheumatic diseases /
S.E. Gabriel, K. Miehaud // J. Arthr. Res. Ther. — 2009. — Vol. 11. — P. 229.
5. Managing patients with multimorbidity in primary care / E. Walance, C. Salisburi, B. Guthrie [et al.] // BMJ. — 2015. — Vol. 350. — P. 27-30. — doi: https://doi.org/10.1136/bmj.h176.
6. Marengoni A. Prevalence of disability according to multimorbidity and disease clustering: a population-based study / A. Marengoni, S. Angleman, A. Fratiglioni // J. Comorbidity. — 2011. — Vol. 1(1). — P. 11-18.
7. Metabolic syndrome meets osteoarthritis / Q. Zhuo, W. Yang, J. Chen [et al.] // Nat. Rev Rheumatol. — 2012. — Vol. 8. — P. 729-737.
8. Accumulation of metabolic risk factors such as overweight, hypertension, dyslipidemia, and impaired glucose tolerance raises the risk of occurrence and progression of knee osteoarthritis:
а 3-year follov-up of the ROAD study / N. Yoshimura, S. Muraki, H. Oka [et al.] // Osteoarthritis and Cartilage. — 2012. — Vol. 20(11). — P. 1217-1226.
9. Goldriny M.B., Otero M. Inflammation in osteoarthritis // Curr. Opin. Rheumatol. — 2011. — Vol. 23(5). — P. 471-478.
10. Boe C. Fish Oil and Osteoarthritis: Current Evidence / C. Boe, C.T. Vangsness // Am. J. Ortop. (Belle Mead. N.J.). — 2015. — Vol. 44(7). — P. 302-305.
11. Restorative Effect of Vitamin D Insufficiency on Knee Pain and Quadriceps Muscle Strength in Knee Osteoarthritis / B. Heidari, Y. Javadian, M. Babaei [et al.] // Acta Med. Iran. — 2015. — Vol. 53(8). — P. 466-470.
12. Knoop J., van der Leeden M., Thorstensson C.A. et al. Identification of Phenotypes with Different Clinical Outcomes in Knee Osteoarthritis: Data from the Osteoarthritis Initiative // Arthritis Care Res. — 2011. — Vol. 63(11). — P. 1535-1542.
13. Clinical Practice Guidelines for Hypothyroidism in Adults: Cosponsored by the American Association of Clinical Endocrinologists and the American Thyroid Association // Clinical and Experimental Thyroidology. — 2012. — Vol. 8, № 3. — P. 11-12.
14. Duntas L.H., Mantzon E., Koutras D.A. Effects a six month treatment with selenomethionine in patients with autoimmune thyroiditis // Eur. J. Endocrinol. — 2003. — Vol. 148(4). —
P. 389-393.
15. Berenbaum F. Diabetes-induced osteoarthritis: from a new paradigm to a new phenotype / F. Berenbaum // Ann. Rheum. Dis. — 2011. — Vol. 70. — P. 1354-1356.
16. Metabolic syndrome, advanced glycation end products and knee osteoarthritis progression: a report from OAI / C.B. Eaton, S.M. Sayeed, M. Roberts [et al.] // Osteoarthritis and Cartilage. — 2013. — Vol. 21(11). — P. 165-166.
17. Metabolic trigged inflamation in osteoarthritis / X. Wang, D. Hunter, J. Xu [et al.] // Osteoarthritis and Cartilage. — 2015. — Vol. 23. — P. 22-30.
18. Sokolove J., Lepus Ch.M. Role of inflammation in the pathogens of osteoarthritis: latest findings and interpretations // Ther. Adv. Musculoskel Dis. — 2013. — Vol. 5(2). — P. 77-94.
19. Crapo L.M. Subclinical hypothyroidism and cardiovascular disease // Arch. Intern. Med. — 2015. — Vol. 165. — P. 2451-2453.
Similar articles



Authors:
Волошина Л.О. - Вищий державний навчальний заклад України «Буковинський державний медичний університет», м. Чернівці, Україна


International journal of endocrinology 2 (74) 2016
Date: 2016.05.12
Categories: Endocrinology
Sections: Medical forums