International journal of endocrinology Том 13, №5, 2017
The impact of BNO 1030 on phagocytic activity of white blood cells in rats with type 1 diabetes mellitus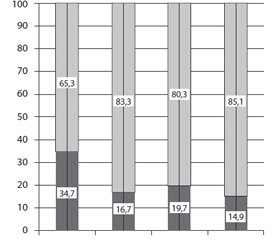 Summary
Актуальність. У патогенезі цукрового діабету 1-го типу (ЦД1) і багатьох його ускладнень важливе місце посідають порушення функціональної здатності імунної системи, що є предметом численних досліджень. З огляду на ефективність імуномодулюючої терапії при ЦД1 і його ускладненнях однією з найважливіших проблем є пошук нових ефективних і безпечних імунокоригуючих засобів з високою фармакологічною активністю. Мета дослід­ження: оцінити вплив фітопрепарату BNO 1030 на фагоцитарну активність лейкоцитів крові при ЦД1 у щурів. Матеріали та методи. Експериментальний ЦД1 у щурів індукували шляхом одноразового внутрішньоочеревинного введення стрептозотоцину. Відсоток фагоцитуючих клітин і поглинання макрофагами живих флуоресцентних бактерій у зразках було визначено з використанням флуо­ресцентних живих бактерій Escherichia coli. Результати. На тлі гіперглікемії відбуваються зміни в перерозподілі основних типів лейкоцитів, а саме гранулоцитів і агранулоцитів. Введення препарату BNO 1030 як контрольним, так і діабетичним тваринам приводило до збільшення кількості агранулоцитів, що може свідчити про модулюючий вплив препарату на імунну систему організму тварин. За цих умов знижувалася фагоцитарна активність лейкоцитів: фагоцитарне число в групі хворих на ЦД1 щурів менше ніж на 42 % було знижене порівняно з групою контрольних тварин. Уведення діабетичним щурам препарату BNO 1030 призводило до підвищення фагоцитарного числа на 24 % порівняно з групою діабетичних тварин. Висновки. Зміни супроводжувалися зниженням фагоцитарного індексу як при діабеті, так і при введенні препарату піддослідним групам, що свідчить про порушення в системі неспецифічного клітинного імунітету. Препарат BNO 1030 завдяки його імуномодулюючій дії є ефективним засобом лікування цукрового діабету при його коморбідності з іншими хронічними захворюваннями.
Актуальность. В патогенезе сахарного диабета 1-го типа (СД1) и многих его осложнений важное место занимают нарушения функциональной способности иммунной системы, что является предметом многочисленных исследований. С учетом эффективности иммуномодулирующей терапии при СД1 и его осложнениях одной из самых важных проблем является поиск новых эффективных и безвредных иммунокорригирующих средств с высокой фармакологической активностью. Цель исследования: оценить влияние фитопрепарата BNO 1030 на фагоцитарную активность лейкоцитов крови при СД1 у крыс. Материалы и методы. Экспериментальный СД1 у крыс индуцировали путем однократного внутрибрюшинного введения стрептозотоцина. Процент фагоцитирующих клеток и поглощения макрофагами живых флуоресцентных бактерий в образцах определяли с использованием флуоресцентных живых бактерий Escherichia coli. Результаты. На фоне гипергликемии происходят изменения в перераспределении основных типов лейкоцитов, а именно гранулоцитов и агранулоцитов. Введение препарата BNO 1030 как контрольным, так и диабетическим животным приводило к увеличению количества агранулоцитов, что может свидетельствовать о модулирующем влиянии препарата на иммунную систему организма животных. В этих условиях снижалась фагоцитарная активность лейкоцитов: фагоцитарное число в группе больных СД1 крыс менее чем на 42 % было снижено по сравнению с группой контрольных животных. Введение диабетическим крысам препарата BNO 1030 приводило к повышению фагоцитарного числа на 24 % по сравнению с группой диабетических животных. Выводы. Изменения сопровождались снижением фагоцитарного индекса как при диабете, так и при введении препарата подопытным группам, что свидетельствует о нарушениях в системе неспецифического клеточного иммунитета. Препарат BNO 1030 благодаря его иммуномодулирующему действию является эффективным средством лечения сахарного диабета при его коморбидности с другими хроническими заболеваниями.
Background. In the pathogenesis of type 1 diabetes mellitus (DM1) and many of its complications, an important place belongs to a violation of the functional capacity of the immune system, which is the subject of numerous studies. Considering the effectiveness of immunomodulating therapy for DM1 and its complications, one of the most important problems is the search for new effective and harmless immunocorrecting agents with high pharmacological activity. The purpose of this study was to evaluate the effect of the phytopreparation BNO 1030 on the phagocytic activity of blood leukocytes in rats with DM1. Materials and methods. Experimental DM1 in rats was induced by a single intraperitoneal injection of streptozotocin. The percentage of phagocytic cells and macrophage uptake of live fluorescent bacteria in the samples were determined using fluorescent live bacteria Escherichia coli. Results. The effect of the drug BNO 1030 on the phagocytic activity of white blood cells with DM1 in rats was investigated. Under hyperglycemia it was found changes in the redistribution of the main types of leukocytes, namely granulocytes and agranulocytes. The administration of the drug BNO 1030 to both control and diabetic animals resulted in an increase in the number of agranulocytes, which may indicate a modulating effect of the drug on the immune system of animals. Under these conditions, phagocytic activity of leukocytes was decreased as phagocytic number in group of diabetic rats was reduced by 42 % in comparison with group of control animals. BNO 1030 administration to diabetic rats caused an increase of phagocyte number by 24 % compared to the group of diabetic animals. These changes, in turn, are also accompanied by a decrease of phagocytic index as in diabetes, and when drug was administered to experimental groups, indicating disorders in nonspecific cellular immune system. Conclusions. BNO 1030 due to its immunomodulatory effect is effective in the treatment of DM1 and its comorbidity with other chronic diseases.
Keywords
експериментальний цукровий діабет 1-го типу; BNO 1030; лейкоцити крові; фагоцитарна активність; фагоцитарне число; фагоцитарний індекс
экспериментальный сахарный диабет 1-го типа; BNO 1030; лейкоциты крови; фагоцитарная активность; фагоцитарное число; фагоцитарный индекс
experimental type 1 diabetes mellitus; BNO 1030; white blood cells; phagocytic activity; phagocytic number; phagocytic index
For the full article you need to subscribe to the magazine.
Bibliography
1. Гавриленко Ю.В. Особенности поражения ЛОР-органов у детей и подростков с сахарным диабетом 1 типа // Современная педиатрия. — 2015. — № 7(71). — С. 62-65. doi: 10.15574/SP.2015.71.62.
2. Лайко А.А., Гавриленко Ю.В. Характер ураження ЛОР-органів у дітей, хворих на цукровий діабет 1 типу // Ринологія. — 2014. — № 1. — С. 61-65.
3. Перцева Н.О. Проявления инсулинорезистентности у пациентов, длительно страдающих сахарным диабетом 1-го типа, пути ее коррекции / Перцева Н.О., Марциник Е.Н., Чупсинова Т.В. // Международный эндокринологический журнал. — 2017. — Т. 13(1). — С. 23-27.
4. Adeghate E. An update on the etiology and epidemiology of diabetes mellitus / E. Adeghate, P. Schattner, E. Dunn // Ann. NY Acad. Sci. — 2006. — Vol. 1084. — P. 1-29.
5. Bicker H., Höflich C., Wolk K. et al. A Simple assay to measure phagocytosis of live bacteria // Clinical Chemi–stry. — 2008. — Vol. 54(5). — P. 911-915. doi: 10.1373/clinchem.2007.101337.
6. Casqueiro J., Casqueiro J., Alves C. Cresio Infections in patients with diabetes mellitus: A review of pathogenesis // Indian J. Endocrinol. Metab. — 2012. — Vol. 16(1). — P. 27. doi: 10.4103/2230-8210.94253.
7. Chattopadhyay S. Animal models in experimental diabetes mellitus / S. Chattopadhyay, M. Ramanathan, J. Das, S. K. Bhattacharya // Indian Journal of Experimental Biology. — 1997. — Vol. 35(11). — P. 1141-1145.
8. Bilgic S., Aktas E., Salman F. et al. Intracytoplasmic cytokine levels and neutrophil functions in early clinical stage of type 1 diabetes // Diabetes Res Clin. Pract. — 2008. — Vol.79(1). — P. 31-36.
9. Valle A., Giamporcaro G.M., Scavini M. et al. Reduction of circulating neutrophils precedes and accompanies type 1 diabetes // Diabetes. — 2013. — Vol. 62(6). — P. 2072-2077. doi: 10.2337/db12-1345.
10. Knip M., Veijola R., Virtanen S.M. et al. Environmental triggers and determinants of type 1 diabetes // Diabetes. — 2005. — Vol. 54. — P. 125-136.
11. James S., Gallagher R., Dunbabin J., Perry L. Prevalence of vascular complications and factors predictive of their development in young adults with type 1 diabetes: systematic literature review // BMC Res Notes. — 2014. — Vol. 7. — P. 593-603. doi: 10.1186/1756-0500-7-593.
12. Zhang C., Yang J., Jennings L.K. Leukocyte-derived myeloperoxidase amplifies high-glucose-induced endothelial dysfunction through interaction with high-glucose-stimulated, vascular non-leukocyte-derived reactive oxygen species // Diabetes. — 2004. — Vol. 53(11). — P. 2950-2959.
13. Szablewski L., Sulima A. The structural and functional changes of blood cells and molecular components in diabetes mellitus // Biol. Chem. — 2016. — Vol. 3. — P. 66-70.
14. Popov D. Endothelial cell dysfunction in hyperglycemia: Phenotypic change, intracellular signaling modification, ultrastructural alteration, and potential clinical outcomes // International Journal of Diabetes Mellitus. — 2010. — Vol. 3. — P. 189-195.
15. Molteni R., Fabbri M., Bender J.R., Pardi R. Pathophysiology of leukocyte-tissue interactions // Curr. Opin. Cell Biol. — 2006. — Vol.18(5). — P. 491-498.
16. Bertoni A.G., Saydah S., Brancati F.L. Diabetes and the risk of infection-related mortality in the U.S. // Diabetes Care. — 2001. — Vol. 24(6). — P. 1044-1049.
Similar articles

Authors: Гавриленко Ю.В.(1), Лайко А.А.(1), Кучмировская Т.М.(2), Гудзик М.М.(2)
(1) — Национальная медицинская академия последипломного образования им. П.Л. Шупика, г. Киев, Украина
(2) — Институт биохимии им. О.В. Палладина НАН Украины, г. Киев, Украина
International journal of endocrinology Том 13, №3, 2017
Date: 2017.06.26
Categories: Endocrinology
Sections: Specialist manual


Authors:
Grytsiuk M.I., Boychuk T.M., Petryshen O.I., Olenovych O.A. - Department of Social Medicine and Public Health Service Organization, Department of Histology, Cytology and Embryology, Department of Clinical Immunology, Allergology and Endocrinology, Bukovinian State Medical University, Chernivtsi


International journal of endocrinology 6 (54) 2013
Date: 2013.10.23
Categories: Endocrinology
Sections: Medical forums


Authors:
Klimovitsky V.H., Donchenko L.I., Arar Thaer Jamal, Kravchenko A.I. - Research Institute of Traumatology and Orthopedics of Donetsk National Medical University named after M. Horkyi, Ukraine


"Тrauma" Том 15, №5, 2014
Date: 2015.02.03
Categories: Traumatology and orthopedics
Sections: Clinical researches


Authors: F.V. Grynchuk, A.F. Grynchuk, V.V. Maksimiuk
Higher State Education Institution of Ukraine "Bukovinian State Medical University", Chernivtsi, Ukraine
International journal of endocrinology Том 13, №8, 2017
Date: 2018.02.01
Categories: Endocrinology
Sections: Specialist manual