International journal of endocrinology Том 13, №5, 2017
Rare case of chiasm glioma in woman with hypogonadotropic hypogonadism and obesity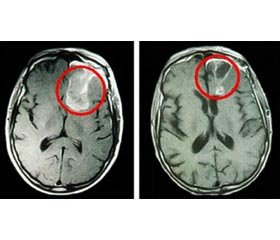 Authors:

Абдувахабова М.Б. Ташкентский педиатрический медицинский институт, г. Ташкент, Республика Узбекистан



Categories:

Endocrinology



Sections:

Clinical researches
Summary
Пухлина хіазми — рідкісне захворювання, що характеризується зниженням полів зору. Описаний випадок із практики пухлини хіазми із супутнім гіпогонадизмом і ожирінням. Встановлено, що репродуктивна функція у пацієнтки віком 25 років з пухлиною хіазми порушена внаслідок супутнього гіпоталамо-гіпофізарного захворювання, що спричинило розвиток гіпогонадотропного гіпогонадизму, центрального нецукрового діабету, дефіциту соматотропного гормону (пангіпопітуїтаризм).
Опухоль хиазмы — редкое заболевание, характеризующееся снижением полей зрения. Описан случай из практики опухоли хиазмы с сопутствующим гипогонадизмом и ожирением. Установлено, что репродуктивная функция у пациентки в возрасте 25 лет с опухолью хиазмы нарушена вследствие сопутствующего гипоталамо-гипофизарного заболевания, вызвавшего развитие гипогонадотропного гипогонадизма, центрального несахарного диабета, дефицита соматотропного гормона (пангипопитуи­таризм).
Chiasm glioma is a rare disease characterized by a decrease in the visual field. The aim of research was to describe a clinical case of chiasm glioma with concomitant hypogonadism and obesity. Reproductive function in 25-year woman with chiasm glioma is failed due to con­comitant hypothalamo-pituitary disease, causing development of hypogonadotropic hypogonadism, central diabetes insipidus, somatotropin hormone deficiency (panhypopitui­tarism).
Keywords
пухлина хіазми; вторинний гіпогонадизм; ожиріння
опухоль хиазмы; вторичный гипогонадизм; ожирение
chiasm glioma; secondary hypogonadism; obesity
For the full article you need to subscribe to the magazine.
Bibliography
1. Borghei-Razavi H., Shibao S., Schick U. Prechiasmatic transection of the optic nerve in optic nerve glioma: technical description and surgical outcome // Neurosurg Rev. — 2017. — Vol. 40 (1). — P. 135-141. doi: 10.1007/s10143-016-0747-2.
2. Bilgin G., Al-Obailan M., Bonelli L. et al. Aggressive Low-Grade Optic Nerve Glioma in Adults // Neuro–ophthalmology. — 2014. — Vol. 38 (6). — P. 297-309. doi: 10.3109/01658107.2014.966851
3. Лучицький Є.В., Лучицький В.Є., Тронько М.Д. Чоловічий гіпогонадизм (частина 1) // Міжнародний ендокринологічний журнал. — 2017. — Т. 13 (4). — С. 81-89. doi: http://dx.doi.org/10.22141/2224-0721.13. 4.2017.106658
4. Montgomer A.B., Griffin T., Parker R.G. Optic nerve glioma: the role of radiation therapy // Cancer. — 2007. — Vol. 40. — P. 2079-89.