International neurological journal 5 (91) 2017
Balo concentric sclerosis: scientific review and own observation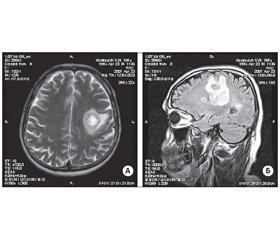 Authors:

Гаршова С.В., Пономарев В.В.
Белорусская медицинская академия последипломного образования, г. Минск, Республика Беларусь



Categories:

Neurology



Sections:

Medical forums
Summary
Концентричний склероз Бало (КСБ) — рідкісне демієлінізуюче захворювання, що характеризується появою як специфічного патоморфологічного субстрату концентричних вогнищ демієлінізації за типом кілець на спилі дерева або зрізі цибулини з шарами ремієлінізації і демієлінізації, що чергуються. Патогенез КСБ вірогідно відповідає варіанту дистальної олігодендроцитопатії. Також висловлюються припущення про гіпоксичний принцип причинності демієлінізуючих уражень при КСБ і розсіяному склерозі. Справжня частота КСБ невідома, проте вважається, що ця патологія належить до рідкісних захворювань нервової системи з дещо більшою поширеністю в країнах Азії. Більшість випадків захворювання припадає на вік 20–50 років. Симптоматика найчастіше розвивається підгостро, протягом декількох днів або тижнів. Клінічні прояви КСБ зазвичай представлені вираженою вогнищевою неврологічною симптоматикою (пірамідні, мозочкові симптоми, ретробульбарний неврит, когнітивні порушення) у поєднанні із загальномозковою (головний біль, епілептичний синдром), часто з когнітивним дефіцитом. У цереброспінальній рідині при КСБ можуть виявлятися невеликий лімфоцитарний плеоцитоз, нормальний рівень білка, облігатні для розсіяного склерозу олігоклональні IgG відзначаються в 10 % хворих. До типових нейровізуалізаційних ознак цієї патології при проведенні магнітно-резонансної томографії відносять концентричні кільця, що нагадують завитки або спил дерева, на Т2- і Т1-зважених зображеннях із чергуванням структур, змінених і незмінених у відповідному режимі MP-сигналу. У лікуванні КСБ зазначаються дані лише IV класу доказовості. Основними методами вибору терапії цієї патології є: пульс-терапія глюкокортикостероїдними препаратами, високооб'ємний плазмаферез або цитостатики (мітоксантрон). У статті подано клінічний розбір діагностики цієї патології в чоловіка 52 років і результати секційного дослідження.
Концентрический склероз Бало (КСБ) — редкое демиелинизирующее заболевание, которое характеризуется появлением в качестве специфического патоморфологического субстрата концентрических очагов демиелинизации по типу колец на спиле дерева или срезе луковицы с чередующимися слоями ремиелинизации и демиелинизации. Патогенез КСБ вероятно соответствует варианту дистальной олигодендроцитопатии. Также высказываются предположения о гипоксическом принципе причинности демиелинизирующих поражений при КСБ и рассеянном склерозе. Истинная частота КСБ неизвестна, однако считается, что эта патология относится к редким заболеваниям нервной системы с несколько большей распространенностью в странах Азии. Большинство случаев заболевания приходится на возраст 20–50 лет. Симптоматика чаще всего развивается подостро, в течение нескольких дней или недель. Клинические проявления КСБ обычно представлены выраженной очаговой неврологической симптоматикой (пирамидные, мозжечковые симптомы, ретробульбарный неврит, когнитивные нарушения) в сочетании с общемозговой (головная боль, эпилептический синдром), часто с когнитивным дефицитом. В цереброспинальной жидкости при КСБ могут выявляться небольшой лимфоцитарный плеоцитоз, нормальный уровень белка, облигатные для рассеянного склероза олигоклональные IgG отмечаются у 10 % больных. К типичным нейровизуализационным признакам этой патологии при проведении магнитно-резонансной томографии относят концентрические кольца, напоминающие завитки или спил дерева, на Т2- и Т1-взвешенных изображениях с чередованием структур, измененных и неизмененных в соответствующем режиме MP-сигнала. В лечении КСБ отмечаются данные лишь IV класса доказательности. Основными методами выбора терапии этой патологии являются: пульс-терапия глюкокортикостероидными препаратами, высокообъемный плазмаферез или цитостатики (митоксантрон). В статье представлены клинический разбор диагностики этой патологии у мужчины 52 лет и результаты секционного исследования.
Balo concentric sclerosis is a rare demyelinating di­sease characterized by the emergence of concentric foci of demyelination as a specific pathomorphological substrate. These foci look like rings on a sawn tree or onion slice with alternating layers of remyelination and demyelination. Pathogenesis of Balo concentric sclerosis probably corresponds to a variant of distal oligodendrocytopathy. There are also suggestions on the hypoxic principle of causality of demyelinating lesions in Balo concentric sclerosis and multiple sclerosis. The true prevalence of Balo concentric sclerosis is unknown, however it is considered that this pathology refers to rare diseases of the nervous system, with a slightly higher prevalence in Asian countries. Most cases of the disease occur at the age of 20–50 years. Semiology has often subacute character, within a few days or weeks. Balo concentric sclerosis usually clinically manifests with severe focal neurological symptoms (pyramidal, cerebellar symptoms, retrobulbar neuritis, cognitive impairment) in combination with general brain symptoms (headache, epileptic syndrome), often with cognitive deficits. Low lymphocytic pleocytosis and normal protein level can be found in cerebrospinal fluid. Also oligoclonal IgG obligatory for multiple sclerosis is detected in 10 % of patients with Balo concentric sclerosis. Concentric rings resembling curls or 'sawn tree' on T2- and T1-weighted images with alternating of patterns that are changed and unchanged in the corresponding mode of MR signal refer to the typical MRI characteristics of this pathology. There are only data of IV class evidence in the treatment of Balo concentric sclerosis. The main methods for choosing therapy of this pathology are pulse therapy with glucocorticosteroid drugs, high-volume plasmapheresis or cytostatics (mitoxantrone). The article describes a clinical analysis of diagnostic of this disease in 52-year old man and the conclusion of pathoanatomical section.
Keywords
концентричний склероз Бало; діагностика; лікування
концентрический склероз Бало; диагностика; лечение
Balo concentric sclerosis; diagnosis; treatment
For the full article you need to subscribe to the magazine.
Bibliography
1. Воробьева А.А., Коновалов Р.Н., Кротенкова М.В., Переседова А.В., Захарова М.Н. Склероз Бало и Бало-подобные синдромы: диагностика и лечение // Анналы клинической и экспериментальной неврологии. — 2015. — Т. 9, № 1. — С. 37-40.
2. Пономарев В.В. Клинические варианты рассеянного склероза // Международный неврологический журнал. — 2009. — 6(28).
3. Barz H., Barz U., Schreiber A. Morphogenesis of the demyelina–ting lesions in Baló's concentric sclerosis // Medical Hypotheses. — 2016. — 91. — P. 56–61.
4. Balo J. Leukoencephalitis periaxialis concentrica // Arch. Neurol. Psychiatry. — 1927. — № 28. — P. 108-124.
5. Barun B., Adamec I., Habek M. Balo's Concentric Sclerosis in Multiple Sclerosis // Intern. Med. — 2012. — № 51. — P. 2065-2066.
6. Pohl D., Rostasy K., Krone B., Hanefeld F. Balo's concentric sclerosis associated with primary human herpesvirus 6 infection // J. Neurol. Neurosurg. Psychiatry. — 2005. — Vol. 76, № 12. — P. 1723-1725.
7. Stadelmann C., Ludwin S., Tabira T. et al. Tissue preconditioning may explain concentric lesions in Balo's type of multiple sclerosis // Brain. — 2005. — Vol. 128(Pt 5). — P. 979-987.
8. Wang C., Zhang K.N., Wu X.M. Balo's disease showing benign clinical course and co-existence with multiple sclerosis — like lesions in Chinese // Mult. Scler. — 2008. — Vol. 14, № 3. — P. 418-424.
9. Гусев Е.И., Бойко А.Н. Демиелинизирующие заболевания центральной нервной системы // Consilium medicum. — 2002. — № 2.
10. Karaarslan E., Altintas A., Senol U. et al. Baló's concentric sclerosis: clinical and radiologic features of five cases // Am. J. Neuroradiol. — 2001. — № 22. — P. 1362-7.
Similar articles

Authors: Попова Е.В.(1, 2), Брюхов В.В.(3), Бойко А.Н.(1, 2), Кротенкова М.В.(3)
(1) — Межокружное отделение рассеянного склероза на базе ГБУЗ «ГКБ № 24», г. Москва, Россия
(2) — Российский национальный исследовательский медицинский университет им. Н.И. Пирогова, г. Москва, Россия
(3) — ФГБНУ «Научный центр неврологии», г. Москва, Россия
International neurological journal №2 (96), 2018
Date: 2018.05.22
Categories: Neurology
Sections: Specialist manual


Authors: Толстых Н.В., Королева Н.Ю., Шкильнюк Г.Г., Катаева Г.В., Столяров И.Д.
Федеральное государственное бюджетное учреждение науки «Институт мозга человека им. Н.П. Бехтеревой» Российской академии наук, г. Санкт-Петербург, Россия
International neurological journal №5 (99), 2018
Date: 2018.10.26
Categories: Neurology
Sections: Specialist manual