International neurological journal 5 (91) 2017
Disorders of spinal blood circulation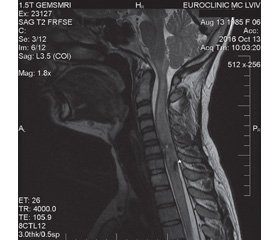 Authors:

Гев'як О.М.1, 2, Кузьмінський А.П.2 1Комунальна міська клінічна лікарня швидкої медичної допомоги, м. Львів, Україна 2Львівський національний медичний університет імені Данила Галицького, м. Львів, Україна



Categories:

Neurology



Sections:

Specialist manual
Summary
У статті описаний клінічний випадок діагностики та лікування спінального крововиливу в задні стовпи шийного потовщення (С8) та інтрамедулярної кавернозної гемангіоми (ангіоретикуломи) справа на рівні С6 хребця в пацієнтки в гострому та ранньому відновному періоді. Глибокі неврологічні симптоми в післяопераційному періоді зумовлені ділянкою мієломаляції та тривалістю росту кавернозної мальформації.
В статье описан клинический случай диагностики и лечения спинального кровоизлияния в задние столбы шейного утолщения (С8) и интрамедуллярной кавернозной гемангиомы (ангиоретикуломы) справа на уровне С6 позвонка у пациентки в остром и раннем восстановительном периоде. Глубокие неврологические симптомы в послеоперационном периоде обусловлены зоной миеломаляции и длительностью роста кавернозной мальформации.
Spinal strokes are rare. The most common causes of the haemorrhage are spinal cord trauma, vasculitis with signs of haemorrhagic diathesis, spinal vascular congenital anomalies (malformations) and haemangioma. By localization, haemorrhagic strokes are divided into three groups: haematomyelia, spinal subarachnoid haemorrhage, epidural hematoma. Most cavernous malformations are localized at the cervical level, fewer — at thoracic and lumbar levels of the spinal cord. The clinical case of diagnosis and treatment of spinal hemorrhage in cervical thickening of dorsal columns (C8) and intramedullary cavernous hemangioma (angioreticuloma) right at the C6 vertebra of the patient in acute and early recovery period is described. Deep neurological symptoms in the postoperative period caused myelomalacia area and cavernous malformation lasting growth. Our clinical case is interesting because the disorder of spinal blood circulation (bleeding in cervical thickening of dorsal columns at C8 segment of the spinal cord) caused by cavernous haemangioma (angioreticuloma). Neurological symptoms escalated for four days. Magnetic resonance imaging (MRI) is the main diagnostic instrument for intramedullary spinal haemorrhage and cavernous haemangioma of the spine. Neck pain, aseptic inflammatory reaction (37.5–38 °C) regressed on day 10 (16.10.16) indicating a favourable course of spinal haemorrhage. Repeated MRI of the cervical spine (09.11.16) shows that signs of bleeding in the spinal cord dorsal columns (C8) regressed. Thinning of the myelomalacia area at C6-C7 and haemosiderosis of the central channel walls are observed. Cavernous haemangioma intramedullary localization in the right half (laterally) of cervical thickening (C7), oedema, and complete spinal cord lesion syndrome required surgery. Tumour encapsulated at the level of C6 vertebra with low extramedullary invasion was completely removed without any complications. Marked neurological deficit, as paresis, segmental and conduction type of sensory disorders and urinary retention, were still observed at discharge from the hospital (31.12.16). Patient moves using wheelchair, needs assistance. Rehabilitation requires prolonged and continued treatment in specialized centres.
Keywords
спінальний крововилив; кавернозна гемангіома (ангіоретикулома); лікування
спинальное кровоизлияние; кавернозная гемангиома (ангиоретикулома); лечение
spinal hemorrhage; cavernous hemangioma (angioreticuloma); treatment
For the full article you need to subscribe to the magazine.
Bibliography
1. Зозуля І.С., Слинько Е.І., Слинько Г.О. Порушення спінального кровообігу: Клініка, діагностика, лікування. — К.: НМАПО імені П.Л. Шупика, 2011. — 132 с.
2. Корниенко В.Н., Пронин Л.Н. Диагностическая нейрорадио–логия. — М.: Андреева Т.М., 2006. — С. 1285-1287.
3. Петкова Л.Н., Матускова Л.С., Готко А.В., Сон А.Ц. Хирургическое лечение кавернозных ангиом головного и спинного мозга // Матеріали V з'їзду нейрохірургів України, Ужгород, 25–28 червня 2013 р. — Ужгород, 2013. — С. 125.
4. Скоромец А.А., Тиссен Т.П., Панюшкин А.И., Скоромец Т.А. Сосудистые заболевания спинного мозга. — СПб.: Сотис, 1998. — 525 с.
5. Скоромец А.А., Скоромец А.П., Скоромец Т.А., Тиссен Т.П. Спинальная ангионеврология: Руководство для врачей. — М.: МЕДпресс-информ, 2003. — 608 с.
6. Mastronardi L., Frondizi D., Guiducci A., Nardi M., Maira G. Conus medullaris hematomyelia associated with an intradural-extramedullary cavernous angioma // Spinal Cord. — 1999. — Vol. 37, № 1. — P. 68-70. PMID: 10025701.
7. Park S.B., Jahng T.A., Chung C.K. The clinical outcomes after complete surgical resection of intramedullary cavernous angiomas: changes in motor and sensory symptoms // Spinal Cord. — 2009. — Vol. 47, № 2. — P. 128-33. PMID: 18663373 DOI: 10.1038/sc.2008.89.
8. Sandson T.A., Friedman J.H. Spinal cord infarction. Report of 8 cases and review of the literature // Medicine (Baltimore). — 1989 — Vol. 68, № 5 — P. 282-92. PMID: 2677596.
Similar articles

Authors:
Науменко Л.Ю. - ДЗ «Дніпропетровська медична академія МОЗ України»; Тарасенко О.М., Мирончук Л.В. - ДУ «Український державний НДІ медико-соціальних проблем інвалідності МОЗ України», м. Дніпропетровськ


"Тrauma" Том 15, №4, 2014
Date: 2014.12.03
Categories: Traumatology and orthopedics
Sections: Clinical researches


Authors:
Тарасенко О.М., Мирончук Л.В. - ДУ «Український державний НДІ медико-соціальних проблем інвалідності МОЗ України», м. Дніпро, Україна


"Тrauma" Том 17, №3, 2016
Date: 2016.09.05
Categories: Traumatology and orthopedics
Sections: Specialist manual


Authors:
Чеботарьова Л.Л., Третьякова А.І., Глоба М.В., Ващенко В.В., Сулій Л.М., Солонович О.С. - Відділ функціональної діагностики ДУ «Інститут нейрохірургії ім. акад. А.П. Ромоданова НАМН України», м. Київ, Україна


International neurological journal 3 (81) 2016
Date: 2016.07.19
Categories: Neurology
Sections: Medical forums


Authors:
Гохфельд И.Г., Лихолетов А.Н., Павлов Б.Б. — НИИ травматологии и ортопедии Донецкого национального медицинского университета им. М. Горького, ККЛПУОЗ «Областная травматологическая больница» г. Донецка; Разумников Г.В. — КУЗ «Добропольская больница интенсивного лечения»


"Тrauma" Том 15, №6, 2014
Date: 2015.03.06
Categories: Traumatology and orthopedics
Sections: Specialist manual