International neurological journal 6 (92) 2017
Effect of the course of Rivastigmine Orion on the mnestic functions of patients with cognitive deficit associated with Parkinson's disease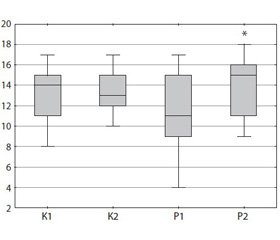 Authors:

Шаленко О.В., Крижановский С.А., Карабань И.Н.
ГУ «Институт геронтологии имени Д.Ф. Чеботарева НАМН Украины», г. Киев, Украина



Categories:

Neurology



Sections:

Clinical researches
Summary
Наведені результати комплексного аналізу впливу курсового прийому інгібітора холінестерази (Ривастигмін Оріон) на мнестичні функції пацієнтів із когнітивним дефіцитом, асоційованим із хворобою Паркінсона. Під впливом Ривастигміну Оріон (3–6 мг/сут протягом 3 міс.) відмічається позитивна динаміка рухової активності та мнестичних функцій за результатами нейропсихологічного обстеження (MMSE, MoCA, FAB) у пацієнтів із хворобою Паркінсона похилого віку, що сприяє соціальній та побутовій незалежності, покращенню якості життя пацієнтів.
Приведены результаты комплексного анализа влияния курсового приема ингибитора холин­эстеразы (Ривастигмин Орион) на мнестические функции у пациентов с когнитивным дефицитом, ас­социированным с болезнью Паркинсона. Под влиянием Ривастигмина Орион (3–6 мг/сут в течение 3 мес.) отмечается позитивная динамика двигательной активности и мнестических функций по результатам нейропсихологического обследования (MMSE, MoCA, FAB) у пациентов с болезнью Паркинсона пожилого возраста, что ведет к социальной и бытовой независимости, улучшению качества жизни.
The article presents the results of a comprehensive analysis of the effect of the course treatment using cholinesterase inhibitor (Rivastigmine Orion) on mnestic functions in patients with cognitive deficit associated with Parkinson's disease. Under the influence of Rivastigmine Orion (3–6 mg/day for 3 months), a positive dynamics of motor activity and mnestic functions is noted according to the results of neuropsychological examination (MMSE, MoCA, FAB) in patients with Parkinson's disease of advanced age, which leads to social independence and independence in everyday life, improvement of the quality of life.
Keywords
хвороба Паркінсона; когнітивний дефіцит; Ривастигмін Оріон
болезнь Паркинсона; когнитивный дефицит; Ривастигмин Орион
Parkinson's disease; cognitive deficit; Rivastigmine Orion
For the full article you need to subscribe to the magazine.
Bibliography
1. Waldemar G., Dubois B., Emre M. et al. Alzheimer's disease and other disorders associated with dementia // European handbook of neurological management / R. Hughes et al. — Oxford Blackwell Publishing, 2006. — P. 266-298.
2. Folstein M.F., Folstein S.E., McHugh P.R. «Mini-mental state». A practical method for grading the cognitive state of patients for the clinician // J. Psychiatr. Res. — 1975. — № 12. — Р. 189-98.
3. Ziad S., Natalie A. et al. The Montreal Cognitive Assessment, MoCA: A Brief Screening Tool For Mild Cognitive Impairment // Journal of the American Geriatrics Society. — 2005. — 53, 4. — 695-699.
4. Dubois B., Litvan I. The FAB: A frontal assessment battery at bedside // Neurology. — 2000. — 55(11). — 1621-1626.
5. Инструкция по применению препарата Ривастигмин Орион.
6. Aarland D., Andersen K., Larsen J.P., Lolk A., Nielsen H., Kragh-Sorensen P. Risk of dementia un Parkinson's disease: a community-based, prospective study // Neurology. — 2001. — 56, № 6. — Р. 720-736.
7. Beck A.T., Ward C.H., Mendelson M., Mock J., Erbaugh J. An inventory for measuring depression // Archives of General Psychiatry. — 1961. — № 4. — P. 561-571.
8. Hughes A.J., Daniel S.E., Kilford L., Lees A.J. Accuracy of clinical diagnosis of idiopathic Parkinson's disease: a clinico-pathological study of 100 cases // J. Neurol. Neurosurg. Psychiatry. — 1992. — 55. — 181-184. doi:10.1136/jnnp.55.3.181.
9. Fahn S., Elton R., Members of the updrs Development Committee // Developments in Parkinson's Disease / Ed. by Fahn S., Marsden C.D., Calne D.B., Goldstein M. Recent. — Vol. 2. — NJ, Florham Park: Macmillan Health Care Information, 1987. — Р. 153-163, 293-304.
10. Захаров В.В. Нарушение когнитивных функций при болезни Паркинсона и симптоматическом паркинсонизме: Автореф. дис… д-ра мед. наук. — М., 2003. — 36 с.
11. Emre M., Aaraland D., Brown R. et al. Clinical diagnostic criteria for dementia associated with Parkinson disease // Mov. Disord. — 2007. — 22. — 1689-1707.
12. Aarsland D., Andersen K., Larsen J.P. et al. Prevalence and characteristics of dementia in Parkinson disease: an 8-year prospective study // Arch. Neurol. — 2003. — 60. — 387-392.
13. Левин О.С. Клинико-нейропсихологические и нейровизуализационные аспекты дифференциальной диагностики паркинсонизма: Автореф. дис… д-ра мед. наук. — М., 2003. — 36 с.
14. Ferreira J.J., Katzenschlaqer R., Bloenn B.R., Bonuccelli U. et al. Summary of the recjmmendations of the EFNS/MDS-ES review on therapeutic management of Parkinson's disease // Eur. J. Neurol. — 2013. — 20 (1). — 5-15. doi: 10.1111/j.1468-1331.2012.03866.x.
15. Левин О.С. Диагностика и лечение деменции в клинической практике / О.С. Левин. — М.: МЕДпресс-информ, 2010. — 256 с.
Similar articles

Authors: Бурчинский С.Г.(1), Райченко Е.В.(2), Гуща В.В.(1)
(1) — ГУ «Институт геронтологии им. Д.Ф. Чеботарева НАМН Украины», г. Киев, Украина
(2) — Киевская городская клиническая больница, г. Киев, Украина
International neurological journal №2 (96), 2018
Date: 2018.05.22
Categories: Neurology
Sections: Specialist manual