International neurological journal 6 (92) 2017
Intervention radiofrequency methods under ultrasound control in the abdominal hypogastric pain treatment. A clinical case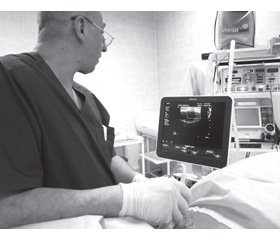 Summary
Стаття висвітлює складну проблему абдомінального гіпогастрального болю: наводиться клінічний випадок у пацієнтки, яка отримала задовільний результат від радіочастотної нейромодуляції після тривалих невдалих спроб хірургічного та консервативного лікування. Пацієнтка скаржилась на біль у нижньому відділі живота, що іррадіював у пах. З метою усунення болю здійснена емболізація вен та видалена матка з придатками. Це призвело до погіршення стану. Нами встановлено діагноз: хронічний абдомінальний гіпогастральний біль: нейропатія гіпогастрального нерва справа, іліоінгві­нального нерва справа і генітофеморального нерва справа. Поданий у статті клінічний випадок потребував етапного лікування, що полягало у виконанні діагностично-лікувальних блокад та застосуванні радіочастотних методик під контролем ультразвукової діагностики. Успішність лікування абдомінального гіпогастрального болю полягає саме в такому почерговому підході — від стероїдних блокад до деструктивних радіочастотних процедур — з урахуванням особливостей перебігу хвороби в кожному окремому випадку.
Статья освещает сложную проблему абдоминальной гипогастральной боли: приводится клинический случай у пациентки, получившей удовлетворительный результат в результате радиочастотной нейромодуляции после длительных неудачных попыток хирургического и консервативного лечения. Пациентка жаловалась на боль в нижнем отделе живота, иррадиирующую в пах. С целью устранения боли осуществлена эмболизация вен и удалена матка с придатками. Это привело к ухудшению состояния. Нами установлен диагноз: хроническая абдоминальная гипогастральная боль: нейропатия гипогастрального нерва справа, илиоингвинального нерва справа и генитофеморального нерва справа. Представленный в статье клинический случай требовал этапного лечения, которое заключалось в выполнении лечебно-диагностических блокад и применении радиочастотных методик под контролем ультразвуковой диагностики. Успешность лечения гипогастральной боли заключается именно в таком последовательном подходе — от стероидных блокад к деструктивным радиочастотным процедурам — с учетом особенностей течения болезни в каждом отдельном случае.
The article deals with the complex problem of abdominal hypogastric pain: a clinical case is presented in a female patient who received a positive result of radiofrequency neuromodulation after long unsuccessful attempts of surgical and conservative treatment. The patient complained of pain in the lower abdomen irradiating into the groin. In order to eliminate pain, embolization of veins was carried out and the uterus with appendages was removed. This led to a worsening of the condition. We established the diagnosis: "chronic abdominal hypogastric pain: the neuropathy of the right hypogastric, inguinal and genitofemoral nerve". The clinical case presented in the article required stage-by-stage treatment, which consisted in performing therapeutic and diagnostic blocks and applying radiofrequency techniques under the ultrasound control. The success of the hypogastric pain treatment lies precisely in such a consistent approach — from steroid blockades to radiofrequency procedures, taking into account the features of the disease course in each case.
Keywords
абдомінальні гіпогастральні болі; радіочастотна деструкція; радіочастотна нейромодуляція; ультразвукове дослідження
абдоминальные гипогастральные боли; радиочастотная деструкция; радиочастотная нейромодуляция; ультразвуковое исследование
abdominal hypogastric pains; radiofrequency ablation; radiofrequency neuromodulation; ultrasound investigation
For the full article you need to subscribe to the magazine.
Bibliography
1. Бютнер Й. Блокады периферических нервов: Пер.с нем. / Й. Бютнер, Г. Майєр; под. ред. А.М. Овечкина. — М.: МедПресс, 2013. — 271 с.
2. Бразис П. Топическая диагностика в клинической неврологии: Пер. с англ. / П. Бразис, Х. Биллер, Х. Мэсдью; под. ред. О.С. Левина. — М.: МедПресс, 2009. — 736 с.
3. Heinen-Kammerer T. Лікування поперекового синдрому. Аналіз відношення прибутків до витрат на ліки для лікування неврологічних ускладнень / Т. Heinen-Kammerer, K. Motzkat, R. Rychlik // Укр. неврол. журн. — 2011. — № 1(18). — С. 90-91.
4. Rhame E.E. Successful treatment of refractory pudendal neuralgia with pulsed radiofrequency / E.E. Rhame, K.A. Levey, C.G. Gharibo // Pain Physician journal. — 2009. — № 12. — C. 633-638.
5. Ploteau S., Labat J.J., Riant T., Levesque E. New concepts on functional chronic pelvic and perineal pain: pathophysiology and multidisciplinary management / S. Ploteau, J.J Labat, T. Riant, E. Levesque // Discovery medicine journal. — 2015. — № 19. — C. 185-192.
6. Petrov-Kondratov V. Pulsed radiofrequency ablation of pudendal nerve for treatment of a case of refractory pelvic pain / V. Petrov-Kondratov, A. Chhabra, S. Jones // Pain Physician. — 2017. — № 20(3). — C. 451-454.
7. Carvalho J.C., Agualusa L.M., Moreira L.M., Costa J.C. Multimodal therapeutic approach of vaginismus: an innovative approach through trigger point infiltration and pulsed radiofrequency of the pudendal nerve // Rev. Bras. Anestesiol. оnline [Электронный ресурс]. — 2015. — Режим доступа: https:// doi.org/10.1016/j.bjane.2014.10.011.
Similar articles

Authors: Albokrinov A.A.
Municipal Institution of Lviv Regional Council «Lviv Regional Children's Clinical Hospital «Mother and Child Welfare», Department of Anesthesiology and Intensive Care, Lviv, Ukraine
"Emergency medicine" 7 (70) 2015
Date: 2016.01.20
Categories: Medicine of emergency
Sections: Clinical researches


Authors:
Міщук В.Р. - Львівський національний медичний університет імені Данила Галицького, Львівська обласна дитяча клінічна лікарня «ОХМАТДИТ»


"Emergency medicine" 7-8 (46-47) 2012
Date: 2013.02.20
Categories: Medicine of emergency
Sections: Clinical researches


Authors: Зазірний І.М., Рижков Б.С.
Центр ортопедії, травматології та спортивної медицини клінічної лікарні «Феофанія» ДУС, м. Київ, Україна
"Тrauma" Том 20, №1, 2019
Date: 2019.03.27
Categories: Traumatology and orthopedics
Sections: Specialist manual


Authors:
Квасніцький М.В. Державна наукова установа «Науково-практичний центр профілактичної та клінічної медицини» Державного управління справами, м. Київ, Україна


"Тrauma" Том 18, №3, 2017
Date: 2017.07.11
Categories: Traumatology and orthopedics
Sections: Clinical researches