"Emergency medicine" 8 (87) 2017
Principles of providing of care to ill and injured children in emergency care unit (literature review)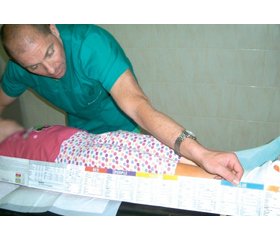 Summary
У статті наведені нормативно-правові засади надання медичної допомоги хворим і постраждалим дітям в умовах відділення екстреної (невідкладної) медичної допомоги. Підкреслено значення симуляційного навчання лікарів медицини невідкладних станів за програмою Advanced Paediatric Life Support (APLS) при клінічних станах, що є загрозливими для життя хворих або постраждалих дітей. Наведено доцільність використання стрічки Брозлоу у дітей в умовах відділення екстреної (невідкладної) медичної допомоги.
В статье приведены нормативно-правовые положения оказания медицинской помощи больным и пострадавшим детям в условиях отделения экстренной (неотложной) медицинской помощи. Подчеркнуто значение симуляционного обучения врачей медицины неотложных состояний по программе Advanced Paediatric Life Support (APLS) при клинических состояниях, которые представляют опасность для жизни больных или пострадавших детей. Приведена целесообразность использования ленты Брозлоу у детей в условиях отделения экстренной (неотложной) медицинской помощи.
The regulatory provisions of medical care to ill and injured children in emergency care unit have been presented in this paper. The importance of the simulation training course according to Advanced Pediatric Life Support (APLS) for emergency medicine doctors have been highlighted, especially in situations when clinical condition is life threatening for ill or injured children. The advisability of using of the Broselow Tape in paediatric emergency care units was shown.
Keywords
екстрена (невідкладна) медична допомога; діти; симуляційне навчання; APLS; стрічка Брозлоу
экстренная (неотложная) медицинская помощь; дети; симуляционное обучение; APLS; лента Брозлоу
emergency care; children; simulation training; Advanced Pediatric Life Support; Broselow Tape
For the full article you need to subscribe to the magazine.
Bibliography
1. Закон України «Про екстрену медичну допомогу». – Документ 5081-17, чинний, поточна ред. — Редакція від 09.12.2015, підстава 766-19.
2. http://patriotdefence.org/ua/navchannya/mediki/
3. Пилипенко М.М. Британський досвід надання невідкладної допомоги постраждалим з тяжкою політравмою // Медицина невідкладних станів. — 2015. — № 2(65). — С. 68-74.
4. Agarwal S. Comparing the utility of a standard pediatric resuscitation cart with a pediatric resuscitation cart based on the Broselow tape: A randomized, controlled, crossover trial involving simulated resuscitation scenarios // Pediatrics. 2005. — Vol. 116, Iss. 3. — P. 326-333.
5. http://uk.wikipedia.org/wiki/Стрічка_Брозлоу_для_екс–треної_педіатричної_допомоги
6. Length-based endotracheal tube and emergency equipment in pediatrics // Annals of Emergency Medicine. — 1992. — Vol. 21(8). — P. 900-904.
7. A rapid method for estimating weight and resuscitation drug dosages from length in the pediatric age group // Annals of Emergency Medicine. — 1988. — Vol. 17(6). — P. 576-581.
8. Managing the unique size-related issues of pediatric resuscitation: reducing cognitive load with resuscitation aids // Academic Emergency Medicine. — 2002. — Vol. 9(8). — P. 840-847.
9. Salvendy, Gavriel. Handbook of human factors and ergonomics. — 2nd ed. — New York: Wiley, 1997. — P. 150-173.
10. The Broselow tape as an effective medication dosing instrument: a review of the literature // Journal of Pediatric Nur–sing. — 2012. — Vol. 27(4). — P. 416-420.
11. Iacobucci A., Vecil M., Costantini C. Introducing Brose–low colour coded system for paediatric emergency management in a non paediatric general hospital // Lijec Vjesn. — 2010. — Vol. 132. — Suppl. 1. — P. 6-8.
12. http://alsg.org/uk/APLS
13. Frush Karen. Study Packet for the Correct Use of the Brose–low Pediatric Emergency Tape. — Duke University Medical Center.
Similar articles

Authors:
Гур'єв С.О., Шкатула Ю.В., Український науково-практичний центр екстреної медичної допомоги та медицини катастроф, МОЗ України, м. Київ, Сумський державний університет


"Тrauma" Том 13, №4, 2012
Date: 2013.02.20
Categories: Traumatology and orthopedics
Sections: Specialist manual


Authors:
Желіба Л.М., Фіщенко В.А., Московко С.П. - Вінницький національний медичний університет ім. М.І. Пирогова


International neurological journal 4 (74) 2015
Date: 2015.12.29
Categories: Neurology
Sections: Medical forums