"Kidneys" Том 7, №1, 2018
Renin-angiotensin system antagonists, glomerular filtration rate and blood pressure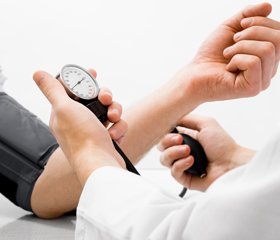 Summary
У статті розглянуті сучасні дані про вплив блокаторів ренін-ангіотензинової системи на швидкість клубочкової фільтрації, рівень артеріального тиску і результат хронічної хвороби нирок. Наведено критеріальні значення швидкості клубочкової фільтрації, залежно від яких запропоновано міняти тактику блокади ренін-ангіотензинової системи: комбінація «інгібітори ангіотензинперетворю­ючого ферменту + блокатори рецепторів ангіотензину», монотерапія і відміна препарату при швидкості клубочкової фільтрації менше за 15–30 мл/хв/м2. Наведено формулу БРІМОНЕЛ для терапії хронічної хвороби нирок.
В статье рассмотрены современные данные о влиянии блокаторов ренин-ангиотензиновой системы на скорость клубочковой фильтрации, уровень артериального давления и исход хронической болезни почек. Приведены критериальные значения скорости клубочковой фильтрации, в зависимости от которых предложено менять тактику блокады ренин-ангиотензиновой системы: комбинация «ингибиторы ангиотензинпревращающего фермента + блокаторы рецепторов ангиотензина», монотерапия и отмена препарата при скорости клубочковой фильтрации менее 15–30 мл/мин/м2.
Приведена формула БРИМОНЕЛ для терапии хронической болезни почек.
The article deals with the mModern data on the influence of renin-angiotensin system blockers on the glomerular filtration rate, the level of arterial pressure and the outcome of chronic kidney disease. The strategy of rennin-angiotensine blockade is offered to be changed depending on the criteria va­lues of glomerular filtration rate: a combination of inhibitors of angiotensin-converting enzyme + angiotensin receptors blo­ckers, monotherapy and drug withdrawal in glomerular filtration rate under 15–30 ml/min/m2. The formula BRIMONEL for treatment of chronic kidney disease is given.
Keywords
блокатори ренін-ангіотензинової системи; швидкість клубочкової фільтрації; артеріальний тиск; хронічна хвороба нирок; взаємозв'язок інгібіторів ангіотензинперетворюючого ферменту/блокаторів рецепторів ангіотензину і швидкості клубочкової фільтрації
блокаторы ренин-ангиотензиновой системы; скорость клубочковой фильтрации; артериальное давление; хроническая болезнь почек; взаимосвязь ингибиторов ангиотензинпревращающего фермента/блокаторов рецепторов ангиотензина и скорости клубочковой фильтрации
renin-angiotensin system antagonists; glomerular filtration rate; blood pressure; chronic kidney disease; the relationship of angiotensin-converting enzyme inhibitors, angiotensin receptor blockers and glomerular filtration rate
For the full article you need to subscribe to the magazine.
Bibliography
1. Vejakama P., Ingsathi A., McKay G.J., Maxwell A.P., McEvoyet M. et al. Treatment effects of renin-angiotensin aldosterone system blockade on kidney failure and mortality in chronic kidney disease patients // BMC Nephrology. — 2017. — 18. — 342 р.
2. Kidney Disease: Improving Global Outcomes (KDIGO) CKD Work Group. KDIGO 2012 Clinical Practice Guideline for the Evaluation and Management of Chronic Kidney Disease // Kidney Inter. Suppl. — 2013. — 3. — Р. 1-150. — doi: 10.1186/s12882-017-0753-9.
3. https://www.nice.org.uk/guidance/cg182/chapter/1-re–commendations
4. Ivanov D.D., Kushnirenko S.V. BRA II1 + ACEI vs BRA II1 + ACEI + COX-2 inhibitor vs BRA II1 + ACEI + moxonidin in patients with diabetic nephropathy (DN) // Nephrol. Dial. Transplant. — 2005. — 20. — 240 р.
5. Maione A., Navaneethan S.D., Graziano G., Mitchell R., Johnson D. et al. Angiotensin-converting enzyme inhibitors, angiotensin receptor blockers and combined therapy in patients with micro- and macroalbuminuria and other cardiovascular risk factors: a systematic review of randomized controlled trials // Nephrol. Dial. Transplant. — 2011 Sep. — 26(9). — Р. 2827-47. — doi: 10.1093/ndt/gfq792. Epub 2011, Mar 3.
6. Schmidt M., Mansfield K.E., Bhaskaran K., Nitsch D., Sørensen H.T. et al. Serum Creatinine Elevation After Renin-angiotensin System Blockade and Long Term Cardiorenal Risks // BMJ. — 2017. — 356(791).
7. Lin C.-C., Wu Y.-T., Yang W.-C., Tsai M.-J., Liu J. S., Yang C.-Y. et al. Angiotensin receptor blockers are associated with lower mortality than ACE inhibitors in predialytic stage 5 chronic kidney disease: A nationwide study of therapy with reninangiotensinsystem blockade // PLoS ONE. — 2017. — 12(12). — e0189126. — https://doi.org/10.1371/journal.pone.0189126.
8. The ONTARGET Investigators Telmisartan, Ramipril, or Both in Patients at High Risk for Vascular Events // N. Engl. J. Med. — 2008, April 10. — 358. — Р. 1547-1559. — doi: 10.1056/NEJMoa0801317.
9. Standards of Medical Care in Diabetes — 2018 // Diabetes Care. — 2018 Jan. — 41(Suppl. 1). — 1-2. — https://doi.org/10.2337/dc18-Sint01.
10. Ivanov D.D. When Should We Start Using Angiotensin Converting Enzyme Inhibitors/Angiotensin Receptor Blockers in Diabetic Kidney Disease? // Кidneys. — 2017. — 6(1). — P. 46-50.
11. Ivanov D. Next Step in Chronic Kidney Disease Therapy // Кidneys. — 2016. — 5(2). — Р. 10-13.
12. Shin-ichiro Miura, Sadashiva S. Karnik, Keijiro Saku. Angiotensin II type 1 receptor blockers: Class effects vs. Molecular effects // J. of the Renin-Angiotensin-Aldosterone Syst. — 2011 Mar. — 12(1). — Р. 1-7. — doi: 10.1177/1470320310370852.
13. Ahmed A.K., Kamath N.S., El Kossi M., El Nahas A.M. The impact of stopping inhibitors of the renin-angiotensin system in patients with advanced chronic kidney disease // Nephrol. Dial. Transplant. — 2009. — doi: 10.1093/ndt/gfp511.
14. Gant C.M., Laverman G.D., Vogt L., Slagman M.C.J., Heerspink H.J.L., Waanders F. et al Renoprotective RAAS inhibition does not affect the association between worse renal function and higher plasma aldosterone levels Journal // BMC Nephro–logy. — 2017. — 18. —370. — doi: 10.1186/s12882-017-0789-x.
15. Panagiotis I., Georgianos P.I., Rajiv Agarwal R. Revisiting RAAS blockade in CKD with newer potassium-binding drugs // Kidney International. — 2017, December 21.
16. Böhm M., Schumacher H., Teo K.K., Lonn E.M., Mahfoud F. et al Achieved blood pressure and cardiovascular outcomes in high-risk patients: results from ONTARGET and TRANSCEND trials // Lancet. — 2017, Jun 3. — 389(10085). — Р. 2226-2237. — doi: 10.1016/S0140-6736(17)30754-7. Epub 2017, Apr 5.
17. The SPRINT Research Group A Randomized Trial of Intensive versus Standard Blood-Pressure Control // N. Engl. J. Med. — 2015, Nov 26. — 373. — Р. 2103-2116. — doi: 10.1056/NEJMoa1511939.
18. Whelton P.K., Carey R.M., Aronow W.S. et al. ACC/AHA/AAPA/ABC/ACPM/AGS/APhA/ASH/ASPC/NMA/PCNA Guideline for the Prevention, Detection, Evaluation, and Management of High Blood Pressure in Adults: A Report of the American College of Cardiology/American Heart Association Task Force on Clinical Practice Guidelines // J. Am. Coll. Cardiol. — 2017, Nov 13.
19. Basy S., Sussman J.B., Hayward R.A. Detecting Heterogeneous Treatment Effects to Guide Personalized Blood Pressure Treatment: A Modeling Study of Randomized Clinical Trials // Annals of Internal. Medicine. — 2017, March 7. — 166(5). — Р. 354-360.
20. Mark P.B. Strategies to manage cardiovascular risk in chronic kidney disease // Nephrology, Dialysis, Transplantation. — 2017, Nov 9. — PMID: 29237023.
Similar articles

Authors: Иванов Д.Д.(1), Курята А.В.(2), Гармиш И.П.(2)
(1) — Национальная медицинская академия последипломного образования имени П.Л. Шупика, г. Киев, Украина
(2) — ГУ «Днепропетровская медицинская академия МЗ Украины», г. Днепр, Украина
"Kidneys" Том 7, №2, 2018
Date: 2018.04.06
Categories: Nephrology
Sections: Specialist manual


Authors:
Иванов Д.Д. - Национальная медицинская академия последипломного образования имени П.Л. Шупика, г. Киев


"Kidneys" 4 (14) 2015
Date: 2016.01.18
Categories: Nephrology
Sections: Specialist manual


Authors: D.D. Ivanov
Shupyk National Medical Academy of Postgraduate Education, Kyiv, Ukraine
"Kidneys" Том 6, №1, 2017
Date: 2017.03.09
Categories: Nephrology
Sections: Specialist manual