"News of medicine and pharmacy" №1 (639), 2018
Как лечить родственника в больнице?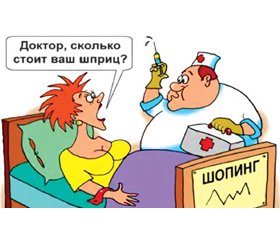 Попасть в больницу может каждый. И не только чужой вам человек, но и ваш родственник. И тогда у вас появляется возможность для очень модного на сегодняшний день вида деятельности — контроля за преступными деяниями врачей-вредителей и обличения этих «вымогателей и убийц в белых халатах». Для этого нужно совсем немного — свободное время, начальные ораторские навыки, умение читать и писать и, собственно, желание контролировать и обличать. И тогда вы станете полноценным участником лечебного процесса. Как это сделать? О, это не так уж и сложно! Не теряя времени, приступайте к изучению данной инструкции.
Лучше, если вы уже имеете опыт сутяжничества. Если нет, тоже не ...
For the full article you need to subscribe to the magazine.
Similar articles