"Emergency medicine" №1(88), 2018
The possibility of studying cerebral blood flow with rheoencephalography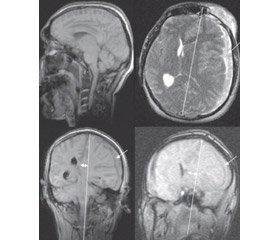 Summary
Проводилися реоенцефалографічні дослідження постраждалих із політравмою з провідним компонентом тяжкої черепно-мозкової травми, в яких було діагностовано смерть головного мозку. Смерть головного мозку констатували на підставі клінічних діагностичних критеріїв, затверджених Наказом Міністерства охорони здоров'я України № 821 (2013 р.), та додаткового визначення напруження кисню в артеріальній крові та крові, що була взята з внутрішньої яремної вени. Обидва пацієнти продовжували перебувати на штучній вентиляції легенів. За допомогою безперервної інфузії дофаміну та фенілефрину усунено артеріальну гіпотензію й брадикардію. Систолічний артеріальний тиск доведено до 180 мм рт.ст. Спроможність серцевого викиду конт­ролювалася за допомогою тетраполярної грудної реографії за методом Кубічека. Однак ефективна гемодинамічна підтримка не дозволила зареєструвати комплекси реоенцефалограми, що за величиною амплітуди могли б свідчити про наявність ефективного церебрального кровообігу. Автори стверджують, що головна роль у формуванні комплексів імпедансної реоплетизмограми при проведенні реоенцефалографічного дослідження належить церебральному кровообігу, а не кровообігу в тканинах скальпа.
Проводились реоэнцефалографические исследования пострадавших с политравмой с ведущим компонентом тяжелой черепно-мозговой травмы, у которых была диагностирована смерть головного мозга. Смерть головного мозга констатировали на основе клинических диагностических критериев, утвержденных Приказом № 821 Министерства здравоохранения Украины (2013 г.), и дополнительного определения напряжения кислорода в артериальной крови и крови, взятой из внутренней яремной вены. Оба пациента продолжали находиться на искусственной вентиляции легких. С помощью непрерывной инфузии дофамина и фенилэфрина устранены артериальная гипотензия и брадикардия. Систолическое артериальное давление доведено до 180 мм рт.ст. Состоятельность сердечного выброса контролировалась с помощью тетраполярной грудной реографии по методу Кубичека. Тем не менее эффективная гемодинамическая поддержка не позволила зарегистрировать комплексы реоэнцефалограммы, которые по величине амплитуды могли бы свидетельствовать о наличии эффективного церебрального кровообращения. Авторы утверждают, что главная роль в формировании комплексов импедансной реоплетизмограммы при проведении реоэнцефалографического исследования принадлежит церебральному кровообращению, а не кровообращению в тканях скальпа.
Rheoencephalographic studies were carried out in victims with polytrauma with a prevalent component of severe traumatic brain injury, who were diagnosed with brain death on the basis of clinical criteria approved by Order No. 821 of the Ministry of Health of Ukraine (2013) and additional determination of oxygen tension in arterial blood and blood taken from the internal jugular vein. Both patients continued to be on artificial ventilation. With the help of continuous infusion of dopamine and phenylephrine, arterial hypotension and bradycardia are eliminated. Systolic blood pressure was adjusted to 180 mm Hg. The cardiac output was controlled with the help of tetrapolar thoracic rheography according to Kubicek. Nevertheless, effective hemodynamic support did not allow the registration of complexes of the rheoencephalogram, which in amplitude at least remotely indicated the presence of effective cerebral blood flow. The authors claim that the main place in the formation of impedance rheoplethysmogram complexes during the rheoencephalographic study belongs to the cerebral blood flow, and not to the blood flow in the scalp tissues.
Keywords
реоенцефалографія; мозковий кровообіг; смерть головного мозку; політравма
реоэнцефалография; мозговой кровоток; смерть головного мозга; политравма
rheoencephalography; cerebral blood flow; brain death; polytrauma
For the full article you need to subscribe to the magazine.
Bibliography
1. Brazovskii K.S. Modeling the Ability of Rheoencephalography to Measure Cerebral Blood Flow / K.S. Brazovskii, J.S. Pek–ker, O.S. Umanskii // Journal of Electrical Bioimpedance. — 2014. — Vol. 5. — P. 110-113.
2. Perez J.J. Quantification of Sensibility to Conductivity Changes in Bipolar Rheoencephalography / J.J. Perez, E. Guijarro, J.A. Barcia // Engineering in Medicine and Biology, 1999. 21st Annual Conference and the 1999 Annual Fall Meeting of the Biomedical Engineering Society. — Access mode: doi: 10.1109/IEMBS.1999.802533.
3. Correlation of Rheoencephalography and Laser Doppler Flow: a Rat Study / M. Bodo, R. Sheppard, A. Hill et al. // Journal of Electrical Bioimpedance. — 2016. — Vol. 7. — P. 55-58. — Access mode: doi:10.5617/jeb.2985.
4. Impaired Cerebrovascular Autoregulation and Reduced CO2 Reactivity after Long Duration Spaceflight / K.A. Zuj, P. Arbeille, J.K. Shoemaker et al. // American Journal of Physio–logy: Heart and Circulatory Physiology. — 2012. — Vol. 302, № 12. — Р. 2592-2598. — Access mode: doi: 10.1152/ajpheart.00029.2012.
5. Patent US 20070287899 A1, IPC6 A61B5/04. Non-Invasive Intracranial Monitor / B. Poupko, Y. Reichman, A. Rappaport, S. Ben-Ari; Orsan Medical Technologies Ltd. — № US 11/1610,553; заявл. 14.11.2006; опубл. 13.12.2007. — Access mode: https://www.google.com/patents/US20070287899.
6. Bodo M. Rheoencephalography (REG) as a Non-Invasive Monitoring Alternative for the Assessment of Brain Blood Flow / M. Bodo, F.J. Pearce // North Atlantic Treaty Organization: Research and Technology Organization: Combat Casualty Care in Ground-Based Tactical Situations: Trauma Technology and Emergency Medical Procedures (Published: September 2004). — Access mode: www.rta.nato.int; MP-HFM-109-$$ALL-PDF-X Change-Viewer.
7. Perez J.J. To What Extent is the Bipolar Rheoencephalographic Signal Contaminated by Scalp Blood Flow? A Clinical Study to Quantify its Extra and Non-Extracranial Components // Biome–dical Engineering. — 2014. — Vol. 13. — P. 131 (Published online 2014 Sep 6). — Access mode: doi: 10.1186/1475-925X-13-131.
8. ХАИ-Медика: научно-технический центр радиоэлектронных медицинских приборов и технологий. Медицинское оборудование ХАИ-Медика. Версии [Электронный ресурс]. — 2016. — Access mode: https://xai-medica.com/pro–ducts.htm#reocom.
9. Наказ МОЗ України № 821 (23.09.2013) «Про встановлення діагностичних критеріїв смерті мозку та процедури констатації моменту смерті людини» [Електронний ресурс]; [Публічна інформація від 23.09.2013]. — Access mode: http://www.moz.gov.ua/ua/portal/dn_20130923_0821.html.
10. Early and Late Systemic Hypotension as a Frequent and Fundamental Source of Cerebral Ischemia Following Severe Brain Injury in the Traumatic Coma Data Bank / R.M. Chesnut, S.B. Marshall, J. Piek et al. // Acta Neurochirurgica. — 1993. — Vol. 50, Suppl. — P. 121-125.
11. Hyperoxia of Internal Jugular Venous Blood in Brain Death / T. Minami, M. Ogava, T. Sugimoto et al. // Journal of Neurosurgery. — 1973. — Vol. 39, № 4. — P. 442-447.
12. Catecholamines as Outcome Markers in Isolated Traumatic Brain Injury: the COMA-TBI Study / S.B. Rizoli, B.N.R. Jaja, A.P. Di Batista et al. // Critical. Care. — 2017. — Vol. 21. — Р. 37.
13. Vasopressor Use and Effect on Blood Pressure After Severe Adult Traumatic Brain Injury / P. Sookplung, A. Siriusswakul, A. Malakouti et al. // Neurocritical Care. — 2011. — Vol. 15, № 1. — P. 46-54.
14. Pulsatile Electrical Impedance Response from Cerebrally Dead Adult Patients Is not a Reliable Tool for Detecting Cerebral Perfusion Changes / L. Basano, P. Ottonello, F. Nobili et al. // Physiological Measurement. — 2001. — Vol. 22. — Р. 341-349.
15. Динамика каротидного кровотока при выполнении когнитивной пробы при регулярных физических нагрузках / А.В. Кабачкова, А.Н. Захарова, Г.С. Лалаева и др. / The 4th International Interdisciplinary Conference on «Modern Problems in Systemic Regulation of Physiological Functions», Moscow, Russia, September 17–18, 2015. — P. 282-285. doi: 10.12737/12359.