"Emergency medicine" №1(88), 2018
The features of the course of combined poisonings with "street" methadone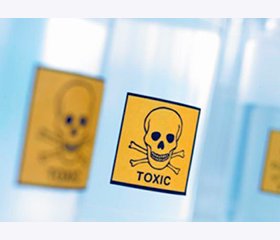 Authors:

Андрющенко В.В.(1), Калиш М.М.(1), Курділь Н.В.(2)
(1) — Київська міська клінічна лікарня швидкої медичної допомоги, м. Київ, Україна
(2) — Науковий центр превентивної токсикології, харчової та хімічної безпеки імені академіка Л.І. Медведя МОЗ України, м. Київ, Україна



Categories:

Medicine of emergency



Sections:

Clinical researches
Summary
Авторами досліджені пацієнти, які проходили лікування з приводу гострих отруєнь нелегальним метадоном у Київській міській клінічній лікарні в період 2005–2017 років. Досліджено структуру отруєнь та її динаміку за 12 років. Доведено, що випадки отруєнь пов'язані з внутрішньовенним уживанням нелегального, або «вуличного», метадону. Жодного випадку отруєння медичним метадоном за період дослідження не було зареєстровано. Встановлено, що кількість даного виду отруєнь зростає та не має тенденції до стабілізації. Досліджено, що протягом 2015–2017 років спостерігалося збільшення кількості комбінованих отруєнь «вуличним» метадоном у поєднанні з іншими наркотичними речовинами, алкоголем і медикаментами. Встановлено, що найчастіше реєструвалися випадки вживання мікстів «метадон + алкоголь», «метадон + амфетаміни». Авторами досліджено особливості патологічного симптомокомплексу, що виникає при комбінованих отруєннях мікстами «метадон + амфетаміни». Досліджено також причини передозування та отруєння «вуличним» метадоном серед опитуваних пацієнтів (n = 249), які проходили лікування у 2016–2017 роках. Авторами проаналізовано причини отруєнь, характер ускладнень, визначено основні принципи антидотної терапії із застосуванням налоксону гідрохлориду та загальні принципи детоксикації і симптоматичного лікування.
Авторами исследованы пациенты, проходившие лечение по поводу острых отравлений нелегальным метадоном в Киевской городской клинической больнице в период 2005–2017 годов. Исследована структура отравлений и ее динамика за 12 лет. Доказано, что случаи отравлений связаны с внутривенным употреблением нелегального, или «уличного», метадона. Ни одного случая отравления медицинским метадоном за период исследования не было зарегистрировано. Установлено, что ежегодно количество данного вида отравлений растет и не имеет тенденции к стабилизации. Доказано, что в течение 2015–2017 годов наблюдалось увеличение количества комбинированных отравлений «уличным» метадоном в сочетании с другими наркотическими веществами, алкоголем и медикаментами. Установлено, что чаще всего регистрировались случаи употребления микстов «метадон + алкоголь», «метадон + амфетамины». Авторами исследованы особенности патологического симптомокомплекса, возникающего при комбинированных отравлениях «метадон + амфетамины». Исследованы причины передозировки и отравления «уличным» метадоном среди опрошенных пациентов (n = 249), проходивших лечение в 2016–2017 годах. Авторами проанализированы причины отравлений, характер ­осложнений, определены основные принципы антидотной терапии с применением налоксона гидрохлорида и общие принципы детоксикации и симптоматического лечения.
Background. Currently in Ukraine, methadone is widely known as a substance of substitution maintenance therapy for the treatment of opioid dependence, but its negative side is illegal use. Illegal methadone is often being used in combination with other psychoactive substances — alcohol, benzodiazepines, phenothiazines, etc. The risk of overdose with illegal methadone is high, as the composition, quality and dosage of the purchased drug is often unknown and constantly changing. Therefore, the objective of this work is to study the features of the course of acute poisonings with methadone combined with other toxic substances in order to develop the best approaches to the diagnosis, intensive care and the use of antidotes, which will increase the effectiveness of treatment in this category of patients. Materials and methods. Patients with acute poisoning with "street" methadone undergoing treatment at the intensive care and extracorporeal detoxification unit of the Kyiv Municipal Clinical Emergency Hospital for the period of 2005–2017. Toxicological, biochemical, clinical and laboratory, functional research methods and methods of statistical analysis of MS Excel (2016) were applied. Results. Drugs of methadone hydrochloride are being used in Ukraine under trade names such as Methadol Pharmascience, Methadone ZN, Methaphin IC, and Methaddictum in tablets. Illegal methadone ("honey", "metal", "stone", "cross") became widespread in Ukraine about 12 years ago. Although it is difficult to find official data on the amount of drugs poisoning (methadone) in Ukraine, however, referring to publications in medical sources and the statistics of Kyiv Municipal Clinical Emergency Hospital it can be argued that there is a gradual increase in the number of poisonings with "street" methadone in Kyiv, in most cases the origin of such "methadone" is unknown. When asked by patients, we known that the overwhelming majority of them acquired some substance, the composition and quality of which are unknown, but its popularity is associated with prolonged action (24–72 hours). The first patients with acute methadone poisoning were admitted the Kyiv Municipal Clinical Emergency Hospital in 2005. When interviewing patients, it became clear that the causes of overdose or poisoning with illegal methadone are diverse. The most common cause of poisoning was the use of a drug of unknown quality, composition and concentration — 30 %. In recent years, the "street" methadone poisonings as the combination with alcohol and other psychotropic substances has been increase. Substances used by patients simultaneously with methadone were as follows: ethyl alcohol; narcotic substances (amphetamines, marijuana, opium, morphine, cocaine, "vint", "shirka"); medicines (codterpin, baclofen, buprenorphine, nalbuphine, lyrica, sonnat), other psychotropic drugs (barbiturates, benzodia­zepines, phenothiazines). Poisoning with "street" methadone in conjunction with marijuana prevailed in 2015; in 2016 — in combination with alcohol; in 2017 — with amphetamines. In cases of the simultaneous use of the illegal methadone and amphetamines, the mixed symptoms were observed, in which the signs of the methadone poisoning dominated. However, with the use of naloxone, the clinical picture dramatically chan­ges; there are signs of psychomotor excitation, hallucinations, muscular hypertonia, increased tendon reflexes, tachycardia, and hypertension. The period of function activation may not last long, gradually returning signs of methadone poisoning, which requires resuscitation monitoring and re-administration of naloxone. In some cases, active surveillance should be performed within 48 hours to prevent apnea and cardiac arrest. Characteristic complications in patients who are admitted to hospital with poisoning by methadone + amphetamine are aspiration pneumonia, hypoglycemia, pulmonary edema, acute renal failure, long-term compression syndrome of soft tissues. Toxicological diagnosis must be performed using polyvalent test strips for drugs and thin-layer chromatography. Express diag­nosis of poisoning with test strips for detecting drugs in these cases greatly speeds up the choice of treatment and improves the disease prognosis. In cases of combined poisoning, there should be a unified treatment scheme. In case of a clear violation of vital functions, assistance should be provided taking into account the principles of cardio-pulmonary and cerebral resuscitation. The next step is the examination of the patient to diagnose injuries and areas of long time soft tissue compression. Determination of breathing parameters, evaluation of the cardiac activity, body temperature. The evaluation of the level of consciousness on the Glasgow-Pittsburgh coma scale. In case of respiratory depression and impairment of unconsciousness, there is a need of naloxone hydrochloride administration in a dose of 0.4 mg i.v. In the absence of the reaction, the doses should to be repeated every 2–3 minutes until the moment of restoration of consciousness, but to a total dose of 10 mg (for signs of pulmonary edema, naloxone hydrochloride is not used); next step is a conducting symptomatic therapy and detoxification. Conclusions. Over the past 12 years, the number of cases of overdose and poisoning with "street" methadone has been increasing. The peculiarity of this type of poisoning is a combination of narcotic substances; methadone-alcohol, methadone-amphetamines, and methadone-alcohol combinations are more common. The combination of toxic effects complicates the diagnosis and treatment of such poisonings. Antidote therapy does not always have a distinct positive effect, so in severe cases, the intensive monitoring to be provided for 48 hours. Express diagnosis of poisoning with test strips for detecting drugs in these cases greatly speeds up the choice of treatment and improves the disease prognosis.
Keywords
токсикологія; наркотики; метадон; «вуличний» метадон
токсикология; наркотики; метадон; «уличный» метадон
toxicology; drugs; methadone; "street" methadone
For the full article you need to subscribe to the magazine.
Bibliography
1. Резолюція WHA63.19 (Стратегія Всесвітньої організації охорони здоров'я з ВІЧ/СНІДу на 2011–2015 рр.). Електронна версія. Режим доступу: http://apps.who.int/iris/bitstream/10665/3794/1/B128_10-ru.pdf?ua = 1.
2. Європейський моніторинговий центр з наркотиків та наркозалежності — European Monitoring Center for Drugs and Drug Addiction (EMCDDA). Електронна версія. Режим доступу: http://www.emcdda.europa.eu/emcdda-home-page_en.
3. «Европейские города против наркотиков» (European Cities Against Drugs — ECAD). Електронна версія. Режим доступу: http://www.ecad.ru/mn-pl1_09.html.
4. Глузман С.Ф. Наркополитика и право в Украине: попытка нелицеприятного анализа // Новости медицины и фармации. — 2010. — № 19(342). Електронна версія. Режим доступу: http://www.mif-ua.com/archive/article/14724.
5. Іващенко О.В., Недашківський С.М. Особливості клініки, діагностики й лікування при отруєнні метадоном // Медицина неотложных состояний. — 2009. — № 5(24). Електронна версія. Режим доступу: http://www.mif-ua.com/archive/article/11160.
6. Курсов С.В., Скороплет С.Н. Острое отравление опиоидами // Медицина неотложных состояний. — 2016. — № 2(73). Електронна версія. Режим доступу: http://www.mif-ua.com/archive/article/42512.
7. Кучма А.Б., Струк В.Ф., Падалка В.М. Аналіз навантаження на відділення інтенсивної терапії та госпітальний етап невідкладної допомоги за рахунок пацієнтів з гострим отруєнням метадоном // Медицина неотложных состояний. — 2016. — № 4(75). Електронна версія. Режим доступу: http://www.mif-ua.com/archive/article/43204.
8. Линский И.В. О заместительной терапии наркоманов метадоном и не только о ней // Новости медицины и фармации. — 2007. — № 8(212). Електронна версія. Режим доступу: http://www.mif-ua.com/archive/article/1624.
9. Недашківський С.М. Гостра ниркова недостатність при тяжких отруєннях метадоном // Медицина неотложных состояний. — 2015. — № 1(64). Електронна версія. Режим доступу: http://www.mif-ua.com/archive/article/40225.
10. Andrew Preston. The Methadone Handbook, Eleventh edition. Exchange Supplies. 2010. Електронний ресурс. Режим доступу: http://www.drugsandalcohol.ie/3692/1/1777-1702.pdf.
11. Derlet R.W., Rice P., Horowitz B.Z., Lord R.V. Ampheta–mine toxicity: experience with 127 cases // J. Emerg. Med. — 1989 Mar-Apr. — Vol. 7(2). — P. 157-61.
12. Taheri F., Yaraghi A., Sabzghabaee A.M., Moudi M., Eizadi-Mood N., Gheshlaghi F., Farajzadegan Z. Methadone toxicity in a poisoning referral center // J. Res. Pharm. Pract. — 2013 Jul. — Vol. 2(3). — P. 130-4.
Similar articles

Authors: Андрющенко В.В.(1), Калиш М.М.(1), Курділь Н.В.(2)
(1) — Київська міська клінічна лікарня швидкої медичної допомоги, відділення інтенсивної терапії та екстракорпоральної детоксикації, м. Київ, Україна
(2) — Науковий центр превентивної токсикології, харчової та хімічної безпеки імені академіка Л.І. Медведя МОЗ України, м. Київ, Україна
"Emergency medicine" №2(89), 2018
Date: 2018.04.13
Categories: Medicine of emergency
Sections: Clinical researches

Authors:
Іващенко О.В., Недашківський С.М., Національна медична академія післядипломної освіти імені П.Л. Шупика; Падалка В.М. , Український науково-практичний центр екстреної медичної допомоги та медицини катастроф; Струк В.Ф., Київська міська клінічна лікарня швидкої медичної допомоги


"Emergency medicine" 5(24) 2009
Date: 2010.06.30
Categories: Family medicine/Therapy, Medicine of emergency

Authors:
О.В. Іващенко, С.М. Недашківський, Національна медична академія післядипломної освіти імені П.Л. Шупика; В.М. Падалка, Український науково-практичний центр екстреної медичної допомоги та медицини катастроф; В.Ф. Струк, Київська міська клінічна лікарня швидкої медичної допомоги


"News of medicine and pharmacy" 2(307) 2010
Date: 2010.08.02


Authors:
Недашківський С.М. — Національна медична академія післядипломної освіти імені П.Л. Шупика, м. Київ; Кучма А.Б., Струк В.Ф., Богомол А.Г. — Київська міська клінічна лікарня швидкої медичної допомоги


"Emergency medicine" 1 (64) 2015
Date: 2015.05.18
Categories: Medicine of emergency
Sections: Clinical researches