"Emergency medicine" №3(90), 2018
Acute hepatic dysfunction and pregnancy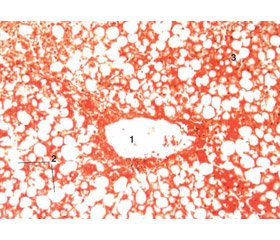 Summary
У лекції висвітлені причини розвитку гострої печінкової дисфункції у вагітних. Обговорено патогенез та морфологічні зміни різних органів у вагітних із прееклампсією/еклампсією з ознаками гострої печінкової дисфункції. Тромботична мікроангіопатія, що ускладнює перебіг вагітності, характеризується пошкодженням мікросудинного русла різних органів, тромбоцитопенією і гемолітичною анемією. Вагітність вважається одним із найважливіших тригерів розвитку тромботичної мікроангіопатії. Під час вагітності, з одного боку, виникає підвищення рівня фактора фон Віллебранда (vWF), ймовірно, під дією естрогенів, а з іншого — зниження активності ферменту ADAVNS 13, ймовірно, під дією підвищеного його споживання, основна роль якого полягає в руйнуванні мультимерів vWF. Фізіологічна роль vWF полягає в забезпеченні адгезії тромбоцитів до субендотеліального матриксу при пошкоджені судини і гемодинамічному стресі. Розкрито особливості розвитку гострої жирової дистрофії печінки, HELLP-синдрому та холестатичного гепатозу. Показано особливості клінічної картини та інтенсивної терапії у вагітних із різними формами печінкової дисфункції.
В лекции освещены причины развития острой печеночной дисфункции у беременных. Обсуждены патогенез и морфологические изменения различных органов у беременных с преэклампсией/эклампсией с признаками острой печеночной дисфункции. Тромботическая микроангиопатия, которая осложняет течение беременности, характеризуется повреждением микрососудистого русла различных органов, тромбоцитопенией и гемолитической анемией. Беременность считается одним из важнейших триггеров развития тромботической микроангиопатии. Во время беременности, с одной стороны, возникает повышение уровня фактора фон Виллебранда (vWF), вероятно, под действием эстрогенов, а с другой — снижение активности фермента ADAVNS 13, вероятно, под действием повышенного его потребления, основная роль которого заключается в разрушении мультимеров vWF. Физиологическая роль vWF заключается в обеспечении адгезии тромбоцитов к субэндотелиальному матриксу при повреждении сосуда и гемодинамическом стрессе. Раскрыты особенности развития острой жировой дистрофии печени, HELLP-синдрома и холестатического гепатоза. Показаны особенности клинической картины и интенсивной терапии у беременных с различными формами печеночной дисфункции.
The lecture deals with the causes of acute hepatic dysfunction in pregnant women. It discusses the pathogenesis and morphologic changes of different organs in pregnant women suffering from preeclampsia/eclampsia with the signs of acute hepatic dysfunction. Thrombotic microangiopathy which complicates the course of pregnancy is characterized by the damage of microvascular blood stream in different organs, thrombocytopenia and hemolytic anemia. The pregnancy is known as one of the main triggers for thrombotic microangio­pathy development. On one hand, pregnancy stimulates an increase in the level of von Willebrand factor (vWF) that can be caused by the action of estrogens. On the other hand, pregnancy is characterized by the decrease of ADAVNS 13 enzyme activity that may be caused by its increased consumption. The main role of this enzyme is to destroy vWF multimers. The physiological purpose of vWF is to provide the platelet adhesion to the subendothelial matrix in case of vascular damage and hemodynamic stress. The peculiarities of the development of the acute adipose hepatic dystrophy, HELLP syndrome and cholestatic hepatosis have been described.The main features of clinical evidence and intensive care of pregnant women with various forms of hepatic dysfunctions have been shown.
Keywords
вагітність; прееклампсія; гостра жирова дистрофія печінки; HELLP-синдром; холестатичний гепатоз
беременность; преэклампсия; острая жировая дистрофия печени; HELLP-синдром; холестатический гепатоз
pregnancy; preeclampsia; acute adipose hepatic dystrophy; HELLP syndrome; cholestatic hepatosis
For the full article you need to subscribe to the magazine.
Bibliography
1. Заболотских И.Б. Анестезиология-реаниматология. Клинические рекомендации / И.Б. Заболотских, Е.М. Шифман. — М.: ГЭОТАР-Медиа, 2016. — 947 с.
2. Ланцев Е.А. Анестезия, интенсивная терапия и реанимация в акушерстве / Е.А Ланцев, В.В. Абрамченко. — М.: МЕДпресс-информ, 2011. — 626 с.
3. Серов В.Н. Неотложные состояния в акушерстве / В.Н. Серов, Г.Т. Сухих, И.И. Баранов, А.В. Пырегов и др. — М.: ГЭОТАР-Медиа, 2011. — 775 с.
4. Куликов А.В. Острая печеночная патология в акушерстве / А.В. Куликов, Е.М. Шифман, А.В. Спирин // Российский медицинский журнал. — 2014. — № 2. — С. 37-44.
5. Clyburn P. Obstetric Anaesthesia / P. Clyburn, R. Collis, S. Harries, S. Davies. — Oxford, New York, 2008. — 682 р.
6. Chestnut D.H. Obstetric anesthesia: principles and practice / D.H. Chestnut, C.A. Wong, L.C. Tsen, W.D. NganKee, Y. Beilin, J.M. Mhyre et al. — Philadelphia, 2014. — 1294 р.
7. Tran T.T. ACG Clinical Guideline: Liver Disease and Pregnancy / Tran T.T., Ahn J., Reau N.S. // Am. J. Gastroenterol. Advance online publication. — 2 Feb 2016. — P. 1-19. doi: 10.1038/ajg.2015.430.