"Emergency medicine" №3(90), 2018
Results of using advanced algorithm of intensive care in patients with acute stroke and concomitant diabetes mellitus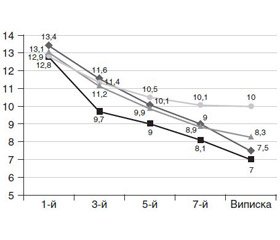 Authors:

Галушко О.А.(1), Бабак С.І.(2)
(1) — Національна медична академія післядипломної освіти імені П.Л. Шупика, м. Київ, Україна
(2) — КЗ КОР «Київська обласна клінічна лікарня», м. Київ, Україна



Categories:

Medicine of emergency



Sections:

Clinical researches
Summary
Стаття присвячена актуальній проблемі удосконалення інтенсивної терапії хворих із гострим інсультом на тлі супутнього цукрового діабету. У результаті масштабного дослідження, що охопило загалом 762 пацієнтів, був розроблений алгоритм інтенсивної терапії і продемонстрована його ефективність у хворих із різними видами порушень вуглеводного обміну.
Статья посвящена актуальной проблеме усовершенствования интенсивной терапии больных с острым инсультом при сопутствующем сахарном диабете. В результате масштабного исследования, которое охватило в целом 762 пациентов был разработан алгоритм интенсивной терапии и продемонстрирована его эффективность у больных с различными видами нарушений углеводного обмена.
The article deals with the urgent problem of impro­ving intensive care of patients with acute stroke and concomitant diabetes mellitus. As a result of a large-scale study that covered a total of 762 patients, an intensive care algorithm was deve­loped and its effectiveness was demonstrated in patients with various types of disorders of carbohydrate metabolism.
Keywords
гострий ішемічний інсульт; цукровий діабет; інтенсивна терапія
острый ишемический инсульт; сахарный диабет; интенсивная терапия
acute ischemic stroke; diabetes mellitus; intensive care
For the full article you need to subscribe to the magazine.
Bibliography
1. Парфенов В.А., Хасанова Д.Р. Ишемический инсульт. — М.: ООО «Издательство «Медицинское информационное агентство», 2002. — 288 с.
2. Галушко О.А. Порушення обміну калію, магнію, фосфору у хворих на діабетичний кетоацидоз // Медицина неотложных состояний. — 2013. — № 6(53). — С. 152-154.
3. Галушко О.А. Сучасні аспекти лікування ішемічного інсульту у хворих на цукровий діабет // Медицина неотложных состояний. — 2015. — № 5(68). — С. 92-96.
4. Галушко О.А. Синдром апное сну при гострому інсульті у хворих на цукровий діабет: особливості перебігу та лікування // Медицина неотложных состояний. — 2016. — № 2(73). — С. 133-136.
5. Галушко О.А. Лихоманка при гострому інсульті: проблеми діагностики та лікування // Медицина неотложных состояний. — 2016. — № 5(76). — С. 11-17.
6. Галушко О.А. Особливості виникнення та перебігу електролітних порушень в гострий період інсульту у хворих на цукровий діабет // Медицина неотложных состояний. — 2017. — № 1(80). — С. 87-92.
7. Галушко О.А. Аналіз ускладнень перебігу гострого інсульту у хворих на цукровий діабет // Медицина неотложных состояний. — 2017. — № 7(86). — С. 65-70.
Similar articles

Authors: Галушко О.А., Болюк М.В.
Національна медична академія післядипломної освіти імені П.Л. Шупика, м. Київ, Україна
"Emergency medicine" №2(89), 2018
Date: 2018.04.13
Categories: Medicine of emergency
Sections: Clinical researches


Authors:
Галушко О.А. Національна медична академія післядипломної освіти імені П.Л. Шупика, м. Київ, Україна


"News of medicine and pharmacy" №5 (654), 2018
Date: 2018.05.24
Sections: Clinical researches


Authors: Галушко О.А.
Національна медична академія післядипломної освіти імені П.Л. Шупика, м. Київ, Україна
"Emergency medicine" №3(98), 2019
Date: 2019.05.14
Categories: Medicine of emergency
Sections: Clinical researches


Authors:
Галушко О.А., Тріщинська М.А. Національна медична академія післядипломної освіти імені П.Л. Шупика, м. Київ, Україна


"Emergency medicine" №6(101), 2019
Date: 2019.10.14
Categories: Medicine of emergency
Sections: Clinical researches