International journal of endocrinology Том 14, №1, 2018
Difficulties in the diagnosis and therapeutic approach in autoimmune polyglandular syndrome type 2. A clinical сase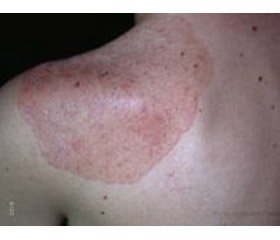 Authors:

Генделека Г.Ф.(1), Генделека А.Н.(2)
(1) — Одесский национальный медицинский университет, г. Одесса, Украина
(2) — КУ «Центр первичной медико-санитарной помощи № 5», г. Одесса, Украина



Categories:

Endocrinology



Sections:

Specialist manual
Summary
Автоімунний полігландулярний синдром характеризується ураженням декількох ендокринних залоз. При полігландулярному синдромі 2-го типу в процес деструкції задіяно кору надниркових залоз, щитоподібну залозу й ендокринний апарат підшлункової залози. Терапевтична тактика складається з пожиттєвої замісної терапії уражених ендокринних залоз.
Аутоиммунный полигландулярный синдром характеризуется поражением нескольких эндокринных желез. При полигландулярном синдроме 2-го типа в процесс разрушения вовлечены кора надпочечников, щитовидная железа и эндокринный аппарат поджелудочной железы. Терапевтическая тактика заключается в пожизненной заместительной терапии. Приводится описание клинического случая.
Autoimmune polyglandular syndrome is characteri­zed by an immune-mediated destruction of endocrine tissues. The presence of autoimmune diseases of the endocrine system such as type 1 diabetes mellitus, adrenocortical failure and autoimmune thyroid disease is specific for autoimmune polyglandular syndrome type 2. In case of hormonal insufficiency, hormone replacement therapy is required.
Keywords
автоімунний полігландулярний синдром 2-го типу; діагностика; терапевтична тактика
аутоиммунный полигландулярный синдром 2-го типа; диагностика; терапевтическая тактика
autoimmune polyglandular syndrome type 2; diag­nosis; therapeutic approach
For the full article you need to subscribe to the magazine.
Bibliography
1. Давыдчик Э.В. Эндокринные аспекты аутоиммунных полигландулярных синдромов / Давыдчик Э.В., Никонова Л.В., Тишковский С.В. // Журнал Гродненского государственного медицинского университета. — 2016. — № 2. — С. 15-21.
2. Ларина А.А. Диагностика и лечение аутоиммунного полигландулярного синдрома у взрослых / Ларина А.А., Шаповальянц О.С., Мазурина Н.В., Трошина С.А. // Клиническая медицина. — 2012. — № 8. — С. 64-66.
3. Betterle C. Autoimmune adrenal insufficiency and autoimmune polyendocrine syndromes: autoantibodies, autoantigens and their applicability in diagnosis and disease prediction / Betterle C., Dal Prata C., Mantero F. // Endocr. Rev. — 2002. — Vol. 23. — P. 327-364.
4. Carpenter C. Schmidt's syndrome (thyroid and adrenal insufficiency): A review of the literature and a report of fifteen new cases including ten instances of coexistent diabetes mellitus / Carpenter C., Solomon N., Silverberg S.G. et al. // Medicine. — 1964. — Vol. 43. — P. 153-160.
5. Eisenbarth G. Autoimmune polyendocrine syndromes / Eisenbarth G., Gottlib P. // N. Engl. Med. — 2004. — Vol. 350. — P. 2068-2079.
Similar articles


Authors: Пасєчко Н.В., Рожко І.В., Наумова Л.В., Мігенько Л.М., Крицький Т.І.
Тернопільський державний медичний університет імені І.Я. Горбачевського, м. Тернопіль, Україна
International journal of endocrinology Том 15, №2, 2019
Date: 2019.06.03
Categories: Endocrinology
Sections: Clinical researches