International neurological journal №2 (96), 2018
Treatment of Patients with Central Fever Using Drugs for the Control of Mitochondrial Dysfunction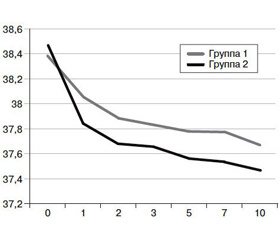 Authors:

Никонов В.В., Курсов С.В., Белецкий А.В., Иевлева В.И., Феськов А.Э.
Харьковская медицинская академия последипломного образования, г. Харьков, Украина
КУЗ «Харьковская городская клиническая больница скорой и неотложной медицинской помощи им. проф. А.И. Мещанинова», г. Харьков, Украина



Categories:

Neurology



Sections:

Specialist manual
Summary
Центрогенна лихоманка — лихоманка неінфекційного походження, що ускладнює перебіг захворювань центральної нервової системи. Механізми її розвитку зв'язують із порушенням функції гіпоталамуса, що розглядають як центр терморегуляції. Центрогенна лихоманка асоційована з активацією катаболічних реакцій, несприятливим перебігом основ­ного патологічного процесу та важко усувається за допомогою традиційних лікувальних заходiв, що включають використання нестероїдних протизапальних засобів (НПЗЗ). Дослідження присвячене порівняльному вивченню ефективності усунення центрогенної лихоманки в постраждалих iз тяжкою черепно-мозковою травмою та мозковими інсультами за допомогою НПЗЗ і комплексу вітамінів та антиоксидантів, що сприяють покращенню сполученостi процесів мітохондріального окислення та фосфорилювання. Зміцнення цiєї сполученостi забезпечує зростання синтезу аденозинтрифосфату i обмежує розповсюдження вільної енергії в організмі у вигляді тепла. У кожну із груп, що вивчалися, включено по 14 пацієнтів із тяжкими пошкодженнями центральної нервової системи та ознаками центрогенної лихоманки. Знайдено достовірну перевагу схеми лікування, що включала комбіноване застосування бурштинової кислоти, інозину, нікотинаміду, рибофлавіну і тіаміну, перед традиційно використовуваною схемою лікування, яка ґрунтується на першочерговому застосуванні НПЗЗ.
Центрогенная лихорадка — лихорадка неинфекционного происхождения, осложняющая течение заболеваний центральной нервной системы. Механизм ее развития связывают с нарушением функции гипоталамуса, который рассматривается в качестве центра терморегуляции. Центрогенная лихорадка ассоциирована с активацией катаболических реакций, неблагоприятным течением основного патологического процесса и трудно устраняется с помощью традиционных лечебных мероприятий, включающих применение нестероидных противовоспалительных средств (НПВС). Исследование посвящено сравнительному изучению эффективности устранения центрогенной лихорадки у пострадавших с тяжелой черепно-мозговой травмой и мозговыми инсультами при помощи НПВС и комплекса витаминов и антиоксидантов, способствующих улучшению сопряженности процессов митохондриального окисления и фосфорилирования. Увеличение этой сопряженности обеспечивает увеличение синтеза аденозинтрифосфата и ограничение распространения свободной энергии в организме в виде тепла. В каждую из изучаемых групп включено по 14 пациентов с тяжелыми повреждениями центральной нервной системы и признаками центрогенной лихорадки. Обнаружено достоверное преимущество схемы лечения, включающей комбинированное применение янтарной кислоты, инозина, никотинамида, рибофлавина и тиамина, перед традиционно используемой схемой лечения, основанной на первоочередном применении НПВС.
Cental fever — fever of infectious origin, complica­ting diseases of the central nervous system. Mechanisms of development are related to the dysfunction of the hypothalamus, which is considered as the center of thermoregulation. Central fever is associated with activation of catabolic reactions, adverse course of underlying pathological process and is hard to control using traditional therapeutic measures, including the use of non-steroidal anti-inflammatory drugs (NSAIDs). The research deals with the comparative study on the efficiency of central fever control in victims with severe traumatic brain injury and cerebral strokes using NSAIDs and a complex of vitamins and antioxidants, which help to improve the processes of association of mitochondrial oxidation and phosphorylation. Increase of this association provides the growth in the synthesis of adenosine triphosphate and inhibits the spread of free energy in the body as a heat. Each of the stu­died groups included 14 patients with severe injuries of the central nervous system and symptoms of central fever. There was found a significant advantage of treatment regimen that included the combined use of succinic acid, inosine, nicotinamide, riboflavin and thiamine over the commonly used treatment regimen based on the priority use of NSAIDs.
Keywords
центрогенна лихоманка; окислювальне фосфорилювання; мітохондріальна дисфункція; нестероїдні протизапальні засоби; тяжка черепно-мозкова травма; мозковий інсульт
центрогенная лихорадка; окислительное фосфорилирование; митохондриальная дисфункция; нестероидные противовоспалительные средства; тяжелая черепно-мозговая травма; мозговой инсульт
central fever; oxidative phosphorylation; mitochondrial dysfunction; non-steroidal anti-inflammatory drugs; severe traumatic brain injury; cerebral stroke
For the full article you need to subscribe to the magazine.
Bibliography
1. Cooper P.E. Neuroendocrinology / P.E. Cooper, S.H.M. van Uum // Bradley's Neurology in Clinical Practice, 7th ed.; Ch. 52; Ed. by R.B. Daroff. — London, New York, Oxford, Philadelphia, St Louis, Sydney, Toronto: Elsevier, 2016. — P. 696-712.
2. Михневич К.Г. Кетонал в лечении нейрохирургических больных / К.Г. Михневич, С.В. Курсов, Ю.В. Волкова // Медицина невідкладних станів. — 2008. — № 2(15). — С. 55-57.
3. Изменения углеводного обмена как диагностический тест гипоталамического синдрома при тяжелой черепно-мозговой травме / В.М. Кузнецова, М.Л. Борщаговский, В.Е. Райхинштейн [и др.] // Журнал невропатологии и психиатрии имени С.С. Корсакова. — 1990. — Т. 90, № 2. — С. 9-14.
4. Галушко О.А. Лихоманка при гострому інсульті: проблеми діагностики та лікування / О.А. Галушко // Медицина невідкладних станів. — 2016. — № 5(76). — С. 11-17.
5. Central Fever in Patients with Spontaneous Intracerebral He–morrhage: Predicting Factors and Impact on Outcome / A. Honig, S. Michael, R. Eliahou [et al.] // BMC Neuro–logy. — 2015. — Vol. 15. — P. 6. BioMed Central, BMC Neurology [Электронный ресурс]. Published: 4 February 2015. Режим доступа: http://bmcneurol.biomedcentral.com/articles/10.1186/s12883-015-0258-8
6. Indicators of Central Fever in the Neurologic Intensive Care Unit / S.E. Hocker, L. Tian, G. Li [et al.] // JAMA Neurology. — 2013. — Vol. 70, № 12. — P. 1499-1504.
7. Recovery of Central Fever After GH Therapy in a Patient with GH Deficiency Secondary to Posttraumatic Brain Injury / H.U. Tuhan, A. Anik, G. Catli [et al.] // ESPE (European Society of Pediatric Endocrinology) Abstracts. — 2014. — Vol. 82. — P-D-3-2-831.
8. Effect of a Fever Control Protocol-Based Strategy on Ventilator-Associated Pneumonia in Severely Brain-Injured Patients / Y. Launey, N. Nesseler, A. Le Cousin [et al.] // Critical Care. — 2014. — Vol. 18, № 6. — P. 689.
9. Lemke D.M. Sympathetic Storming After Severe Traumatic Brain Injury / D.M. Lemke // Critical Care Nurse. — 2014. — Vol. 27. — P. 30-37.
10. Mendieta Zeron H. Remission of Central Fever with Morphine post Traumatic Brain Injury / H. Mendieta Zeron, J.C. Arriaga Garcia Rendon // Lebanese Medical Journal. — 2014. — Vol. 62, № 1. — P. 57-61.
11. Ali S. Analgesia and Sedation / S. Ali, R.J. Azocar // Surgical Intensive Care Medicine; Ch. 11; Ed. by J.M. O'Donnell, F.E. Nácul. — New York, London: Kluwer Academic Publishers, 2001. — P. 119-130.
12. Neurological and Neurosurgical Intensive Care; 4th ed. / D.R. Gress, M.N. Diringer, D.M. Green et al.; Ed. by A.H. Ropper. — Philadelphia, Baltimore, New York, London, Buenos Aires, Hong Cong, Sydney, Tokyo: Lippincott Williams & Wilkins, 2004. — 380 p.
13. Oh S.J. Paroxysmal Autonomic Dysregulation with Fever that was Controlled by Propranolol in a Brain Neoplasm Patient / S.J. Oh, Y.K. Hong, E.K. Song // Korean Journal of Internal Medicine. — 2007. — Vol. 22, № 1. — P. 51-54.
14. Meythaler J.M. Fever of Central Origin in Traumatic Brain Injury Controlled with Propranolol / J.M. Meythaler, A.M. Stinson // Archives of Physical Medicine and Rehabilitation. — 1994. — Vol. 75, № 7. — P. 816-818.
15. α2 Adrenergic Receptor-Mediated Inhibition of Thermoge–nesis / Ch.J. Madden, D. Tupone, G. Cano [et al.] // Journal of Neuroscience. — 2013. — Vol. 33, № 5. — P. 4701-4712.
16. Delayed Central Hyperthermia Responsive to Bromo–criptine / R. Albadareen, S. Belliston, K. Husmann [et al.] // Neurology. — 2015. — Vol. 84, № 14 (Suppl.). — P. 290.
17. Effectively Managing Intractable Central Hyperthermia in a Stroke Patient by Bromocriptine: a Case Report / K.W. Yu, Y.H. Huang, C.L. Lin [et al.] // Neuropsychiatric Disease and Treatment. — 2013. — Vol. 9. — P. 605-608. Dove Press: Open Access to Scientific and Medical Research [Электронный ресурс]. Published 3 May 2013. Режим доступа: https://www.dovepress.com/effectively-managing-intractable-central-hyperthermia-in-a-stroke-pati-peer-reviewed-article-NDT
18. Effects of Bromocriptine and Cyproheptadine on Basal and Corticotropin-Releasing Factor (CRF)-Induced ACTH Release in a Patient with Nelson's Syndrome / Y. Hirata, H. Nakashima, M. Uchihashi [et al.] // Endocrinologia Japonica. — 1984. — Vol. 31, № 5. — P. 619-626.
19. Central Hyperthermia Treated with Baclofen for Patient with Pontine Hemorrhage / H.Ch. Lee, J.M. Kim, J.K. Lim [et al.] // Annals of Rehabilitation Medicine. — 2014. — Vol. 38, № 2. — P. 269-272.
20. Flower O. Fever in a Spinal Patient / O. Flower // Life in the Fastlane [Электронный ресурс] July 12, 2010. Режим доступа: http://lifeinthefastlane.com/microbial-mystery-005/
21. Baclofen Successfully Abolished Prolonged Central Hyperthermia in a Patient with Basilar Artery Occlusion / Y.S. Huang, M.Ch. Hsiao, M. Lee [et al.] // Acta Neurologica Taiwanica. — 2009. — Vol. 18, № 2. — P. 118-122.
22. Scaravilli V. Fever Management in SAH / V. Scaravilli, G. Tinchero, G. Citerio // Neurocritical Care [Электронный ресурс]. Published Online 14 July 2011. Режим доступа:
http://www.mc.vanderbilt.edu/documents/NeuroICU/files/SAH%20and%20Fever.pdf
23. Tansey E.A. Recent Advances in Thermoregulation / E.A. Tansey, Ch.D. Johnson // Advances in Physiology Education. — 2015. — Vol. 39, № 3. — P. 139-148.
24. Morrison S.F. Central Neural Pathways for Thermoregulation / S.F. Morrison, K. Nakamura // Frontiers in Bioscience. — 2011. — Vol. 16, № 1. — P. 74-104.
25. Seebacher F. Responses to Temperature Variation: Integration of Thermoregulation and Metabolism in Vertebrates / F. Seebacher // Journal of Experimental Biology. — 2009. — Vol. 212. — P. 2885-2891.
26. Cooper J.M. The Cell A Molecular Approach. — 7th ed. / J.M. Cooper, R.E. Hausman. — Sunderland: Sinauer Associates, 2016. — 769 p.
27. King M.W. Mitochondrial Functions and Biological Oxidations / M.W. King // The Medical Biochemistry Page [Электронный ресурс]. Last modified: February 9, 2016. Режим доступа: http://themedicalbiochemistrypage.org/oxidative-phosphorylation.php
28. Bhagavan N.V. Essentials of Medical Biochemistry: with Clinical Cases; 2nd ed. / N.V. Bhagavan, Ch.E. Ha. — Amsterdam, Boston, Heidelberg, London, New York, Oxford, Paris, San Diego, San Francisco, Singapore, Sydney, Tokyo: Elsevier, 2016. — 715 p.
29. Epidemiology and Outcomes of Fever Burden among Patients with Acute Ischemia Stroke / M.S. Phipps, R.A. Desai, C. Witra [et al.] // Stroke. — 2011. — Vol. 42, № 12. — P. 3357-3362.
30. Клочева Е.Г. Применение препарата Цитофлавин в неврологии / Е.Г. Клочева / MEDI.Ru подробно о лекарствах [Электронный ресурс]. Дата документа: июль 2009. Режим доступа: http://medi.ru/doc/a210302.htm
31. Cottrell J.E. Cottrell and Patel's Neuroanesthesia; 6th ed. / J.E. Cottrell, P. Patel. — Edinburgh, London, New York, Oxford, Philadelphia, St Louis, Sydney, Toronto: Elsevier, 2017. — 240 р.
Similar articles

Authors: Никонов В.В., Курсов С.В., Белецкий А.В., Иевлева В.И., Феськов А.Э.
Харьковская медицинская академия последипломного образования, г. Харьков, Украина
КУЗ «Харьковская городская клиническая больница скорой и неотложной медицинской помощи им. проф. А.И. Мещанинова», г. Харьков, Украина
"Emergency medicine" 7 (78) 2016
Date: 2016.12.21
Categories: Medicine of emergency
Sections: Clinical researches


Authors:
Курсов С.В., Никонов В.В. - Харьковская медицинская академия последипломного образования, кафедра медицины неотложных состояний и медицины катастроф, г. Харьков, Украина


"Emergency medicine" 5 (76) 2016
Date: 2016.09.12
Categories: Medicine of emergency
Sections: Specialist manual



Authors: Мальцева Л.А.(1), Мосенцев Н.Ф.(2), Лисничая В.Н.(2), Козаченко И.В.(2)
(1) — ГУ «Днепропетровская медицинская академия», г. Днепр, Украина
(2) — КУ «Днепропетровская областная клиническая больница им. И.И. Мечникова», г. Днепр, Украина
"Emergency medicine" №4(91), 2018
Date: 2018.08.09
Categories: Medicine of emergency
Sections: Specialist manual