International neurological journal №3 (97), 2018
Trigeminal schwannoma: features of diagnosis and treatment (case report and review of literature)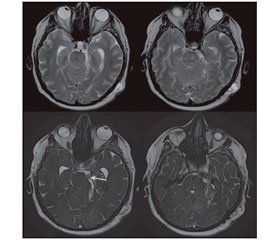 Authors:

Дзяк Л.А.(1), Сірко А.Г.(1, 2), Романуха Д.М.(1, 2)
1 - ДЗ «Дніпропетровська медична академія МОЗ України», м. Дніпро, Україна
2 - Дніпропетровська обласна клінічна лікарня ім. І.І. Мечникова, м. Дніпро, Україна



Categories:

Neurology



Sections:

Specialist manual
Summary
Розглядається клінічний випадок досить рідкісної патології — шваноми трійчастого нерва (ШТН) у жінки віком 50 років. Згідно з оглядом літератури та власними спостереженнями наведені основні диференційні ознаки ШТН: гіпестезія, оніміння половини обличчя та їх поєднання з невралгією трійчастого нерва (НТН) на однойменному боці, парез жувальних м'язів. Невралгія при даному новоутворенні є симптоматичною (вторинною), викликаною компресією пухлинними масами, і має характерні прояви на відміну від класичної НТН. Біль тупий, може поєднуватися з онімінням обличчя, приступ значно триваліший, не завжди характерні специфічні тригерні механізми, погано піддається медикаментозному лікуванню або не лікується. Хірургічний підхід до лікування ШТН вважається методом вибору. Після тотального видалення пухлини хвора відзначила поступовий регрес оніміння обличчя. Приступів НТН у післяопераційному періоді не зафіксовано. Всі пацієнти з НТН повинні проходити магнітно-резонансну томографію головного мозку з обов'язковим включенням у протокол дослідження режимів візуалізації черепних нервів з метою візуалізації нейроваскулярного конфлікту або інших причин, що викликають невралгію.
Рассматривается клинический случай достаточно редкой патологии — шванномы тройничного нерва (ШТН) у женщины в возрасте 50 лет. Согласно обзору литературы и собственным наблюдениям, приведены основные дифференциальные признаки ШТН: гипестезия, онемение половины лица и их сочетание с невралгией тройничного нерва (НТН) на одноименной стороне, парез жевательных мышц. Невралгия при данном новообразовании является симптоматической (вторичной), вызванной компрессией опухолевыми массами, и имеет характерные проявления в отличие от классической НТН. Боль тупая, сочетается с онемением лица, приступ более длительный, не всегда характерны специфические триггерные механизмы, плохо поддается медикаментозному лечению или не лечится. Хирургический подход к лечению ШТН считается методом выбора. После тотального удаления опухоли больная отметила постепенный регресс онемения лица. Приступов НТН в послеоперационном периоде не зафиксировано. Все пациенты с НТН должны проходить магнитно-резонансную томографию головного мозга с обязательным включением в протокол исследования режимов визуализации черепных нервов с целью визуализации нейроваскулярного конфликта или других причин, вызывающих невралгию.
We consider the clinical cases of rare pathology — trigeminal schwannoma (TS) in a woman aged 50 years. According to review of literature and own observations, the main differential signs of TS were: hypesthesia, hemifacial numbness and their combination with trigeminal neuralgia (TN) on the same side, masseter muscle paralysis. Neuralgia in this neoplasm is symptomatic (secondary), caused by compression by tumor masses and also has its own characteristic manifestations, in contrast to classical TN. Pain is dull, combined with numbness of the face, attack is longer, not always characterized by specific trigger mechanisms, poorly or not susceptible to medical treatment. The surgical approach to the treatment of TS is considered a method of choice. After total removal of the tumor, the patient noted a gradual regression of numbness in the face. Attacks of TN were not registered in the postoperative period. All patients with TN should undergo magnetic resonance imaging of the brain with the mandatory inclusion in the study protocol of the visualization of the cranial nerves in order to detect neurovascular conflict or other causes of neuralgia.
Keywords
шванома трійчастого нерва; невралгія трійчастого нерва; симптоматична невралгія; вторинна невралгія; хірургічне лікування; диференційна діагностика
шваннома тройничного нерва; невралгия тройничного нерва; симптоматическая невралгия; вторичная невралгия; хирургическое лечение; дифференциальная ­диагностика
trigeminal schwannoma; trigeminal neuralgia; symptomatic neuralgia; secondary neuralgia; surgical treatment; diffe­rential diagnosis
For the full article you need to subscribe to the magazine.
Bibliography
1. Samii M. Surgery of Cerebellopontine Lesions / M. Samii, V. Gerganov. — Heidelberg: Springer Science & Business Media. — 2013. — 885 p.
2. Al-Mefty O. Trigeminal schwannomas: removal of dumbbell-shaped tumors through the expanded Meckel cave and outcomes of cranial nerve function / O. Al-Mefty, S. Ayoubi, E. Gaber // J. Neurosurg. — 2002. — V. 96, N 3. — P. 453-463.
3. Trigeminal schwannomas: a report of 42 cases and review of the relevant surgical approaches / L. Zhang, Y. Yang, S. Xu, J. Wang, Y. Liu, S. Zhu // Clin. Neurol. Neurosurg. — 2009. — V. 111, N 3. — P. 261-9.
4. Trigeminal schwannomas: skull base approaches and operative results in 105 patients / M. Wanibuchi, T. Fukushima, A.R. Zomordi, Y. Nonaka, A.H. Friedman // Neurosurgery. — 2012. — V. 70. — P. 132-43.
5. Shulev Y. Secondary Trigeminal Neuralgia in Cerebellopontine Angle Tumors / Y. Shulev, A. Trashin, K. Gordienko // Skull Base. — 2011. — V. 21, N 5. — P. 287-294.
6. Stereotactic Radiosurgery for Trigeminal Schwannoma: Tumor Control and Functional Preservation / Kano H., Kondziolka D., Niranjan A., Flickinger J.C., Lunsford L.D. // Tumors of the Central Nervous System. — 2012. — N 5. — P. 277-283.
7. Radiosurgical treatment of vestibular schwannomas in patients with neurofibromatosis type 2: tumor control and hearing preservation / J.H. Phi, D.J. Kim, H.T. Chung, J. Lee, S.H. Paek, H.W. Jung // Cancer. — 2009. — V. 115, N 2. — P. 390-398.
8. Symptomatic Trigeminal Neuralgia Caused by Cerebellopontine Angle Tumors / P. Liu, C. Liao, W. Zhong, M. Yang, S. Li, W. Zhang // J. Craniofac. Surg. — 2017. — V. 28, N 3. — P. 256-8.
9. Symptomatic trigeminal neuralgia secondary to tumors: A case series / J.Y. Hoo, H.P. Sathasivam, S.H. Lau, C.L. Saw // J. of Oral. and Max. Surg., Med., and Path. — 2017. — V. 29, N 1. — P. 71-6.
10. Сирко А.Г. Сочетание невралгии тройничного нерва и опухолей мостомозжечкового угла. Современные подходы к диагностике и лечению: обзор литературы / А.Г. Сирко, Д.Н. Романуха // Укр. нейрохир. журн. — 2017. — № 4. — С. 5-9.
11. Studies concerning the pathogenesis of trigeminal neuralgia caused by cerebellopontine angle tumors / K. Hasegawa, A. Kondo, Y. Kinuta, H. Tanabe, M. Kawakami, N. Matsuura, M. Chin, M. Saiki // No Shinkei Geka. — 1995. — V. 23, N 4. — P. 315-20.
12. Frequency of cerebellopontine angle tumours in patients with trigeminal neuralgia / E.A. Khan Afridi, S.A. Khan, W.R. Qureshi, S.N. Bhatti, G. Muhammad, S. Mahmood, A. Reh-man // J. Ayub. Med. Coll. Abbottabad. — 2014. — V. 26, N 3. — P. 331-3.
13. MRI of the Trigeminal Nerve in Patients with Trigeminal Neuralgia Secondary to Vascular Compression / M.A. Hughes, A.M. Frederickson, B.F. Branstetter, X. Zhu, R.F. Jr. Sekula // AJR Am. J. Roentgenol. — 2016. — V. 206, N 3. — P. 595-600.
14. Trigeminal neuralgia caused by contra lateral cerebellopontine angle tumor. A case report / C. Chamadoira, A. Cerejo, F. Duarte, R. Vaz // Neurocirugia (Astur). — 2010. — V. 21, N 1. — P. 50-2.
Similar articles