International neurological journal №3 (97), 2018
Myofascial pain syndrome in railway workers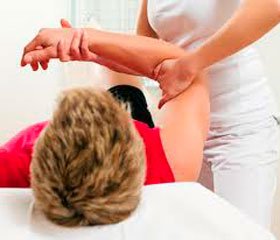 Authors:

Сушко С.П.(1), Тондій О.Л.(2), Завальна О.П.(2), Тарасова О.І.(1), Забрудська Т.О.(1), Меркулова В.В.(1), Пенькова Л.О.(1), Мороз М.І.(1), Жидков М.В.(1)
1 - Харківська клінічна лікарня на залізничному транспорті № 1, м. Харків, Україна
2 - Харківська медична академія післядипломної освіти, м. Харків, Україна



Categories:

Neurology



Sections:

Specialist manual
Summary
У 64 хворих працівників залізничного транспорту з міофасціальними больовими синдромами, що проявляються болем, м'язовим напруженням, зменшенням амплітуди руху м'язів, виявленими активними тригерними точками в уражених м'язах, чутливими та вегетативними порушеннями в зоні відображення болю, вивчали ефект пропріоцептивної нейром'язової фасилітації та введення анестетика (0,5% розчину новокаїну або 2% розчину лідокаїну) в тригерні точки в поєднанні з основною терапією. Використання цієї комбінації супроводжувалось швидким зниженням больового синдрому, м'язового напруження, збільшенням амплітуди руху м'язів, зникненням активних тригерних точок у них, нормалізацією показників електронейроміографії.
У 64 больных работников железнодорожного транспорта с миофасциальными болевыми синдромами, проявляющимися болью, мышечным напряжением, уменьшением амплитуды движения мышц, выявленными активными триггерными точками в пораженных мышцах, чувствительными и вегетативными нарушениями в зоне отраженной боли, изучали эффект проприоцептивной нервномышечной фасилитации и введения анестетика (0,5% раствора новокаина или 2% раствора лидокаина) в триггерные точки в сочетании с базисной терапией. Применение этой комбинации сопровождалось быстрым уменьшением болевого синдрома, мышечного напряжения, увеличением амплитуды движения мышц, исчезновением активних триггерных точек в них, нормализацией показателей электронейромиографии.
Effect of proprioceptive neuromuscular facilitation and injection of anesthetic (0.5% novocaine or 2% lidocaine solutions) into the trigger points in combination with standard therapy was studied in 64 railway workers suffering from myofascial pain syndrome manifested by pain, muscle tension, decrease of amplitude of muscle movements, active trigger points in affected muscles, sensory and autonomic disorders in the area of referred pain. Application of this combination was accompanied by fast decrease of pain syndrome, increase in the amplitude of muscle movements and disappearance of active trigger point in them, normalized indicators of electromyography.
Keywords
міофасціальний больовий синдром; тригерна точка; рефлекторна концепція; введення анестетика; пропріоцептивна нейром'язова фасилітація
миофасциальный болевой синдром; триггерная точка; рефлекторная концепция; введение анестетика; проприоцептивная нейромышечная фасилитация
myofascial pain syndrome; trigger point; reflex concept; administration of anesthetic; proprioceptive neuromuscular facilitation
For the full article you need to subscribe to the magazine.
Bibliography
1. Вознесенская Т.Г. Миофасциальные болевые синдромы // Consilium Medicum. — 2002. — Т. 4, № 8. — С. 18-21.
2. Иваничев Г.А. Клинические болевые мышечные синдромы // Казанский медицинский журнал. — 2011. — Т. 92, № 2. — С. 244-248.
3. Иваничев Г.А. Комплексный регионарный болевой синдром — регионарная скелетно-мышечная боль // Международный неврологический журнал. — 2012. — № 2(48). — С. 12-18.
4. Касаткина Л.Ф., Гильванова О.В. Электрофизиологические методы исследования в диагностике нервно-мышечных заболеваний. — М.: Медика, 2010. — 415 с.
5. Круглов В.Н. Нарушения вегетативной регуляции и синдром артериальной гипертензии у работников локомотивных бригад с шейным миофасциальным болевым синдромом: автореф. дис… д-ра мед. наук. — Казань, 2007. — 136 с.
6. Морозова О.Г., Ярошевский А.А. Миофасциальная дисфункция и нарушение биомеханики позвоночника // Международный неврологический журнал. — 2012. — № 4(50).
7. Тревелл Дж.Г., Симонс Д.Г. Миофасциальные боли. — М.: Медицина, 1989. — Т. 1. — 256 с.; Т. 2. — 608 с.
8. Шаповалов А.В. Особенности формирования болевого синдрома в спине у работников локомотивных бригад: автореф. дис… канд. мед. наук. — М., 2011. — 128 с.
9. Affaitati G., Fabrizio A., Savini A., Lerza R., Tafuri E., Costantini R., Lapenna D., Giamberardino M.A. A randomized, controlled study comparing a lidocaine patch, a placebo patch, and anesthetic injection for treatment of trigger points in patients with myofascial pain syndrome: evaluation of pain and somatic pain thresholds // Clin. Ther. — 2009. — N 31(4) — Р. 705-720.
10. Buchmann J. Myofasziale Triggerpunkte // Manuelle Me–dizin. — 2013. — N 51(2). — P. 123-130.
11. Casey Unverzagt, Kathy Berglund, J.J. Thomas. Dry needling for myofascial trigger point pain: a clinical commentary // Int. J. Sports Phys. Ther. — 2015. — N 10(3). — P. 402-418.
12. Hong-You Ge, Sonia Monterde, Thomas Graven-Nielsen, Lars Arendt-Nielsen. Latent Myofascial Trigger Points Are Associated With an Increased Intramuscular Electromyographic Activity During Synergistic Muscle Activation // The Journal of Pain. — 2014. — N 15(2). — P. 181-187.
13. Nicole Nelson. Delayed onset muscle soreness: Is massage effective? // Journal of Bodywork and Movement Therapies. — 2013. — N 17(4). — P. 475-482.
14. Pal U.S., Kumar L., Mehta G., Singh N., Singh G., Singh M., Yadav H.K. Trends in management of myofacial pain // Natl J. Maxillofac. Surg. — 2014. — N 5(2). — P. 109-116.
15. Sharman M., Cresswell A., Riek S. Proprioceptive Neuromuscular Facilitation Stretching // Journal of Sports Medicine. — 2006. — N 36. — Р. 929-939.
16. Tomás Domingo-Rufes, Maribel Miguel-Pérez, Victor Mayo-ral, Juan Blasi, Antonio Sabaté. Interfascial block by ultrasound-guided puncture for the treatment of myofascial pain of the trapezius muscle // Journal of Bodywork and Movement Therapies. — 2012. — N 16(3). — P. 405-406.
17. Westwater-Wood S., Adams N., Kerry R. The use of proprioceptive neuromuscular facilitation in physiotherapy practice // Physical Therapy Reviews. — 2010. — N 15(1). — P. 23-27.
Similar articles


Authors:
Voloshyna I.M., Deineha V.H., Kryvenko V.I. - Zaporizhzhia State Medical University, Department of Family Medicine, Therapy and Cardiology of the Faculty of Postgraduate Education, Zaporizhzhia, Ukraine; Onishchenko A.V., Maliarchuk D.L. - Clinic «LLC «Medifast», Berdiansk, Ukraine


"Тrauma" Том 17, №1, 2016
Date: 2016.04.29
Categories: Traumatology and orthopedics
Sections: Specialist manual


Authors: Романенко Ю.І.(1), Григорова І.А.(2), Романенко І.В.(1), Романенко І.Ю.(3)
1 - ДЗ «Луганський державний медичний університет», м. Рубіжне, Україна
2 - Харківський державний медичний університет, м. Харків, Україна
3 - Український науково-практичний центр ендокринної хірургії, трансплантації ендокринних органів і тканин МОЗ України, м. Київ, Україна
International neurological journal №2 (104), 2019
Date: 2019.05.07
Categories: Neurology
Sections: Clinical researches