International journal of endocrinology Том 14, №3, 2018
Lymphocyte profile in patients with Grave's disease depending on the degree of its compensation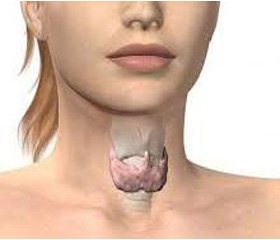 Authors:

Гончарова О.А.
Харьковская медицинская академия последипломного образования, г. Харьков, Украина



Categories:

Endocrinology



Sections:

Clinical researches
Summary
Актуальність. В Україні на сьогодні основним методом лікування дифузного токсичного зоба (ДТЗ) є призначення антитиреоїдних препаратів з метою досягнення еутиреозу. При цьому в ініціації розвитку ДТЗ і його рецидивів основну роль відводять порушенню різних ланок імунної системи, тому конкретизація таких порушень залишається актуальним завданням у розробці системи профілактики розвитку рецидивів ДТЗ. Мета роботи — встановити вплив тиреостатиків на лімфоцитарний профіль периферичної крові у хворих на ДТЗ для призначення адекватної імунотропної терапії. Матеріали та методи. Проведено порівняльний аналіз лімфоцитарного спектра периферичної крові жінок, хворих на ДТЗ, на тлі гіпертиреозу і в стані медикаментозної компенсації. Встановлено відхилення окремих показників, які могли б стати тригерами рецидивування захворювання. Результати. У групі жінок із ДТЗ в стані гіпертиреозу на тлі курсу терапії препаратами тіосечовини відбулася нормалізація тиреоїдного гомеостазу. Це супроводжувалося позитивною динамікою (зниженням) активності Т-хелперів і В-лімфоцитів, що необхідно для зменшення утворення антитіл. У той же час спостерігалося зниження Т-супресорної активності з підвищенням імунорегуляторного індексу супресії, а також формуванням дефіциту натуральних кілерів. Відзначалося підвищення індексів CD4/CD16 і CD8/CD16, що свідчить про переважання антитілозалежного імунного процесу над неспецифічною клітинною цитотоксичністю. Висновки. Проведення терапії ДТЗ за допомогою препаратів тіосечовини не тільки сприяє медикаментозній компенсації, але й має імуномодулюючий вплив. Лімфограма периферичної крові у пролікованих хворих на ДТЗ характеризується зниженням Т-хелперної активності та рівня В-лімфоцитів (р < 0,05), що дозволяє зменшити антитілоутворення, та зниженням рівнів Т-супресорів, а також натуральних кілерів (р < 0,001), що створює умови для рецидиву захворювання. Хворі на ДТЗ, які отримують курс тиреостатиків, потребують додаткового призначення імуномодуляторів (у тому числі селеновмісних), здатних підвищити Т-супресорну активність.
Актуальность. В Украине на сегодняшний день основным методом лечения диффузного токсического зоба (ДТЗ) является назначение антитиреоидных препаратов с целью достижения эутиреоза. При этом в инициации развития ДТЗ и его рецидивов основную роль отводят нарушению различных звеньев иммунной системы, поэтому конкретизация таких нарушений остается актуальной задачей в разработке системы профилактики развития рецидивов ДТЗ. Цель работы — установить влияние тиреостатиков на лимфоцитарный профиль периферической крови у больных ДТЗ для назначения адекватной иммунотропной терапии. Материалы и методы. Проведен сравнительный анализ лимфоцитарного спектра периферической крови женщин, больных ДТЗ, на фоне гипертиреоза и в состоянии медикаментозной компенсации. Установлены отклонения отдельных показателей, которые могли бы стать триггерами рецидивирования заболевания. Результаты. В группе женщин с ДТЗ в состоянии гипертиреоза на фоне курса терапии препаратами тиомочевины произошла нормализация тиреоидного гомеостаза. Это сопровождалось положительной динамикой (снижением) активности Т-хелперов и В-лимфоцитов, что необходимо для уменьшения образования антител. В то же время наблюдалось снижение супрессорной активности с повышением иммунорегуляторного индекса супрессии, а также формированием дефицита натуральных киллеров. Имело место повышение индексов CD4/CD16 и CD8/CD16, что свидетельствует о преобладании антителозависимого иммунного процесса над неспецифической клеточной цитотоксичностью. Выводы. Проведение терапии ДТЗ с помощью препаратов тиомочевины не только способствует медикаментозной компенсации, но и оказывает иммуномодулирующее действие. Лимфограмма периферической крови у пролеченных больных ДТЗ характеризуется снижением Т-хелперной активности и уровня В-лимфоцитов (р < 0,05), что позволяет уменьшить антителообразование, и снижением Т-супрессоров, а также натуральных киллеров (р < 0,001), что создает условия для рецидивирования заболевания. Больные ДТЗ, получающие курс тиреостатиков, нуждаются в дополнительном назначении иммуномодуляторов (в том числе селенсодержащих), способных повысить супрессорную активность.
Background. In Ukraine today, the main method for the treatment of Grave's disease (GD) is the administration of antithyroid drugs in order to achieve euthyroidism. At the same time, the leading role in the onset of GD and its relapses belongs to the violation of various links of the immune system, so specification of such disorders remains an urgent task in the development of a system for the prevention of GD relapses. The purpose of this work is to establish the influence of antithyroid drugs on the lymphocyte profile of peripheral blood in patients with GD in order to prescribe adequate immunotropic therapy. Materials and methods. A comparative analysis of peripheral blood lymphocytes was carried out in women with GD on the background of hyperthyroidism and drug compensation. Deviations of individual indicators were established, which could become triggers for disease recurrence. Results. In the group of women with GD during remission after therapy with thyrostatic agents, the normalization of thyroid homeostasis occurred. This was accompanied by a positive dyna­mics (decrease) in the activity of T-helpers and B-lymphocytes that is necessary to reduce the formation of antibodies. At the same time, there was a decrease in suppressor activity with an increase in the immunoregulatory T-suppression index, as well as the formation of a natural killer deficiency. There was an increase in the CD4/CD16 and CD8/CD16 indices, which indicates the predominance of the antibody-dependent immune process over nonspecific cellular cytotoxicity. Conclusions. GD therapy with thyrostatic drugs not only contributes to medical compensation, but also has an immunomodulatory effect. Lymphogram of peripheral blood in treated patients with GD is characterized by a decrease in T-helper acti­vity and B-lymphocyte level (p < 0.05) that reduces antibody formation, by a decrease in T-suppressors and natural killers (p < 0.001) leading to the disease recurrence. Patients with GD receiving thyrostatic agents require additional administration of immunomodulators (including selenium-containing ones), which can increase suppressor activity.
Keywords
дифузний токсичний зоб; медикаментозна терапія; лімфоцитарний профіль периферичної крові
диффузный токсический зоб; медикаментозная терапия; лимфоцитарный профиль периферической крови
Grave's disease; drug therapy; peripheral blood lymphocyte profile
For the full article you need to subscribe to the magazine.
Bibliography
1. Панькив В.И. Тиреостатические препараты в терапии диффузного токсического зоба // Международный эндокринологический журнал. — 2013. — № 3. — С. 12-17.
2. Гончарова О.А. Дифузний токсичний зоб (профілактика, діагностика, моніторинг) // Навчальний посібник. — Х.: Стиль-Издат, 2017. — 128 с.
3. Escobar-Morreale H.F., Bravo P., García-Robles R., García-Laraña J., de la Calle H., Sancho J.M. Methimazole-induced severe aplastic anemia: unsuccessful treatment with recombinant human granulocyte-monocyte colony-stimulating factor // Thyroid. — 1997. — Vol. 7(1). — P. 67-70.
4. Salvi M., Vannucchi G., Campi I., Currò N., Beck-Peccoz P. New immunomodulators in the treatment of Graves' ophthalmopathy // Ann. Endocrinol. (Paris). — 2008. — Vol. 69(2). — P. 153-156.
5. Volpe R. The immunomodulatory effects of anti-thyroid drugs are mediated via actions on thyroid cells, affecting thyrocyte-immunocyte signalling: a review // Curr. Pharm. Des. — 2001. — Vol. 7(6). — P. 451-460.
6. Ванушко В.Э., Фадеев В.В. Болезнь Грейвса (клиническая лекция) // Эндокринная хирургия. — 2013. — № 1. — С. 22-33.
7. Жулай Г.А., Олейник Е.К., Кравченко П.Н. и др. Анализ клеточного иммунитета при патологиях, сопровождающихся развитием иммунной супрессии // Труды Карельского научного центра РАН. — 2014. — № 5. — С. 228-233.
8. Дранник Г.Н. Клиническая иммунология и аллергология. — К.: Полиграф-Плюс, 2006. — 481 с.
9. Никитина Т.Н., Авдеева Ж.И. Иммуноадъювантное действие цитокинов // Биопрепараты. — 2008. — № 1(29). — С. 16-20.
10. Аутоиммунная тиреоидная патология / Гончарова О.А., Караченцев Ю.И. — К.: Издатель Заславский А.Ю., 2017. — 217 с.
11. Orgiazzi J. Thyroid autoimmunity // Presse Med. — 2012. — Vol. 41. — P. 25. — doi: 10.1016/j.lpm.2012.10.002.
12. Tomer Y. Mechanisms of autoimmune thyroid di–seases: from genetics to epigenetics // Annu Rev. Pathol. Mech. Dis. — 2014. — Vol. 9. — P. 147-56. — doi: 10.1146/annurev-pathol-012513-104713.
13. Lee H.J., Li C.W., Hammerstad S.S. et al. Immunogenetics of autoimmune thyroid diseases: A comprehensive review // J. Autoimmun. — 2015. — Vol. 64. — P. 82-90. — doi: 10.1016/j.jaut.2015.07.009.
14. Kourtis A.P., Read J.S., Jamieson D.J. Pregnancy and infection // N. Engl. J. Med. — 2014. — Vol. 370. — P. 2211-8. — doi: 10.1056/NEJMra1213566.
15. Weetman A.P. Immunity, thyroid function and pregnancy: molecular mechanisms // Nat. Rev. Endocrinol. — 2010. — Vol. 6. — P. 311-8. — doi: 10.1038/nrendo.2010.46.