International journal of endocrinology Том 14, №3, 2018
Apoptosis of blood lymphocytes in patients with autoimmune thyroiditis and its treatment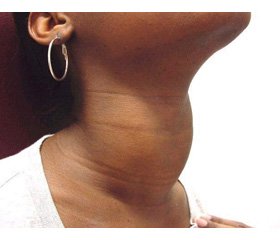 Summary
Мета — дослідити деякі ланки патогенезу розвитку вузлового зоба на тлі автоімунного тиреоїдиту (АІТ) шляхом вивчення активності процесів пероксидного окиснення ліпідів і білків, апоптозу лімфоцитів периферичної крові та рівня деяких цитокінів до та після оперативного втручання, розробити ефективні методи їх корекції. Матеріали та методи. Обстежено 80 жінок із вузловим зобом на тлі АІТ. Результати. Показано, що порушення програмованої загибелі лімфоцитів при АІТ проявляється збільшенням вмісту фактора некрозу пухлини α і CD95+ лімфоцитів на тлі зниження числа апоптичних клітин. Висновки. Після проведеного комплексного лікування відзначена позитивна динаміка порушених показників імунного статусу, насамперед нормалізація порушеного балансу субпопуляції апоптичних Т-лімфоцитів та антитіл до тиреоглобуліну та тиреоїдної пероксидази, зниження вмісту цитокінів і повернення в межі нормальних значень рівнів гормонів щитоподібної залози.
Цель — исследовать некоторые звенья патогенеза развития узлового зоба на фоне аутоиммунного тиреоидита (АИТ) путем изучения активности процессов пероксидного окисления липидов и белков, апоптоза лимфоцитов периферической крови и уровня некоторых цитокинов до и после оперативного вмешательства, разработать эффективные методы их коррекции. Материалы и методы. Обследовано 80 женщин с узловым зобом на фоне АИТ. Результаты. Показано, что нарушение программируемой гибели лимфоцитов при АИТ проявляется увеличением содержания фактора некроза опухоли α и CD95+ лимфоцитов на фоне снижения числа апоптичных клеток. Выводы. После проведенного комплексного лечения отмечена положительная динамика нарушенных показателей иммунного статуса, прежде всего нормализация нарушенного баланса субпопуляции апоптичных Т-лимфоцитов и антител к тиреоглобулину и тиреоидной пероксидазе, снижение содержания цитокинов и возвращение в пределы нормальных значений уровней гормонов щитовидной железы.
Background. The purpose was to determine some links of pathogenesis of nodular goiter on the background of autoimmune thyroiditis (АТ) by studying the activity of lipid and protein peroxidation processes, apoptosis of peripheral blood lymphocytes and level of some cytokines before and after surgical intervention, to develop the effective me­thods of its correction. Materials and methods. Eighty women were exa­mined with nodular goiter on the background of АТ. Results. This article presents results of apoptosis detection in blood lymphocytes of patients with AT in euthyroid and hypothyroid state. Conclusions. Contents of CD95+, annexin V-positive (apoptotic) cells and tumor necrosis factor-α (TNF-α) in the blood were analyzed. It was shown that altered regulation of programmed lymphocyte death in autoimmune thyroiditis is manifested by increased content of TNF-α and CD95+ lymphocytes associated with decreased number of apoptotic cells in the blood. Meanwhile, this pathology is more expressed in patients with AT with euthyroid state than in thyroid hypofunction. Possible mechanisms of the revealed disturbances are discussed.
Keywords
вузловий зоб; автоімунний тиреоїдит; апоптоз; CD95; фактор некрозу пухлини α; інтерлейкін-1β; лікування
узловой зоб; аутоиммунный тиреоидит; апоптоз; CD95; фактор некроза опухоли α; интерлейкин-1β; лечение
nodular goiter; autoimmune thyroiditis; apoptosis; CD95; tumor necrosis factor-α; interleukin-1β; treatment
For the full article you need to subscribe to the magazine.
Bibliography
1. Vecchiatti S.M., Lin C.J., Capelozzi V.L. et al. Prevalence of thyroiditis and immunohistochemistry study searching for a morphologic consensus in morphology of autoimmune thyroidi–tis in a 4613 autopsies series // Appl. Immunohistochem. Mol. Morphol. — 2015. — Vol. 23(6). — P. 402-408. — doi: 10.1097/PAI.0000000000000094.
2. Carney J.A., Lyssikatos C., Seethala R.R. et al. The Spectrum of Thyroid Gland // Am. J. Surg. Pathol. — 2018. — Vol. 42(5). — P. 587-594. — doi: 10.1097/PAS.0000000000000975.
3. Durante C., Grani G., Lamartina L. et al. The Diagnosis and Management of Thyroid Nodules: A Review // JAMA. — 2018. — Vol. 319(9). — P. 914-924. — doi: 10.1001/jama.2018.0898.
4. Pyzik A., Grywalska E., Matyjaszek-Matuszek B., Roliński J. Immune disorders in Hashimoto's thyroiditis: what do we know so far? // J. Immunol. Res. — 2015. — 2015. — 979167. — doi: 10.1155/2015/979167.
5. Kawashima S.T., Tagami T., Nakao K. et al. Serum le–vels of IgG and IgG4 in Hashimoto thyroiditis // Endocrine. — 2014. — Vol. 45(2). — P. 236-243. — doi: 10.1007/s12020-013-9988-9.
6. Park S., Jeon M.J., Song E. et al. Clinical Features of Early and Late Postoperative Hypothyroidism After Lobectomy // J. Clin. Endocrinol. Metab. — 2017. — Vol. 102(4). — P. 1317-1324. — doi: 10.1210/jc.2016-3597.
7. Xia Q., Dong S., Bian P.D. et al. Effects of endocrine therapy on the prognosis of elderly patients after surgery for papillary thyroid carcinoma // Eur. Arch. Otorhinolaryngol. — 2016. — Vol. 273(4). — P. 1037-1043. — doi: 10.1007/s00405-015-3564-2.
8. Ito M., Miyauchi A., Hisakado M. et al. Biochemical Markers Reflecting Thyroid Function in Athyreotic Patients on Levothyroxine Monotherapy // Thyroid. — 2017. — Vol. 27(4). — P. 484-490. — doi: 10.1089/thy.2016.0426.
9. Rojas-Villarraga A., Amaya-Amaya J., Rodriguez-Rodriguez A. et al. Introducing polyautoimmunity: secondary autoimmune diseases no longer exist // Autoimmune Dis. — 2012. — 2012. — 254319. — 10.1155/2012/254319.
10. Figueroa-Vega N., Alfonso-Pérez M., Benedicto I. et al. Increased circulating pro-inflammatory cytokines and Th17 lymphocytes in Hashimoto's thyroiditis // J. Clin. Endocrinol. Metab. — 2010. — Vol. 95(2). — P. 953-62. — 10.1210/jc.2009-1719.
11. Ramos-Leví A.M., Marazuela M. Pathogenesis of thyroid autoimmune disease: the role of cellular mechanisms // Endocrinol. Nutr. — 2016. — Vol. 63(8). — P. 421-9. — 10.1016/j.endonu.2016.04.003.
12. Morris G.P., Brown N.K., Kong Y.M. Naturally-existing CD4(+)CD25(+)Foxp3(+) regulatory T cells are required for to–lerance to experimental autoimmune thyroiditis induced by either exogenous or endogenous autoantigen // J. Autoimmun. — 2009. — Vol. 33(1). — P. 68-76. — 10.1016/j.jaut.2009.03.010.
13. González-Amaro R., Marazuela M. T regulatory (Treg) and T helper 17 (Th17) lymphocytes in thyroid autoimmunity // Endocrine. — 2016. — Vol. 52(1). — P. 30-38. — 10.1007/s12020-015-0759-7.
14. Kristensen B., Hegedüs L., Madsen H.O. et al. Altered balance between self-reactive T helper (Th)17 cells and Th10 cells and between full-length forkhead box protein 3 (FoxP3) and FoxP3 splice variants in Hashimoto's thyroiditis // Clin. Exp. Immunol. — 2015. — Vol. 180(1). — P. 58-69. — 10.1111/cei.12557.
15. Weetman A.P. The immunopathogenesis of chronic autoimmune thyroiditis one century after Hashimoto // Eur. Thyroid. J. — 2013. — Vol. 1(4). — P. 243-250. — 10.1159/000343834.
16. Chen J.Q., Papp G., Szodoray P. et al. The role of microRNAs in the pathogenesis of autoimmune diseases // Autoimmun. Rev. — 2016. — Vol. 15(12). — P. 1171-1180. — 10.1016/j.autrev.2016.09.003.
17. Lepez T., Vandewoestyne M., Deforce D. Fetal microchimeric cells in autoimmune thyroid diseases: harmful, beneficial or innocent for the thyroid gland? // Chimerism. — 2013. — Vol. 4(4). — P. 111-118. — 10.4161/chim.25055.
18. Boelaert K., Newby P.R., Simmonds M.J. et al. Prevalence and relative risk of other autoimmune diseases in subjects with autoimmune thyroid disease // Am. J. Med. — 2010. — Vol. 123(2). — P. 183.e1-9. — 10.1016/j.amjmed.2009.06.030.
Similar articles


Authors: Лузанчук І.А. (1), Кравченко В.І. (1), Андрусишина І.М. (2), Голінько О.М.(3)
1 - ДУ «Інститут ендокринології та обміну речовин імені В.П. Комісаренка НАМН України», м. Київ, Україна
2 - ДУ «Інститут медицини праці НАМН України», м. Київ, Україна
3 - Науковий центр превентивної токсикології, харчової та хімічної безпеки імені Л.І. Медведя МОЗ України, м. Київ, Україна
International journal of endocrinology Том 15, №4, 2019
Date: 2019.08.14
Categories: Endocrinology
Sections: Clinical researches