International journal of endocrinology Том 14, №3, 2018
Evaluation of androgenic status in patients with primary hypothyroidism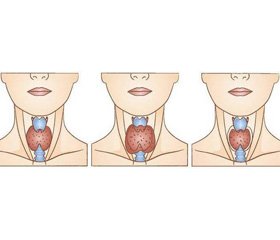 Authors:

Крицький Т.І.
Тернопільський державний медичний університет імені І.Я. Горбачевського, м. Тернопіль, Україна



Categories:

Endocrinology



Sections:

Specialist manual
Summary
Актуальність. Роль андрогенного дефіциту в чоловіків як чинника патогенезу багатьох соматичних захворювань не викликає сумнівів. Взаємодія тиреоїдних і статевих гормонів при гіпотиреозі у чоловіків дотепер залишається предметом дискусій. Мета. Оцінка андрогенного статусу в чоловіків із первинним гіпотиреозом залежно від його тривалості та стану компенсації. Матеріали та методи. Під спостереженням перебувало 45 чоловіків із первинним гіпотиреозом віком від 35 до 60 років. Набір чоловіків для обстеження проводили в процесі амбулаторного прийому та стаціонарного лікування в ендокринологічному відділенні Університетської лікарні м. Тернополя. Результати. Знижений уміст загального тесто­стерону (зТ) виявлено у 42,2 % обстежених із гіпотиреозом. При цьому у 17,8 % пацієнтів рівень зТ у крові був нижчим 8,0 нмоль/л, а в 11 (24,4 %) чоловіків показник перебував у межах від 8,0 до 12,0 нмоль/л. За результатами визначення вмісту вільного тестостерону частота лабораторного гіпогонадизму в чоловіків, хворих на гіпотиреоз, виявилася вищою, ніж за результатами визначення зТ. Ступінь компенсації гіпотирео­зу вірогідно не впливав на середні рівні гонадотропних і статевих гормонів. Висновки. Рівні глобуліну, що зв'язує статеві гормони, були вірогідно зниженими у 46,7 % хворих на гіпотиреоз порівняно з показниками контрольної групи. Середні рівні естрадіолу в обстежених хворих вірогідно не відрізнялися від середніх показників чоловіків контрольної групи. Отримані дані можуть свідчити про поєднане ураження центральної та периферичної ланок гіпофізарно-гонадної системи у чоловіків із гіпотиреозом.
Актуальность. Роль андрогенного дефицита у мужчин как фактора патогенеза многих соматических заболеваний не вызывает сомнений. Взаимодействие тирео­идных и половых гормонов при гипотиреозе у мужчин до настоящего времени остается предметом дискуссий. Цель. Оценка андрогенного статуса у мужчин с первичным гипотиреозом в зависимости от его длительности и состояния компенсации. Материалы и методы. Под наблюдением находились 45 мужчин с первичным гипотиреозом в возрасте от 35 до 60 лет. Набор мужчин для обследования проводили в процессе амбулаторного приема и стационарного лечения в эндокринологическом отделении Университетской больницы г. Тернополя. Результаты. Сниженное содержание общего тестостерона (оТ) выявлено у 42,2 % обследованных с гипотиреозом. При этом у 17,8 % пациентов уровень оТ в крови был ниже 8,0 нмоль/л, а в 11 (24,4 %) мужчин показатель находился в пределах от 8,0 до 12,0 нмоль/л. По результатам определения содержания свободного тестостерона частота лабораторного гипогонадизма у мужчин, больных гипотиреозом, оказалась выше, чем по результатам определения оТ. Степень компенсации гипотиреоза достоверно не влияла на средние уровни гонадотропных и половых гормонов. Выводы. Уровни глобулина, связывающего половые гормоны, были достоверно сниженными в 46,7 % больных гипотиреозом в сравнении с показателями контрольной группы. Средние уровни эстрадиола у обследованных больных достоверно не отличались от средних показателей мужчин контрольной группы. Полученные данные могут свидетельствовать о сочетанном поражении центрального и периферического звеньев гипофизарно-гонадной системы у мужчин с гипотиреозом.
Background. Role of androgenic deficiency in men as a factor of disease pathogenesis is beyond doubt. Interaction of thyroid and sexual hormones in men with hypothyroidism remains controversial. The purpose was to evaluate androgenic status in men with primary hypothyroidism depending on its duration and state of compensation. Materials and methods. We have examined 45 male patients with primary hypothyroidism aged 35 to 60 years. Enrollment of men was conducted during outpatient visits and in-patient treatment in the endocrinology department of the Ternopil University hospital. Results. Decreased level of total testosterone (tТ) was detected in 42.2 % of patients with hypothyroidism. Thus, in 17.8 % of patients, tТ blood level was below 8.0 nM/l, and in 11 (24.4 %) men, this index was between 8.0 and 12.0 nM/l. According to the results of evaluating the content of free testosterone, the incidence of laboratory hypogonadism in men with hypothyroidism appeared to be higher than when determining tТ. The degree of hypothyroidism compensation did not influence significantly the average levels of gonadotropic and sexual hormones. Conclusions. Levels of sex hormone-binding globulin were significantly decreased in 46.7 % of patients with hypothyroidism as compared to the control group. The average levels of estradiol in the examined patients did not differ significantly from the average indexes in men from the control group. The obtained data may indicate a combined lesion of the central and peripheral links of the pituitary-gonadal system in men with hypothyroidism.
Keywords
гіпотиреоз; тестостерон; глобулін, що зв'язує статеві гормони; андрогенний статус
гипотиреоз; тестостерон; глобулин, связывающий половые гормоны; андрогенный статус
hypothyroidism; testosterone; sex hormone-bin­ding globulin; androgen deficiency
For the full article you need to subscribe to the magazine.
Bibliography
1. Кравченко В.І., Постол С.В. Динаміка захворюваності на патологію щитоподібної залози в Україні // Міжнародний ендокринологічний журнал. — 2011. — № 3(35). — С. 26-31.
2. Visser W.E., Visser T.J., Friesema E.C. et al. Thyroid hormone transport in and out of cells // Trends in Endocrinology and Metabolism. — 2008. — Vol. 19. — P. 50-56.
3. Carani C., Isodori A., Granata A. Multicenter study on the prevalence of sexual symptoms in male hypo- and hyperthyroid patients // J. Endocrinol. Metab. — 2005. — Vol. 90. — P. 6472-6479.
4. Nieschlag, E., Swerdloff R., Behre H.M. et al. Investigation, treatment and monitoring international of late-onset hypogonadism in males: ISA, ISSAM, EAU recommendations // International J. of Andrology. — 2005. — Vol. 28. — P. 125-127.
5. Crawford М., Kennedy L. Testosterone replacement the–rapy: role of pituitary and thyroid in diagnosis and treatment // Transl. Androl. Urol. — 2016. — Vol. 5(6). — P. 850-858. doi: 10.21037/tau.2016.09.01.
6. Лучицький Є.В., Лучицький В.Є., Тронько М.Д. Чоловічий гіпогонадизм // Міжнародний ендокринологічний журнал. — 2017. — Т. 13. — С. 281-9. doi: 10.22141/2224-0721.13.4.2017.106658.
7. Wang C., Nieschlag E., Swerdloff R. et al. International Society of Andrology; International Society for the Study of Aging Male; European Association of Urology; European Academy of Andrology; American Society of Andrology. Investigation, treatment and monitoring of late-onset hypogonadism in males: ISA, ISSAM, EAU, EAA and ASA recommendations // Eur. Urol. — 2009. — Vol. 55(1). — P. 121-30.
8. Kapoor D., Aldred H., Clark S. et al. Clinical and biochemical assessment of hypogonadism in men with type 2 diabetes. Correlations with bioavailable testosterone and visceral adipo–sity // Diabetes Care. — 2007. — Vol. 30. — P. 911-17.
9. Schooling C.M. Androgen activity and markers of inflammation among men in NHANES III // Am. J. Hum. Biol. — 2013. — Vol. 25(5). — P. 622-8.
10. Duan C.W., Xu L. Testosterone and androstanediol glu–curonide among men in NHANES III // BMC Public. Health. — 2018. — Vol. 18(1). — P. 339. doi: 10.1186/s12889-018-5255-6.
11. Corona J., Mannucci E., Petrone L. et al. NCEP-–ATPIII — defined metabolic syndrome, type 2 diabetes mellitus, and prevalence of hypogonadism in male patients with sexual dysfunction // J. Sex. Med. — 2007. — Vol. 4. — P. 1038-1045.
12. Kumar A., Shekhar S., Dhole B. Thyroid and male reproduction. // Indian. J. Endocrinol. Metab. — 2014. — Vol. 18(1). — P. 23-31. doi: 10.4103/2230-8210.126523.
13. Krassas G.E., Papadopoulou F., Tziomalos K. et al. Hypothyroidism has an adverse effect on human spermatogenesis: A prospective, controlled study // Thyroid. — 2008. — Vol. 18. — P. 1255-9.
14. Osuna J.A., Gómez-Pérez R., Arata-Bellabarba G., Villaroel V. Relationship between BMI, total testosterone, sex hormone-binding-globulin, leptin, insulin and insulin resistance in obese men // Arch. Androl. — 2006. — Vol. 52(5). — P. 355-61.
15. Zitzmann M. Testosterone deficiency, insulin resistance and the metabolic syndrome // Endocrinology. — 2009. — Vol. 5. — P. 673-681.
16. Laaksonen D.E., Niskanen L., Punnonen K.et al. The metabolic syndrome and smoking in relation to hypogonadism in middle-aged men: a prospective cohort study // J. Clin. Endocrinol. Metab. — 2005. — Vol. 90. — P. 712-719.
17. Simon D., Charles M.A., Nahoul K. et al. Association between plasma levels total testosterone and cardiovascular risk factors in healthy adult men: The Telecom Study // J. Clin. Endocrinol. Metab. — 1997. — Vol. 82. — P. 682-685.
Similar articles