International journal of endocrinology Том 14, №3, 2018
Thiamine derivatives and vitamin B1 analogues: biochemical, structural and pathway analysis and its implication in the pathobiology of diabetic complications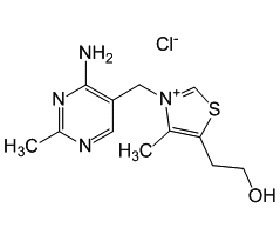 Authors:

K. Singh(1), T. Yuzvenko(1), I. Pankiv(2), D. Kogut(1)
(1) — Ukrainian Research and Practical Centre of Endocrine Surgery, Transplantation of Endocrine Organs and Tissues of the Ministry of Health of Ukraine, Kyiv, Ukraine
(2) — State Higher Education Institution of Ukraine "Bukovinian State Medical University", Chernivtsi, Ukraine



Categories:

Endocrinology



Sections:

Specialist manual
Summary
У статті розглядаються питання впливу тіаміну та його похідних на перебіг ускладнень цукрового діабету (ЦД). Tіамін слугує коферментом для транскетолази, піруватдегідрогенази й комплексів α-кето­глутаратдегідрогенази, ферменти яких відіграють фундаментальну роль у внутрішньоклітинному метаболізмi глюкози. У літературі повідомляється про взаємозв'язки між тіаміном і ЦД. Рівні тіаміну й активність залежних від тіаміну ферментів знижені у хворих на ЦД. Генетичні дослідження дають можливість встановити зв'язуючі ланки між тіаміном і ЦД. Встановлено, що тіамін і його деривати запобігають активації біохімічних процесів (посилене виділення поліоловим шляхом, надмірне утворення кінцевих продуктів глікування, активація протеїнкінази C і посилення гексозамінового шляху біосинтезу), спричинених гіперглікемією за ЦД. Підкреслюється значення тіаміну при ендотеліальних судинних хворобах при ЦД (мікро- і макроангіопатія), порушеннях ліпідного обміну, при ретино-, нефро-, кардіо- і нейропатії.
В статье рассматриваются вопросы влияния тиамина и его производных на течение осложнений сахарного диабета (СД). Tиамин служит коферментом для транскетолазы, пируватдегидрогеназы и комплексов α-кето­глутаратдегидрогеназы, ферменты которых играют фундаментальную роль во внутриклеточном метаболизме глюкозы. В литературе сообщается о взаимосвязях между тиамином и СД. Уровни тиамина и активность зависимых от тиамина ферментов снижены у больных СД. Генетические исследования дают возможность установить связующие звенья между тиамином и СД. Установлено, что тиамин и его дериваты предотвращают активацию биохимических процессов (усиленное выделение полиоловым путем, избыточное образование конечных продуктов гликирования, активация протеинкиназы C и усиление гексозаминового пути биосинтеза), вызванных гипергликемией при СД. Подчеркивается значение тиамина при эндотелиальных сосудистых болезнях при СД (микро- и макроангиопатия), нарушениях липидного обмена, при ретино-, нефро-, кардио- и нейропатии.
Thiamіne acts as a coenzyme for transketolase and for the pyruvate dehydrogenase and α-ketogluta­rate dehydrogenase complexes, whіch enzymes play a fundamental role in intracellular glucose metabolіsm. The relatіonship between thiamіne and diabetes mellitus (DM) has been reported in the literature. Thiamine levels and thiamine-dependent enzyme activities are reduced in DM. Genetic studies provide opportunity tо determine the relatiоnship between thiamine and DM. Thiamine and its derivatives were demonstrated to prevent the activation of the biоchemical pathways (increased flux through the polyol pathway, formation of advanced glycation end-products, activation of protein kinase C, and increased flux through the hexоsamine biosynthesis pathway) induced by hyperglycemia in DM. Thiamine definitively plays a rоle in the diabetic endothelial vascular diseases (micro- and macroangiopathy), lipid profile, retinоpathy, nephrоpathy, cardiоpathy, and neurоpathy.
Keywords
тіамін; цукровий діабет; вітамін B1
тиамин; сахарный диабет; витамин В1
thiamine; diabetes mellitus; vitamin B1
For the full article you need to subscribe to the magazine.
Bibliography
1. Luong K., Nguyen L.T.H. The impact of thiamine treatment in the diabetes mellitus // J. Clin. Med. Res. — 2012. — 4 (3). — P. 153-160.
2. Hammes H.P., Du X., Edelstein D., Taguchi T., Matsumura T., Ju Q., Lin J. et al. Benfotiamine blocks three major pathways of hyperglycemic damage and prevents experimental diabetic retinopathy // Nat. Med. — 2003. — 9 (3). — P. 294-299.
3. Berrone E., Beltramo E., Solimine C., Ape A.U., Porta M. Regulation of intracellular glucose and polyol pathway by thiamine and benfotiamine in vascular cells cultured in high glucose // J. Biol. Chem. — 2006. — 281 (14). — P. 9307-9313.
4. Karachalias N., Babaei-Jadidi R., Rabbani N., Thornal–ley P.J. Increased protein damage in renal glomeruli, retina, nerve, plasma and urine and its prevention by thiamine and benfotiamine therapy in a rat model of diabetes // Diabetologia. — 2010. — 53 (7). — P. 1506-1516.
5. Babaei-Jadidi R., Karachalias N., Ahmed N., Battah S., Thornalley P.J. Prevention of incipient diabetic nephropathy by high-dose thiamine and benfotiamine // Diabetes. — 2003. — 52 (8). — P. 2110-2120.
6. Kohda Y., Shirakawa H., Yamane K., Otsuka K., Kono T., Terasaki F., Tanaka T. Prevention of incipient diabetic cardiomyopathy by high-dose thiamine // J. Toxicol. Sci. — 2008. — 33 (4). — P. 459-472.
7. Gonzalez-Ortiz M., Martinez-Abundis E., Robles-Cervantes J.A., Ramirez-Ramirez V., Ramos-Zavala M.G. Effect of thiamine administration on metabolic profile, cytokines and inflammatory markers in drug-naive patients with type 2 diabetes // Eur. J. Nutr. — 2011. — 50 (2). — P. 145-149.
8. Pácal L., Kuricová K., Kaňková K. Evidence for altered thiamine metabolism in diabetes: Is there a potential to oppose gluco- and lipotoxicity by rational supplementation? // World J. Diabetes. — 2014. — 5 (3). — P. 288-295; doi: 10.4239/wjd.v5.i3.288
9. Page G.L., Laight D., Cummings M.H. Thiamine deficiency in diabetes mellitus and the impact of thiamine replacement on glucose metabolism and vascular disease // Int. J. Clin. Pract. — 2011. — 65. — P. 684-690.
10. Rabbani N., Thornalley P.J. Emerging role of thiamine therapy for prevention and treatment of early-stage diabetic nephropathy // Diabetes Obes. Metab. — 2011. — 13. — P. 577-583.
Similar articles

Authors: Singh K., Yuzvenko T., Kogut D.
Ukrainian Research and Practical Centre for Endocrine Surgery, Transplantation of Endocrine Organs and Tissues of the Ministry of Health of Ukraine, Kyiv, Ukraine
International journal of endocrinology Том 15, №7, 2019
Date: 2020.01.09
Categories: Endocrinology
Sections: Specialist manual


Authors:
V.A. Serhiyenko(1), V.B. Segin(2), L.M. Serhiyenko(1), A.A. Serhiyenko(1) (1) — Danylo Halytsky Lviv National Medical University, Lviv, Ukraine (2) — Lviv Regional State Clinical Treatment and Diagnostic Endocrinology Center, Lviv, Ukraine


International journal of endocrinology Том 16, №3, 2020
Date: 2020.07.09
Categories: Endocrinology
Sections: Specialist manual