"Emergency medicine" №4(91), 2018
Modern aspects of pathophysiology and hemostatic disorders in patients with polytrauma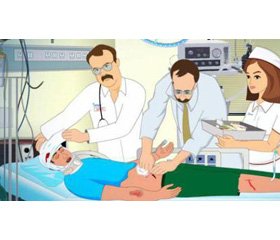 Summary
Останніми десятиліттями, незважаючи на значні досягнення хірургії, травматології, анестезіології та реанімації, в Україні, як і майже в усьому світі, спостерігається значне підвищення рівня, тяжкості травматичних ушкодженнь людини та летальності внаслідок їх, що дозволило деяким авторам ввести поняття «епідемія травматизму». Зростання кілько­сті ушкоджень життєво важливих органів, великі витрати виробничих і матеріальних сил на профілактику, діагностику, лікування та реабілітацію хворих із травматичною хворобою, надають цій проблемі особливої актуальності й величезного соціального та медичного значення. Первинним порушенням при всіх критичних станах є дерегуляція кисневого обміну між кров'ю і тканинами. Стан тривалої гіпоксії органів стає фактором прогресивного гальмування всіх енергозалежних процесів, які відповідальні за структурне забезпечення внутрішньоклітинних реакцій. У пацієнтів із політравмою гостра коагулопатії розвивається незалежно від об'єму крововтрати. Отже, політравма є видом патології, з відповідними їй специфічними змінами в усіх системах ушкодженого організму та розвитком травматичної хвороби, яка триває протягом довгого часу. Половина летальних випадків після травматичних уражень пов'язана з кровотечею, більшість з яких виникають протягом 6 годин після травми. Показано, що геморагічний шок після травми індукує дисфункцію згортання крові протягом декількох хвилин. Рання коагулопатія, індукована травмою, може загострити кровотечу і призвести до більш високої захворюваності та смертності.
В последние десятилетия, несмотря на значительные достижения хирургии, травматологии, анестезиологии и реанимации, в Украине, как и почти во всем мире, наблюдается значительное повышение уровня тяжести травматических повреждений человека и летальности вследствие их, что позволило некоторым авторам ввести понятие «эпидемия травматизма». Рост количества повреждений жизненно важных органов, большие затраты производственных и материальных сил на профилактику, диагностику, лечение и реабилитацию больных с травматической болезнью придают этой проблеме особую актуальность и огромное социальное и медицинское значение. Первичным нарушением при всех критических состояниях является нарушение регуляции кислородного обмена между кровью и тканями. Состояние длительной гипоксии органов становится фактором прогрессивного торможения всех энергозависимых процессов, ответственных за структурное обеспечение внутриклеточных реакций. У пациентов с политравмой острая коагулопатия развивается независимо от объема кровопотери. Таким образом, политравма — это вид патологии с соответствующими ей специфическими изменениями во всех системах поврежденного организма и развитием травматической болезни, протекающей в течение длительного промежутка времени. Половина летальных случаев после травматических поражений связана с кровотечением, и большинство из них возникают в течение 6 часов после травмы. Показано, что геморрагический шок после травмы индуцирует дисфункцию системы гемостаза в течение нескольких минут. Ранняя коагулопатия, индуцированная травмой, может обострить кровотечение и привести к более высокой заболеваемости и смертности.
In recent decades, despite the significant achievements of surgery, traumatology, anaesthesiology and resuscitation, in Ukraine, as well as almost all over the world, there is a significant increase in the level, severity and mortality under traumatic injuries that has allowed some authors to introduce the concept of an epidemic of injuries. An increased number of injuries to vital organs, the high production and material costs, which are spent on prevention, diagnosis, treatment and rehabilitation of patients with traumatic disease, give this issue a special urgency and a great social and medical significance. The primary disorder under all critical conditions is the dysregulation of oxygen exchange between blood and tissues. State of prolonged hypoxia becomes a factor of progressive inhibition of energy-dependent processes responsible for the structural maintenance of intracellular reactions. In patients with polytrauma, acute coagulopathy develops independently of the volume of blood loss. Thus, polytrauma is pathology with corresponding specific changes in all systems of damaged body and development of traumatic disease, which occurs over a long period of time. Half of the lethal cases after traumatic lesions are associa­ted with bleeding, and most of them occur within 6 hours after injury. It is shown that hemorrhagic shock after trauma induces dysfunction of the hemostasis system within a few minutes, and this early trauma-induced coagulopathy can exacerbate blee­ding and is associated with a higher mortality and morbidity.
Keywords
політравма; гемостаз; коагулопатія
политравма; гемостаз; коагулопатия
polytrauma; hemostasis; coagulopathy
For the full article you need to subscribe to the magazine.
Bibliography
1. Логистика и медицинское обеспечение межгоспитальной транспортировки пострадавших с политравмой при чрезвычайных ситуациях в системе службы медицины катастроф Украины / Трошин Д.А., Кочин И.В., Гайволя А.А., Акулова О.М., Шило И.Ф. // Медицина неотложных состояний. — 2014. — № 7(62). — С. 174-175.
2. Kanakaris N.K. Trauma networks: present and future challenges / Kanakaris N.K., Giannoudis P.V. // BMC Med. — 2011. — № 11(9). — P. 121.
3. Штейнле А.В. Патологическая физилогия и современные принципы лечения тяжелых сочетанных травм / Штейнле А.В. // Сибирский медицинский журнал. — 2009. — № 3. — С. 119-127.
4. Prognostic value of the lethal triad among patients with multiple trauma / González Balverde M., Ramírez Lizardo E.J., Cardona Muñoz E.G., Totsuka Sutto S.E., García Benavides L. // Rev. Med. Chil. — 2013. — № 141(11). — P. 1420-1426.
5. Martini W.Z. Coagulation complications following trauma / Martini W.Z. // Mil. Med. Res. — 2016. — № 22(3). — P. 35.
6. Samuels J.M. Damage Control Resuscitation / Sa–muels J.M., Moore H.B., Moore E.E. // Chirurgia (Bucur). — 2017. — № 112(5). — P. 514-523.
7. Development of Novel Criteria of the "Lethal Triad" as an Indicator of Decision Making in Current Trauma Care: A Retrospective Multicenter Observational Study in Japan / Endo A., Shiraishi A., Otomo Y. [et al.] // Crit. Care Med. — 2016. — № 44(9). — P. 797-803.
8. Epidemiology of urban trauma deaths: a comprehensive reassessment 10 years later / Cothren C.C., Moore E.E., Hedegaard H.B., Meng K. // World J. Surg. — 2007. — № 31(7). — P. 1507-1511.
9. The Evolving Science of Trauma Resuscitation / Harris T., Davenport R., Mak M., Brohi K. // Emerg. Med. Clin. North Am. — 2018. — № 36(1). — P. 85-106.
10. Survival prediction algorithms miss significant opportunities for improvement if used for case selection in trauma qua–lity improvement programs / Heim C., Cole E., West A., Tai N., Brohi K. // Injury. — 2016. — № 47(9). — P. 1960-1965.
11. Early coagulopathy in multiple injury: an analysis from the German Trauma Registry on 8724 patients / Maegele M., Lefering R., Yucel N., Tjardes T., Rixen D., Paffrath T. [et al.] // Injury. — 2007. — № 38(3). — P. 298-304.
12. Overwhelming tPA release, not PAI-1 degradation, is responsible for hyperfibrinolysis in severely injured trauma patients / Chapman M.P., Moore E.E., Moore H.B. // J. Trauma Acute Care Surg. — 2016. — № 80. — P. 16-23.
13. Elevated tissue plasminogen activator and reduced plasminogen activator inhibitor promote hyperfibrinolysis in trauma patients / Cardenas J.C., Matijevic N., Baer L.A. // Shock. — 2014. — № 41. — P. 514-521.
14. Sympathoadrenal activation and endotheliopathy are drivers of hypocoagulability and hyperfibrinolysis in trauma: a prospective observational study of 404 severely injured patients / Ostrowski S.R., Henriksen H.H., Stensballe J. // J. Trauma Acute Care Surg. — 2016. — № 82. — P. 293-301.
15. Ostrowski S.R. Endothelial glycocalyx degradation induces endogenous heparinization in patients with severe injury and early traumatic coagulopathy / Ostrowski S.R., Johannson P.I. // J. Trauma Acute Care Surg. — 2012. — № 73. — P. 60-66.
16. Cap A. The pathogenesis of traumatic coagulopathy / Cap A., Hunt B.J. // Anaesthesia. — 2015. — № 70(1). — P. 96-101, e32-4.
17. Fries D. Role of fibrinogen in trauma-induced coagulopathy / Fries D., Martini W.Z. // Br. J. Anaesth. — 2010. — № 105(2). — P. 116-121.
18. Primary Fibrinolysis Is Integral in the Pathogenesis of the Acute Coagulopathy of Trauma / J.L. Kashuk, E. E. Moore, M. Sawyer [et al.] // Annals of Surgery. — 2010. — Vol. 252(3). — P. 434-444.
19. iTACTIC — implementing Treatment Algorithms for the Correction of Trauma-Induced Coagulopathy: study protocol for a multicentre, randomised controlled trial / Baksaas-Aasen K., Gall L., Eaglestone S. [et al] // Trials. — 2017. — № 18; 18(1). — P. 486.
20. Early haemorrhage control and management of trauma-induced coagulopathy: the importance of goal-directed therapy / Stensballe J., Henriksen H.H., Johansson P.I. // Curr. Opin. Crit. Care. — 2017. — № 23(6). — P. 503-510.
Similar articles

Authors: Клигуненко О.М., Кріштафор Д.А., Йовенко І.О.
ДЗ «Дніпропетровська медична академія МОЗ України», м. Дніпро, Україна
КЗ «Дніпропетровська обласна клінічна лікарня ім. І.І. Мечникова», м. Дніпро, Україна
"Emergency medicine" 5 (84) 2017
Date: 2017.09.14
Categories: Medicine of emergency
Sections: Clinical researches


Authors:
Підгірний Я.М., Філик О.В., Яєчник О.Р. - Львівський національний медичний університет імені Данила Галицького


"Emergency medicine" 4 (59) 2014
Date: 2014.07.09
Categories: Medicine of emergency
Sections: Clinical researches

Authors:
Лінчевський О.В., Макаров А.В., Гетьман В.Г. - Національна медична академія післядипломної освіти ім. П.Л. Шупика, кафедра торакальної хірургії та пульмонології, м. Київ; Мясніков Д.В. - Київська клінічна міська лікарня № 17


"Тrauma" Том 13, №2, 2012
Date: 2012.08.14
Categories: Traumatology and orthopedics


Authors: Трутяк І.Р. (1), Заруцький Я.Л. (2), Трутяк Р.І. (1), Калинович Н.Р. (1), Обаранець О.В. (1)
1 - Львівський національний медичний університет ім. Данила Галицького, м. Львів, Україна
2 - Українська військово-медична академія, м. Київ, Україна
"Тrauma" Том 20, №5, 2019
Date: 2019.12.21
Categories: Traumatology and orthopedics
Sections: Specialist manual