"Emergency medicine" №4(91), 2018
Persistent hypoglycemia in a newborn as a rare case of congenital hypothyroidism manifestation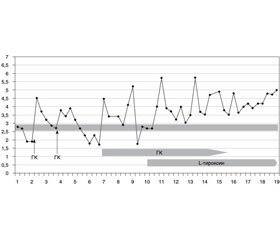 Authors:

Танцюра Л.Д.(1), Киселева И.В.(1), Стадник И.А.(2)
(1) — Национальная медицинская академия последипломного образования имени П.Л. Шупика, г. Киев, Украина
(2) — Городская детская клиническая больница № 1, г. Киев, Украина



Categories:

Medicine of emergency



Sections:

Specialist manual
Summary
Наведено випадок вродженого гіпотиреозу, який проявився стійкою гіпоглікемією, резистентною до внутрішньовенної корекції глюкозою. Персистуюча гіпоглікемія є рідкісним проявом вродженого гіпотиреозу, але при проведенні диференціальної діагностики гіпоглікемії розглядається оцінка функції щитоподібної залози. Причинами стійкої гіпоглікемії при вродженому гіпотиреозі можуть бути уповільнене поглинання глюкози клітиною, зменшення швидкості абсорбції глюкози в кишечнику, знижений кліренс інсуліну з крові, порушення глюконеогенезу.
Представлен случай врожденного гипотиреоза, который проявился стойкой гипогликемией, резистентной к внутривенной коррекции глюкозой. Персистирующая гипогликемия является редким проявлением врожденного гипотиреоза, но при проведении дифференциальной диагностики гипогликемии рассматривается оценка функции щитовидной железы. Причинами стойкой гипогликемии при врожденном гипотиреозе могут быть замедленное поглощение глюкозы клеткой, снижение скорости абсорбции глюкозы в кишечнике, сниженный клиренс инсулина из крови, нарушение глюконеогенеза.
The article presents a case of congenital hypothyroidism, which was manifested by persistent hypoglycemia. Persistent hypoglycemia is a rare symptom of congenital hypothyroidism. However, when performing a differential diagnosis of persistent hypoglycemia, it is necessary to evaluate the function of the thyroid gland. The cause of persistent hypoglycemia in congenital hypothyroidism can be the reduced rate of glucose absorption by the cell, a decrease in the rate of glucose absorption in the gut, reduced insulin clearance from the blood and gluconeogenesis abnormalities.
Keywords
гіпоглікемія; вроджений гіпотиреоз; новонароджені; інтенсивна терапія
гипогликемия; врожденный гипотиреоз; новорожденный; интенсивная терапия
hypoglycaemia; congenital hypothyroidism; newborn; intensive care
For the full article you need to subscribe to the magazine.
Bibliography
1. Yalnizoglu D., Haliloglu G., Turanli G., Cila A., Topcu M. Neurologic outcome in patients with MRI pattern of damage typical for neonatal hypoglycemia // Brain Dev. — 2007. — Vol. 29(5). — P. 285-292.
2. Thureen P.J., Melara D., Fennessey P.V. et al. Effect of low versus high intravenous amino acid intake on very low birth weight infants in the early neonatal period // Pediatr. Res. — 2003. — Vol. 53. — P. 24-32.
3. Infant feeding and nutrition // Essential neonatal medicine / Sunil Sinha, Lawrence Miall, Luke Jardine. — 6th ed. — Hoboken, NJ: John Wiley & Sons Inc., 2018.
4. Диагностика и лечение эндокринных заболеваний у детей и подростков / Под ред. проф. Н.П. Шабалова. — М.: МЕДпресс, 2002. — 450 с.
5. McDermott M.T. Overview of the clinical manifestations of hypothyroidism / Braverman L.E., Cooper D.S., editors // Werner and Ingbar's the Thyroid. A Fundamental and Clinical Text. — 10th ed. — New Delhi, Philadelphia: Lippincott. William and Wilkins, 2013.
6. Samaan N.A. Hypoglycemia secondary to endocrine deficiencies // Endocrinol. Metab. Clin. North Am. — 1989. — Vol. 18. — P. 145-154.
7. Schoenmakers N., Alatzoglou K.S., Chatterjee V.K., Dattani M.T. Recent advances in central congenital hypothyroi–dism // J. Endocrinol. — 2015. — Vol. 227(3). — P. 51-71.
8. Rozance P.J., Hay W.W. New approaches to management of neonatal hypoglycemia // Maternal health, neonatology and perinatology. BioMed Central. — 2016. — Vol. 2(1). — P. 3.
9. Rastogi M.V., La Franchi S.H. Congenital hypothyroi–dism // Orphanet journal of rare diseases. BioMed Central. — 2010. — Vol. 5(1). — P. 17.
10. Kurtoglu S., Tutus A., Aydin K., Genc E., Caksen H. Persistent neonatal hypoglycemia: an unusual finding of congenital hypothyroidism // J. Pediatr. Endocrinol. Metab. — 1998. — Vol. 11(2). — P. 277-9.
11. Kalra S., Unnikrishnan A.G., Sahay R. The hypoglycemic side of hypothyroidism // Indian J. Endocrinol. Metab. Medknow. Publications. — 2014. — Vol. 18(1). — P. 1.
12. Беляев А.В. Интенсивная терапия и обезболивание при эндокринных заболеваниях у детей. — К.: КИМ, 2016. — 176 с.
Similar articles