International neurological journal №4 (98), 2018
Changes of thymic endocrine function, brain macrophages and T-lymphocytes in mice of different ages after administration of neurotoxin cuprizone and cytokine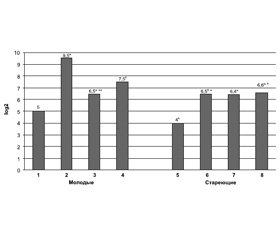 Authors:

Лабунец И.Ф.
ГУ «Институт генетической и регенеративной медицины НАМН Украины», г. Киев, Украина



Categories:

Neurology



Sections:

Clinical researches
Summary
Актуальність. Відома участь макрофагів і Т-лімфоцитів в ушкодженні нервових клітин головного мозку. Гормон тимуса тимулін виявляє імуномодулюючі й антизапальні властивості. Вікові зміни активності макрофагів, Т-лімфоцитів головного мозку та тимуса можуть впливати на їх відповідь на дію токсичних та регуляторних факторів. Мета — дослідження змін рівня в крові тимуліну та кількості макрофагів і Т-лімфоцитів у головному мозку молодих і старіючих мишей, яким вводили нейротоксин купризон і рекомбінантний лейкемія-інгібіторний фактор людини (rhLIF). Матеріали та методи. Миші лінії 129/Sv отримували з їжею щоденно купризон упродовж 3 тижнів. З 8-ї доби купризонової дієти щоденно вводили rhLIF у дозі 50 мг/кг. Результати. Підвищення рівня в крові тимуліну через 7 діб прийому купризону інтенсивніше в молодих мишей, ніж у старіючих. Через 3 тижні купризонової дієти рівень гормона зменшувався тільки в молодих мишей. Кількість макрофагів у головному мозку молодих мишей збільшувалась вже через 7 діб прийому купризону, а у старіючих — тільки через 3 тижні. У мишей обох вікових груп із купризоновою дієтою (особливо в молодих) збільшувалась кількість Т-клітин у головному мозку. Ін'єкції rhLIF підвищували рівень у крові тимуліну і зменшували кількість Т-клітин у головному мозку молодих мишей, тоді як у старіючих мишей спостерігалось зменшення кількості макрофагів у головному мозку. Висновки. Дія як купризону, так і rhLIF на ендокринну функцію тимуса та кількість макрофагів і Т-лімфоцитів у головному мозку мишей залежить від віку.
Актуальность. Известно участие макрофагов и Т-лимфоцитов в повреждении нервных клеток головного мозга. Гормон тимуса тимулин проявляет иммуномодулирующие и антивоспалительные свойства. Возрастные изменения активности макрофагов, Т-лимфоцитов головного мозга и тимуса могут влиять на их ответ на действие токсических и регуляторных факторов. Цель — исследование изменений уровня в крови тимулина, количества макрофагов и Т-лимфоцитов в головном мозге молодых и стареющих мышей, получавших нейротоксин купризон и рекомбинантный лейкемия-ингибирующий фактор человека (rhLIF). Материалы и методы. Мыши линии 129/Sv получали с пищей ежедневно купризон в течение 3 недель. С 8-го дня купризоновой диеты ежедневно вводили rhLIF в дозе 50 мг/кг. Результаты. Повышение уровня тимулина в крови через 7 дней приема купризона более выражено у молодых мышей, чем у стареющих. Через 3 недели купризоновой диеты уровень гормона снижался только у молодых мышей. Количество макрофагов в головном мозге молодых мышей повышалось уже через 7 дней приема купризона, а у стареющих мышей — только через 3 недели. У мышей обеих возрастных групп с купризоновой диетой (особенно у молодых) в головном мозге увеличивалось число Т-клеток. Инъекции rhLIF повышали уровень в крови тимулина и снижали количество Т-клеток в головном мозге молодых мышей, тогда как у стареющих мышей наблюдалось снижение количества макрофагов в головном мозге. Выводы. Влияние как купризона, так и rhLIF на эндокринную функцию тимуса и количество макрофагов и Т-лимфоцитов в головном мозге мышей зависит от возраста.
Background. Macrophages and T-lymphocytes are well known to be involved in the damage to the brain nervous cells. Thymic hormone thymulin exhibits immunomodulatory and anti-inflammatory effects. The age-related changes in the activity of brain macrophages, T-lymphocytes and thymus can affect their response to the toxic and regulatory factors. The purpose was to study the changes in blood thymulin level and amount of brain macrophages and T-lymphocytes in young and aged mice after administration of neurotoxin cuprizone and recombinant human leukemia inhibitory factor (rhLIF). Materials and methods. The 129/Sv mice received cuprizone with food daily for 3 weeks. From day 8 of cuprizone diet, the rhLIF was injected daily (50 μg/kg). Results. Increase of blood thymulin level after 7-day cuprizone diet was more significant in young versus aged mice. Hormone level decreased after 3-week cuprizone treatment only in young mice. After 7 days, the number of brain macrophages in young mice increased, while in aged mice — only after 3 weeks. In cuprizone-treated mice of both age groups (especially in young), the number of brain T-cells increased. RhLIF injections increased blood thymulin level and decreased the number of brain T-cells in young cuprizone-treated mice, while number of brain macrophages decreased only in aged mice. Conclusions. The effect of both cuprizone and rhLIF on thymic endocrine function and the number of brain macrophages and T-lymphocytes in mice is age-dependent.
Keywords
тимулін; макрофаги і Т-клітини головного мозку; купризон; лейкемія-інгібіторний фактор; вік
тимулин; макрофаги и Т-клетки головного мозга; купризон; лейкемия-ингибирующий фактор; возраст
thymulin; brain macrophages and T-cells; cuprizone; leukemia-inhibitory factor; age
For the full article you need to subscribe to the magazine.
Bibliography
1. Абдурасулова И.Н., Клименко В.М. Роль иммунных и глиальных клеток в процессах нейродегенерации // Мед. академ. журнал. — 2011. — 11(1). — С. 12-29.
2. Gonzalez H., Pacheco R. T-cell-mediated regulation of neuroinflammation involved in neurodegenerative diseases // J. Neuroinflammation. — 2014. — 11(201). — 11 p.
3. Csaba G. The immunoendocrine thymus as a pacemaker of lifespan // Acta Microbiol. Immunol. Hung. — 2016. — 63(2). — Р. 139-158.
4. Bach J.F., Bach M.A., Blanot D. et al. Thymic serum factor (FTS) // Bull. Inst. Pasteur (Paris). — 1978. — 76. — Р. 325-398.
5. Haddad J.J., Hanbali L.H. The anti-inflammatory and immunomodulatory activity of thymulin peptide is NF-kB dependent and involves the downregulation of I kB-α // Am. J. Med. Biol. Res. — 2013. — 1(2). — Р. 41-49.
6. Hamilton L.K., Joppe S.E., Cochard L., Fernandes K.J. Aging and neurogenesis in the adult forebrain: what we havelearned and where we should go from here // Eur. J. Neurosci. — 2013. — 37. — Р. 1976-1986.
7. Moraga A., Pradillo J.M., Garcia-Culebras A. et al. Aging increases microglial proliferation, delays cell migration, and decreases cortical neurogenesis after focal ischemia // JNI. — 2015. — 12, 87. — Р. 12. — DOI: 10.1186/s12974-015-0314-8.
8. Gemechu J.M., Bentivoglio M. T cell recruitment in the brain during normal aging // Front. Сell. Neurosci. — 2012. — 6. — 6 (Article 38). — Р. 5.
9. Labunets I. Pineal gland and rhythms of immune system in –aging. Experimental study. LAP LAMBERT Acad Publ: Saarbrucken, 2012. — 132 p.
10. Labunets I.F., Melnyk N.O., Rodnichenko A.E. et al. Cuprizone-Induced Disorders of Central Nervous System Neurons, Behavioral Reactions, Brain Activity of Macrophages and Antioxidant Enzymes in the Mice of Different Ages: Role of Leukemia Inhibitory Factor in their Improvement // J. Aging Geriatr. Med. — 2017. — 1(2). — Р. 8. — DOI: 10.4172/AGM.1000104.
11. Gudi V., Gingele S., Skripuletz Th., Stangel M. Glial response during cuprizon-induced de- and remyelination in the CNS: lessons learned // Front. Cell. Neurosci. — 2014. — 8 (Article 73). — 24 p.
12. Ostasov P., Houdek Z., Cendelin J., Kralickova M. Role of leukemia inhibitory factor in the nervous system and its pathology // Rev. Neurosci. — 2015. — 26(4). — P. 443-459.
13. Міщенко Е.С., Шульга О.Д., Бобрик Н.В., Шульга Л.А. Розсіяний склероз: глобальні перспективи // Укр. мед. часопис. — 2014. — 101(3). — С. 84-87.
14. Ismailov M.G., Shevchenko P.P., Yaschenko I.A. Multiple sclerosis and debut in the elderly // Adv. Curr. Nat. Sci. — 2014. — 6. — P. 122-123.
15. Praet J., Guglielmetti C., Berneman Z. et al. Cellular and molecular neuropathology of the cuprizone mouse model: Clinical relevance for multiple sclerosis // J. Neubiorev. — 2014. — 47. — P. 485-505.
16. Лабунець І.Ф., Мельник Н.О., Кузьмінова І.А., Бутенко Г.М. Патент України на корисну модель № 94458 u (UA), МПК G09B 23/28 «Спосіб моделювання структурних змін нейронів центральної нервової системи при демієлінізуючих захворюваннях» (2006.01). Опубл. 10.11.2014; Бюл. № 21. — 3 с.
17. Лабунець І.Ф., Мельник Н.О., Римар С.Ю. Патент України на корисну модель № 104976 (UA), МПК G09B23/28 «Спосіб моделювання регенерації ушкоджених нейронів головного мозку при нейродегенеративних захворюваннях». Опубл. 25.02.2016; Бюл. № 4. — 4 с.
18. Доклінічні дослідження лікарських засобів (методичні рекомендації) / Під ред. О.В. Стефанова. — К.: Авіцена, 2001. — 528 с.
19. Лакин Г.Ф. Биометрия. — М.: Высшая школа, 1990. — 350 с.
20. Guillemin G.J., Brew B.J. Microglial, macrophages, perivascular macrophages, and pericytes: a review of function and identification // J. Leukoc. Biol. — 2004. — 75. — P. 288-239.
21. Kang Z., Liu L., Spangler R. et al. IL-17-induced Act1-mediated signaling is critical for cuprizone-induced demyelination // J. Neurosci. — 2012. — 32(4). — P. 8284-8292.
22. Xu Y.-Zh., Nygard M., Krister Kristensson K, Bentivoglio M. Regulation of cytokine signaling and T-cell recruitment in the aging mouse brain in response to central inflammatory challenge // Brain. Behav. Immun. — 2010. — 24. — P. 138-152.
23. Cao W., Yang Y., Wang Zh. et al. Leukemia inhibitory factor inhibits T helper 17 cell differentiation and confers treatment effects of neural progenitor cell therapy in autoimmune disease // Immunity. — 2011. — 35. — P. 273-284.
24. Buono K.D., Vadlamuri D., Gan Q., Levison S.W. Leukemia inhibitory factor is essential for subventricular zone neural stem cell and progenitor homeostasis as revealed by a novel flow cytometric analysis // Dev. Neurosci. — 2012. — 34(5). — P. 449-462.
25. Лабунец И.Ф., Родниченко А.Е., Васильев Р.Г. Способность клеток-предшественниц гранулоцитов и макрофагов костного мозга мышей разных линий к образованию колоний in vitro при изменении содержания тимулина в организме и в культуре клеток // Гены & клетки. — 2017. — 12(2). — С. 97-103.
26. Urbach-Ross D., Kusnecov A.W. Effects of acute and repeated exposure to lipopolysaccharide on cytokine and corticosterone production during remyelination // Brain Behav. Immun. — 2007. — 21(7). — P. 962-974.
27. Savino W., Mendes-da-Cruz D.A., Lepletier A., Dardenne M. Hormonal control of T-cell development in health and disease // Nat. Rev. Endocrinol. — Аdvance online publication 6 October 2015. doi: 10.1038/nrend.2015.168. — 15 p.
28. Auernhammer C.J., Melmed S. Leukemia-inhibitory factor — neuro-immune modulator of endocrine function // Endocr. Rev. — 2000. — 21(3). — P. 313-345.
Similar articles

Authors: Лабунец И.Ф., Родниченко А.Е., Утко Н.А., Похоленко Я.А.
ГУ «Институт генетической и регенеративной медицины НАМН Украины», г. Киев, Украина
International neurological journal №5 (107), 2019
Date: 2019.09.11
Categories: Neurology
Sections: Clinical researches


Authors:
Лабунец И.Ф., Утко Н.А., Савосько С.И., Пантелеймонова Т.Н., Бутенко Г.М. ГУ «Институт генетической и регенеративной медицины НАМН Украины», г. Киев, Украина


International neurological journal Том 16, №3, 2020
Date: 2020.06.04
Categories: Neurology
Sections: Clinical researches