"Kidneys" Том 7, №3, 2018
Comparative evaluation of uricodepressants allopurinol and febuxostat in gouty nephropathy. Message 2. Еxperimental study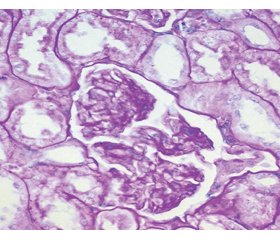 Authors:

Синяченко О.В.(2), Бевзенко Т.Б.(1), Федоров Д.М.(2)
(1) — Национальная медицинская академия последипломного образования им. П.Л. Шупика, г. Киев, Украина
(2) — Донецкий национальный медицинский университет, г. Лиман, Украина



Categories:

Nephrology



Sections:

Specialist manual
Summary
Актуальність. У попередньому нашому дослідженні (повідомлення 1) проведено порівняльну оцінку ефективності двох урикодепресантів — алопуринолу і фебуксостату щодо впливу на функціональний стан нирок у хворих на подагричну нефропатію й встановлено перевагу другого препарату. Мета цієї роботи: провести порівняльну оцінку впливу алопуринолу та фебуксостату на прояви експериментальної подагричної нефропатії. Матеріали та методи. Експеримент проведено на 70 самцях білих нелінійних щурів. Тваринам одноразово уводили повний адъювант Фрейнда з селезінковою дезоксирибонуклеїновою кислотою великої рогатої худоби і в подальшому щодня давали харчовий раціон, що включав автолізат дріжджів з молібдатом амонію та інозином, а кожні 10 днів в черевну порожнину вводили стерильну суспензію сечової кислоти. Через 20 діб щурів розподілили на 3 групи: у 1-й в харчовий раціон додавали алопуринол, у 2-й отримували фебуксостат, у 3-й лікування урикодепресантами не здійснювали. Під інгаляційним ефірним і внутрішньочеревним нембуталовим наркозом щурів виводили з експерименту. За допомогою світлової мікроскопії виконували дослідження тканин нирок. Морфологічні препарати забарвлювали гематоксиліном і еозином, за ван Гізоном і альціановим синім, ставили PAS-реакцію, підраховували середній показник ушкоджень окремих ниркових структур. Результати. При експериментальній подагричній нефропатії спостерігається ураження всіх структур нирок (клубочків, канальців, строми, судин), частота й ступінь тяжкості яких пов'язані з урикодепресивною терапією, що проводилась, причому інгібітор ксантиноксидази алопуринол та інгібітор ксантиноксиредуктази фебуксо­стат рівною мірою пригнічують рівень урикемії, але дія першого препарату більше спрямована на тубулоінтерстиціальні зміни, а другого — на гломерулярні з подальшим пригніченням небілкових азотистих продуктів і молекул середньої маси в крові. Висновки. З урахуванням поперед­нього клінічного дослідження при подагричній нефропатії встановлено перевагу фебуксостату над алопуринолом.
Актуальность. В предыдущем нашем исследовании (сообщение 1) была проведена сравнительная оценка эффективности двух урикодепрессантов — аллопуринола и фебуксостата в отношении влияния на функциональное состояние почек у больных подагрической нефропатией и установлено преимущество второго препарата. Цель данной работы: провести сравнительную оценку влияния аллопуринола и фебуксостата на проявления экспериментальной подагрической нефропатии. Материалы и методы. Эксперимент проведен на 70 самцах белых нелинейных крыс. Животным однократно вводили полный адъювант Фрейнда с селезеночной дезоксирибонуклеиновой кислотой крупного рогатого скота и в последующем ежедневно давали пищевой рацион, состоящий из аутолизата дрожжей с молибдатом аммония и инозином, а каждые 10 дней в брюшную полость вводили стерильную суспензию мочевой кислоты. Через 20 дней крыс распределили на 3 группы: в 1-й в пищевой рацион добавляли аллопуринол, во 2-й получали фебуксостат, в 3-й лечение урикодепрессантами не проводили. Под ингаляционным эфирным и внутрибрюшным нембуталовым наркозом крыс выводили из эксперимента. С помощью световой микроскопии выполняли исследование тканей почек. Морфологические препараты окрашивали гематоксилином и эозином, по ван Гизону и альциановым синим, ставили PAS-реакцию, подсчитывали средний показатель повреждений отдельных почечных структур. Результаты. При экспериментальной подагрической нефропатии наблюдается повреждение всех структур почек (клубочков, канальцев, стромы, сосудов), частота и степень тяжести которых связаны с проводимой урикодепрессивной терапией, причем ингибитор ксантиноксидазы аллопуринол и ингибитор ксантиноксиредуктазы фебуксостат в равной степени угнетают уровень урикемии, но действие первого препарата в большей мере направлено на тубулоинтерстициальные изменения, а второго — на гломерулярные с последующим угнетением небелковых азотистых продуктов и молекул средней массы в крови. Выводы. С учетом предыдущего клинического исследования при подагрической нефропатии установлено преимущество фебуксостата над аллопуринолом.
Background. In our previous study (message 1), a comparative evaluation on the efficacy of two uricodepressants, allopurinol and febuxostat, was performed in terms of their effect on the functional state of the kidneys in patients with gouty nephropathy, and the advantage of the latter was established. The purpose of this study: a comparative evaluation of allopurinol and febuxostat effects on the manifestations of experimental gouty nephropathy. Materials and methods. The experiment was performed on 70 white male nonlinear rats. The animals were once injected with Freund's complete adjuvant with splenic deoxyribonucleic acid of bovine animals and were subsequently kept on a daily diet consisted of autolyzed yeast with ammonium molybdate and inosine, and a sterile suspension of uric acid was injected into their abdominal cavities every 10 days. After 20 days, the rats were divided into 3 groups: group 1, with allopurinol added to daily nutrition; group 2 received febuxostat; group 3, which had not been treated with uricodepressants. The rats were sacrificed under inhalation ether and intraperitoneal nembutal anesthesia. The kidney tissues were examined by means of the light microscopy. Morphological preparations were stained: with hematoxylin and eosin, van Gieson's and alcian blue, periodic ­acid-Schiff reaction was applied, the average index of the lesion of parti­cular renal structures was calculated. Results. In experimental gouty nephropathy, all kidney structures (glome­ruli, tubules, stroma, vessels) are damaged, the incidence and severity are associated with ongoing uricodepressive therapy; in addition, the xanthine oxidase inhibitor allopurinol and the xanthine oxidoreductase inhibitor febuxostat equally reduce the level of uricemia, but the effect of the former is more focused on tubulointerstitial changes, and the latter — on glomerular, followed by the inhibition of non-protein nitrogen products and medium-weight molecules in the blood. Conclusions. Taking into consideration the previous clinical study, the advantage of febuxostat over allopurinol in gouty nephro­pathy was established.
Keywords
подагра; нефропатія; тварини; експеримент; алопуринол; фебуксостат
подагра; нефропатия; животные; эксперимент; аллопуринол; фебуксостат
gout; nephropathy; animal testing; allopurinol; febuxostat
For the full article you need to subscribe to the magazine.
Bibliography
1. Humbert A., Stucker F. Acid uric: key player in a recently recognized devastating nephropathy and in the development of chronic kidney disease // Rev. Med. Suisse. — 2018. — № 14(595). — Р. 414-7.
2. Juge P.A., Truchetet M.E., Pillebout E., Ottaviani S., Vigneau C., Loustau C. et al. Efficacy and safety of febuxostat in 73 gouty patients with stage 4/5 chronic kidney disease: A retrospective study of 10 centers // Joint Bone Spine. — 2017. — № 84(5). — Р. 595-8. — doi: 10.1016/j.jbspin.2016.09.020.
3. Juraschek S.P., Kovell L.C., Miller E.R., Gelber A.C. Association of kidney disease with prevalent gout in the United States in 1988–1994 and 2007–2010 // Semin Arthritis Rheum. — 2013. — № 42(6). — Р. 551-61. — doi: 10.1016/j.semarthrit.2012.09.009.
4. Kabul S., Shepler B. A review investigating the effect of allopurinol on the progression of kidney disease in hyperuricemic patients with chronic kidney disease // Clin. Ther. — 2012. — № 34(12). — Р. 2293-6. — doi: 10.1016/j.clinthera.2012.10.008.
5. Kim S., Kim H.J., Ahn H.S., Oh S.W., Han K.H., Um T.H. et al. Renoprotective effects of febuxostat compared with allopurinol in patients with hyperuricemia: A systematic review and meta-analysis // Kidney Res. Clin. Pract. — 2017. — № 36(3). — Р. 274-81. — doi: 10.23876/j.krcp.2017.36.3.274.
6. Luo H., Fang W.G., Zuo X.X., Wu R., Li X.X., Chen J.W. et al. The clinical characteristics, diagnosis and treatment of patients with gout in China // Zhonghua Nei Ke Za Zhi. — 2018. — № 57(1). — Р. 27-31. — doi: 10.3760/cma.j.issn.0578-1426.2018.01.005.
7. Ruilope L.M., Pontremoli R. Serum uric acid and cardio-renal diseases // Curr. Med. Res. Opin. — 2013. — № 29(3). — Р. 25-31. — doi: 10.1185/03007995.2013.790803.
8. Singh J.A., Cleveland J.D. Comparative effectiveness of allopurinol versus febuxostat for preventing incident renal disease in older adults: an analysis of Medicare claims data // Ann. Rheum. Dis. — 2017. — № 76(10). — Р. 1669-78. — doi: 10.1136/annrheumdis-2017-211210.
Similar articles

Authors: Иванов Д.Д.(1), Синяченко О.В.(2), Бевзенко Т.Б.(1), Федоров Д.М.(2)
(1) — Национальная медицинская академия последипломного образования им. П.Л. Шупика, г. Киев, Украина
(2) — Донецкий национальный медицинский университет, г. Лиман, Украина
"Kidneys" Том 7, №3, 2018
Date: 2018.08.17
Categories: Nephrology
Sections: Specialist manual


Authors:
Головач И.Ю.(1), Егудина Е.Д.(2) (1) — Клиническая больница «Феофания» Государственного управления делами, г. Киев, Украина (2) — ГУ «Днепропетровская государственная медицинская академия Министерства здравоохранения Украины», г. Днепр, Украина


"Тrauma" Том 20, №2, 2019
Date: 2019.06.02
Categories: Traumatology and orthopedics
Sections: Specialist manual


Authors: Головач И.Ю.(1), Егудина Е.Д.(2), Ханюков А.А.(2)
(1) — Клиническая больница «Феофания» Государственного управления делами, г. Киев, Украина
(2) — ГУ «Днепропетровская государственная медицинская академия Министерства здравоохранения Украины», г. Днепр, Украина
"Hypertension" №2 (64), 2019
Date: 2019.06.12
Categories: Cardiology
Sections: Specialist manual